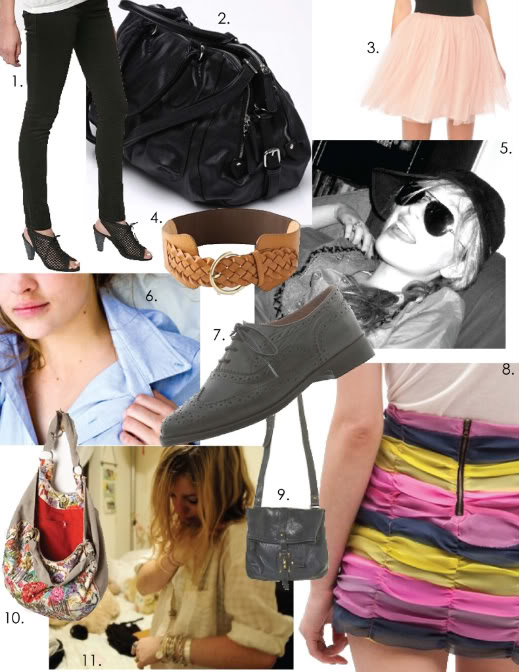 Sonia of
Runway Hippie
has such refined, impeccable style I always find myself browsing her posts that are filled with new designers and collections, beautiful images and profiles on stylish socialites that are the muses of the industry. Here's a peek into this New Yorker's wardrobe…
5. Sonia wearing her can't-live-without aviator Ray Bans $99
11. Sonia wearing layered bracelets
Runway Hippie's Closet Staples
Skinny Black Pants I am one of the very few people on this earth that doesn't live in jeans. I own ONE pair of blue jeans and I think I break them out once a month, tops. The pants that I live in are actually the most basic black pants one could find: BDG Black Cigarette Pants from Urban Outfitters
Black Leather Jacket I wear my black leather jacket throughout every season in New York. From putting an edge to an otherwise girly look or complimenting my black skinny jeans and doc martens, I find that it is often the perfect finishing touch to an outfit. The leather jacket I swear by is S.W.O.R.D.
A Good Oxford Shirt When I'm in a rush and don't have the time to stand in front of my closet pondering what to wear that day, I almost always turn to one of my oxford button downs. They can either really polish an outfit or make it look a bit messier, depending on how you button it and how you tuck it into your pants. I hardly ever wear women's oxford button downs because I tend to like the baggier fit of the men's style. The one's that I find fit the best are from American Apparel and I most often wear the white or blue one.
My Affinity of Rings and Bracelets I'm not a big earring wearer, and I'll only throw necklaces on when I feel that they go with the outfit. That being said, I am almost never seen leaving the house without a plethora of bracelets and rings on. From silver to gold, vintage to new, I mix them all together into one jumbled mess.
Brogue Shoes I may be the only girl in the world that doesn't like flats. I think I own about two pairs of flats and wear them…never. When I discovered brogues, I attacked the style with full force. I love wearing them for demanding events like fashion week because they are the perfect shoe to dress up an outfit without having to wear flats or heels. The ones that I have been living in the most lately are a pair of vintage saddle shoes that I got on ebay and these from Topshop.
Oversized Bags I've always wanted to be one of those girls that carries tiny little bags and clutches around, but out of fear of losing them and the fact that I can't be limited to three things within a bag, I am thus unable to be one of them. I'm not even one of those girls that carries an excessive amount of make-up with her (I only carry mascara and a mini eyelash curler), but for some reason my bag is always over-stuffed like a turkey on Thanksgiving. I normally use a bright colorful bag that I bought from Anthropologie a couple of years ago, but I also enjoy my fair share of black leather bags, vintage cross body sacks and pretty much anything else that can withstand my excessive amount of crap.
Brown or Black Belt with a good Buckle I'm a huge ebay addict and happened to score an authentic Hermes belt for a non-Hermes price. However, I do realize that this is a total luck of the draw situation, so I honestly believe that any good belt with a great buckle is equally as awesome. Before my days of the Hermes belt, I often wore a belt that I stole from my Mom's closet, which happened to be from Banana Republic.
Ray Ban Aviators I have been wearing my Ray Ban Aviators for over 7 years now. Sure, I own a dozen other pairs of sunglasses but I find that I wear these the most out of any of them.
High-Waisted Skirts I love high-waisted skirts not only because they are the most flattering skirts on my body, but also because I find them undeniably chic and feminine. From body grazing pencil skirts to drapey a-line skirts, I can't seem to get enough of them. My favorite high-waisted skirt of the moment is from Theory.
Dominatrix Heels
Every girl needs a pair of sexy
uncomfortable
dominatrix heels to slap on on a Saturday night. Sure they may be crippling to walk in, but there's an occasion for everything and sometimes you just have to grin it and bear it. 😉 The pair that I wear most frequently on these occasions are by Report and you can get them
here
.