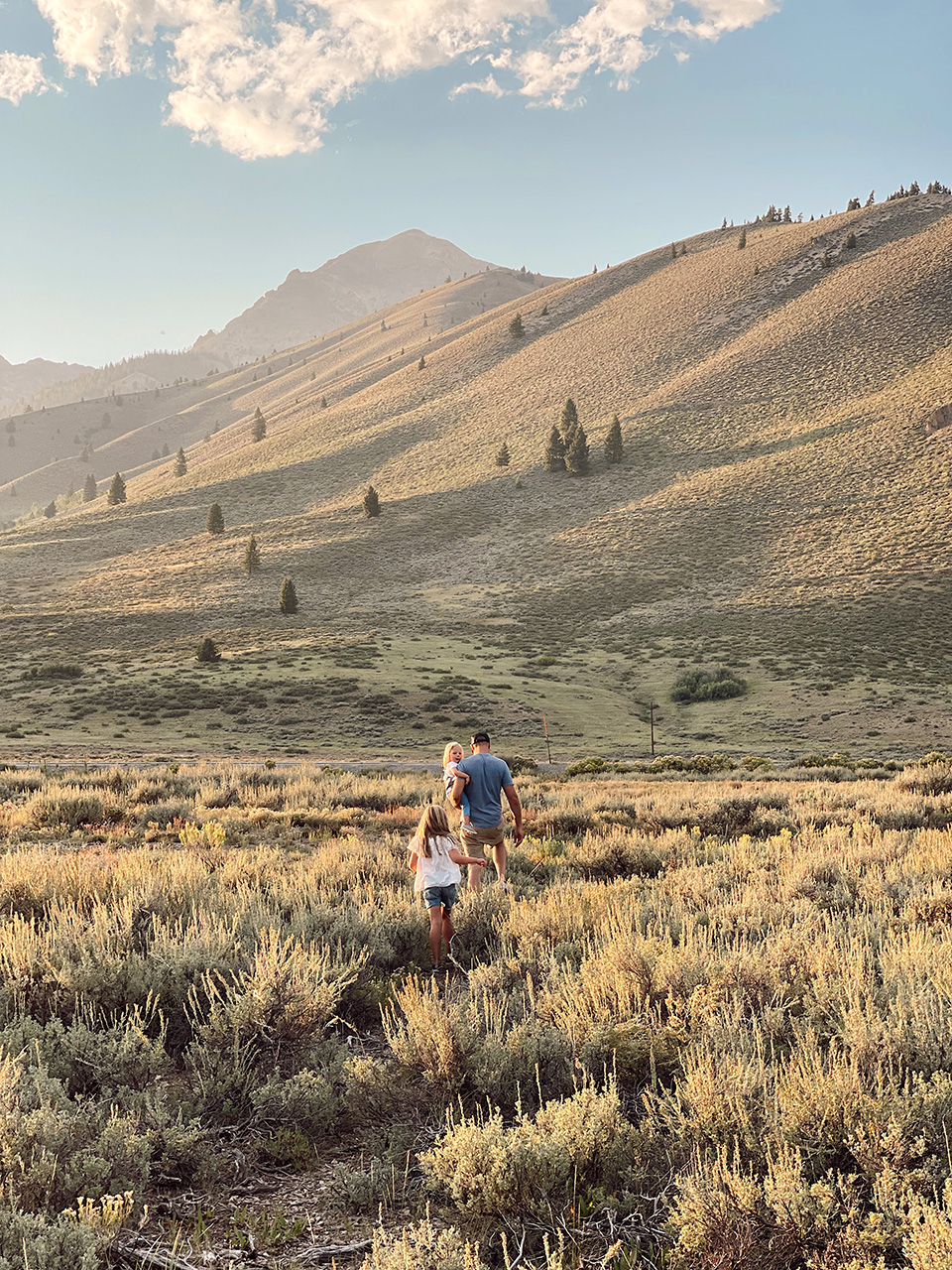 For as long as I can remember my family has had a soft spot for Sun Valley. I think I was in diapers the first time I went and both Elin and Lila have followed suit. My dad has a place there now (along with a handful of extended family as well!) so when we go it feels like a family reunion of sorts. Needless to say it's a special spot in our family and this summer we made it a two week vacation, longest stretch we've been there and I think we'll have to make it a new summer tradition. There's something to be said about spending a chunk of time away from your normal routine that just feels good. We came home with a fresh perspective on everything and it was just the change of scenery we needed.
While it did feel so good to come home, we jumped right into back-to-school with Elin and I am just getting a chance to sit down and share our Sun Valley favorites (as promised!) with all of you.
I should preface this list by saying there is so much we didn't do on this trip only because we wanted to spend as much time with our girls and were limited on the type of outdoor adventures you can do with kids. So if you're looking for a family friendly list, this is it. I'll try to include a few things I have on my own list that I plan to do at some point sans babies in case you're able to snag a babysitter!
Hiking… we did a ton of hiking all together since Elin is old enough to keep up (on most moderate trails) and we had a great backpack for Lila, which she would nap on the go in. We did portions of Proctor Loop, Trail Creek and Adams Gulch. A couple hikes on my list for the future (sans kids) are Hell Roaring Lake Trail and Marshall Lake Trail at Redfish and Pioneer Cabin Trail which takes you to an old cabin from the 30's.
One of the first things we always do is rent bikes, trailers etc. at Sturtevants so we can bike into town or take one of the trails. Mom tip: the kids always fall asleep in those trailers so if you're wanting to do a nap on the go this is your answer.
Without a doubt the thing you must do while visiting Sun Valley in the summer is to plan a day trip to Red Fish Lake. It's so idyllic and perfect you feel like you're on a movie set. The water is crystal clear and it's super shallow at the beach which is perfect for the kids. We got a pontoon boat one day, which was so fun because we found our own private beach and there's a spot to jump off rocks. The second day we went the kids loved getting a pedal boat and stopping at Smiley's for milkshakes on the way home. The Stanley Baking Company is a great nearby (20 min away) lunch or breakfast spot if you're not feeling the pricey hot dogs and burgers at the Red Fish Lodge—the soft serve ice cream on the other hand is, just get in line early!
Galena Lodge is another gem you don't want to miss. They have a summertime BBQ and Wagon Ride every Thursday that we booked 2 months in advance which is a blast for the kids but they also have Yurts you can rent, mountain bike rentals, amazing trails and lunch (don't leave without a Don Bar—or two).
Whenever we had time we'd stop by the horse stables and say hi to the horses and mini ponies—which you can arrange to pet, groom and meet up close and personal through the Sun Valley Stables. It was a huge hit with both the girls and we're all counting down the days until we can do one of the trail rides all together.
You can't visit Sun Valley without a ride on the gondola. It's always a highlight for the kids and you can grab lunch at The Roundhouse. It's also a pretty good hike up to the restaurant (I have yet to do it) but hear it's a good workout! Also a great photo spot at the top as the views are gorgeous.
Restaurants… we made a lot of our meals at home but we made it to The Pioneer (don't skip the mud pie), Big Wood Bakery for lunch, Glow for smoothies and juices, Town Square Tavern (we did a date night here, not kid friendly but SO good), The Station, Sun Valley Lodge Duchin Lounge, Sun Valley Club (they give you warm chocolate chip cookies with your check, enough said!) The Haven, Raspberries and Cookbook Restaurant.
Goes without saying but ice skating at the Lodge is pure magic… until you fall—ha. Sun Valley Summer Symphonies (such a fun picnic scene) and live music on Tuesday evenings at Rotary Park. 
For a quick dip, we found this fun spot to play in the river right behind the Big Wood Church. Next time we're bringing floaty toys to coast down the river a bit.
More Sun Valley Visits—Spring Snow, and 10 Winter Things To Do In Sun Valley.