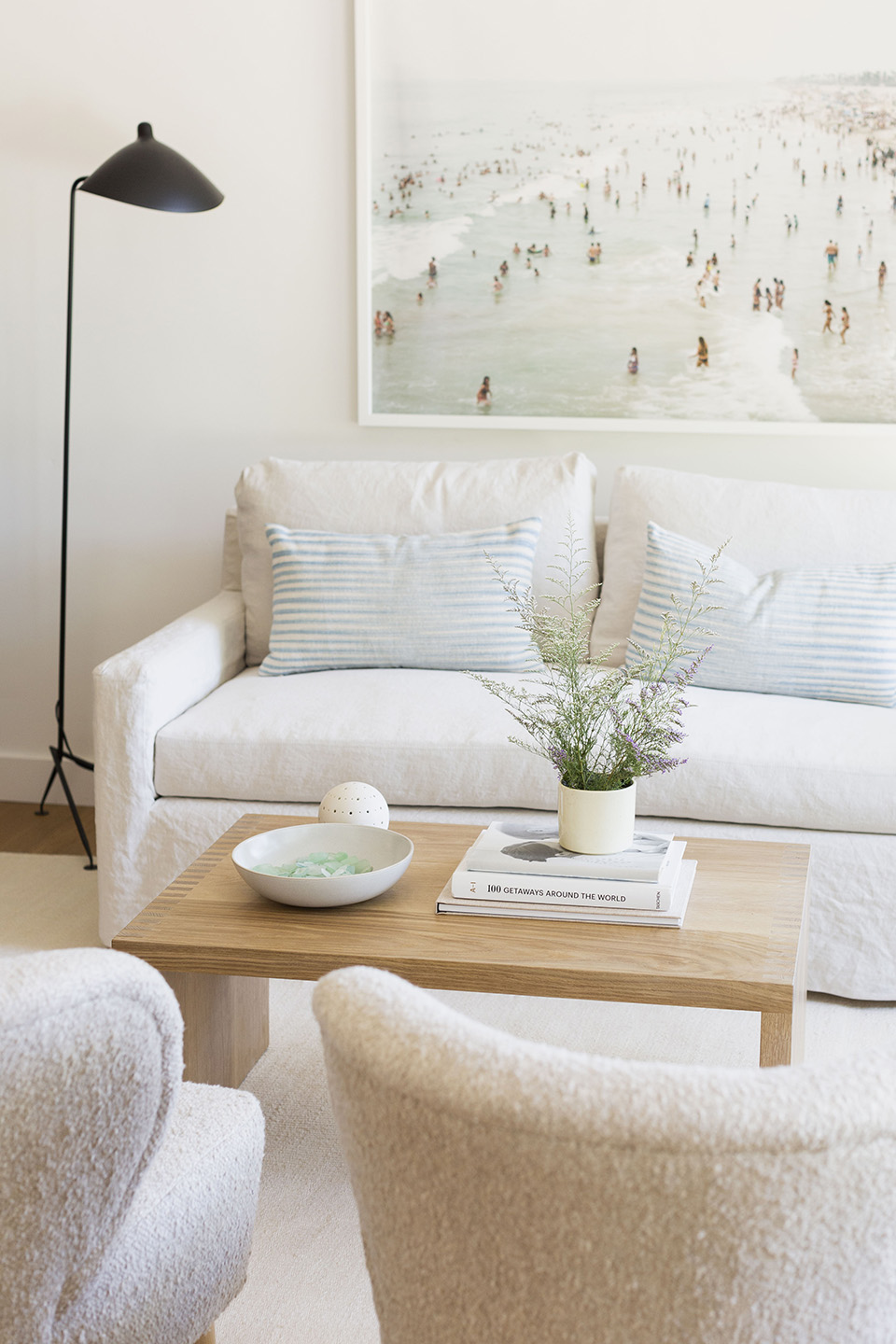 One of the most magical rooms in our house is our living room. In the morning the light streams in through an oak tree, big windows frame a view of the mountains and sometimes you can watch fog roll in and out and it's the most relaxing, peaceful thing ever. When we decided to give the room a fresh look I immediately thought of Jenni Kayne and some of their stunning home pieces that fit the neutral vibe of our house. After a few trips to the Montecito store to look at samples and fabrics we settled on something that I'm so so happy with and it fits that peaceful quality of the space and view just perfectly.
The first thing I wanted to update were our accent chairs. The ones we had felt a bit clunky for the space and I wanted something lower with texture—boucle chairs were heavy on my mind! I immediately gravitated towards the Brentwood Boucle Chair but when I had the chance to actually sit in one I was even more obsessed with how comfortable they are. And I love how when you're sitting in one you can easily be part of the conversation in the neighboring dining room area of the room—something that was on my wishlist for the space!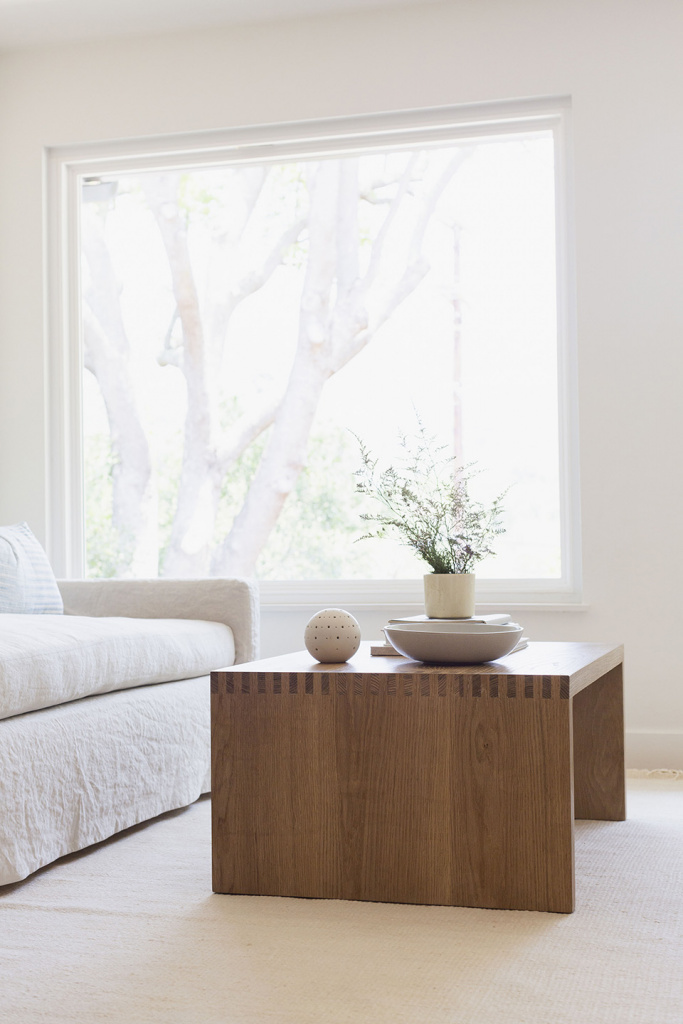 Given this is a space we love to hang out and entertain in I wanted a coffee table that was more substantial then the one we had before—big enough for an appetizer but not too large for the room. The Malibu Coffee Table was a no brainer since we have accents of white oak throughout our home. The box joint detailing is so special and timeless and the simple design fits the space so well. I've been having so much fun designing the top of it and playing around with some favorite ceramics, books and flowers—and of course my go-to candle/home scent Cedar. I loved the candles so much I got the ceramic diffuser, which visually adds a nice touch.  
I've learned that it's all about playing with shapes, colors and textures when it comes to coffee tables. Wispy, low florals are my go-to for adding height. 
We went with the Harbor Sofa in natural linen (72")  which I'm so glad we did (almost did the ivory but the natural linen really works well with the Brentwood Boucle chairs) and the Sierra rug in natural that compliments the furniture so well. Almost every morning you'll find us on this couch, making plans for the morning and drinking coffee and it's one of my favorite moments of the day. Sometimes we all pile on the couch, which thanks to the depth, fits us all comfortably. The ultimate spot to lounge! 
Lastly we put two blue stripe Montauk Lumbar pillows on the Harbor Sofa to play off of a beach print by Will Adler hanging above. I love this photograph because there's a lightness to it and it feels airy just like the room. That bit of blue was the final touch that really pulled the whole space together so beautifully.  
I love how this room turned out—comfortable yet refined, peaceful and grounding. I get the best feeling when I walk in, which to me says it all.
I'm super excited to share a special new code with you all just for home pieces "SAMHOME15" for 15% off Jenni Kayne Home.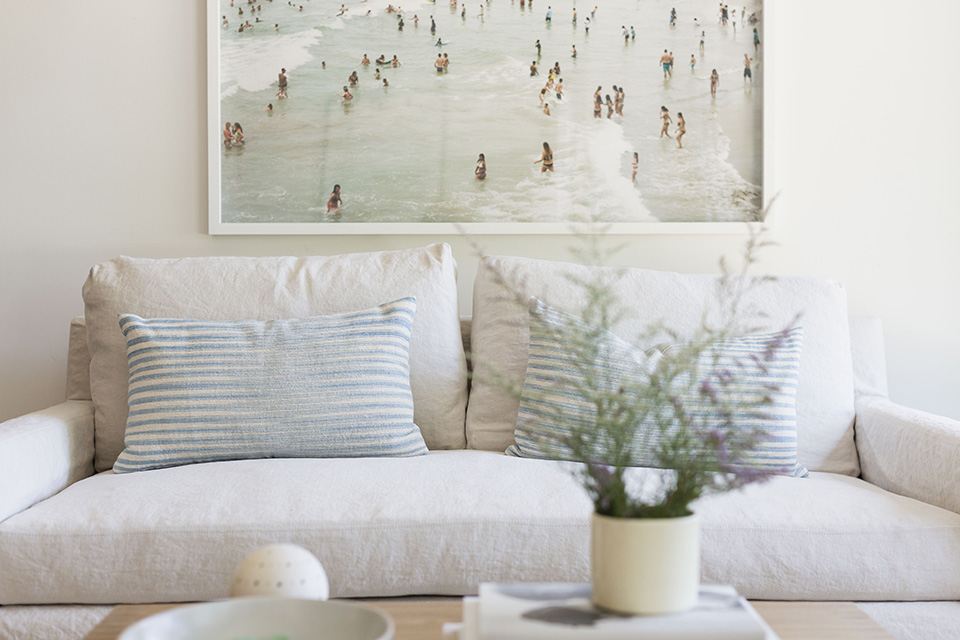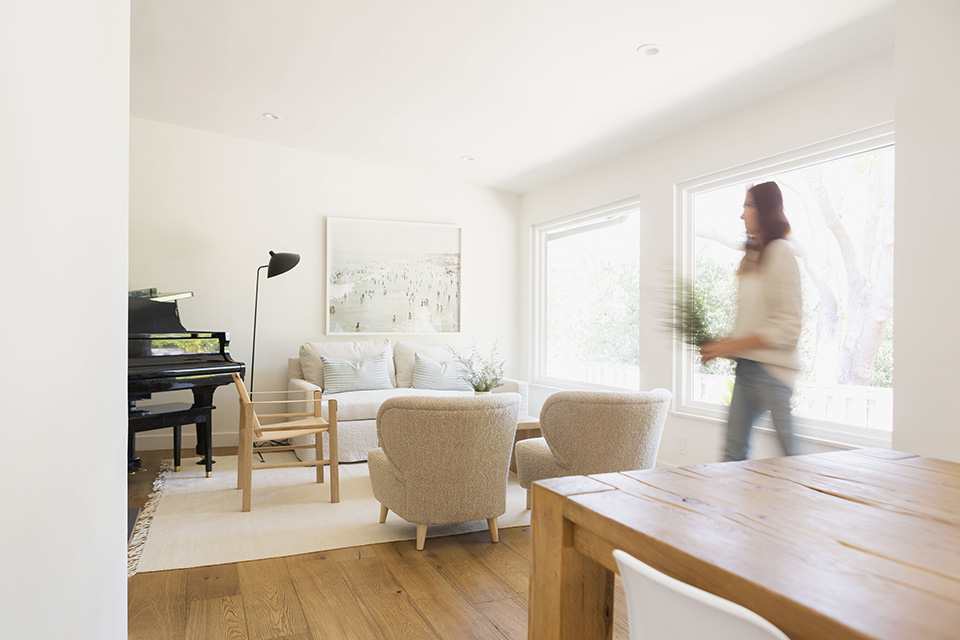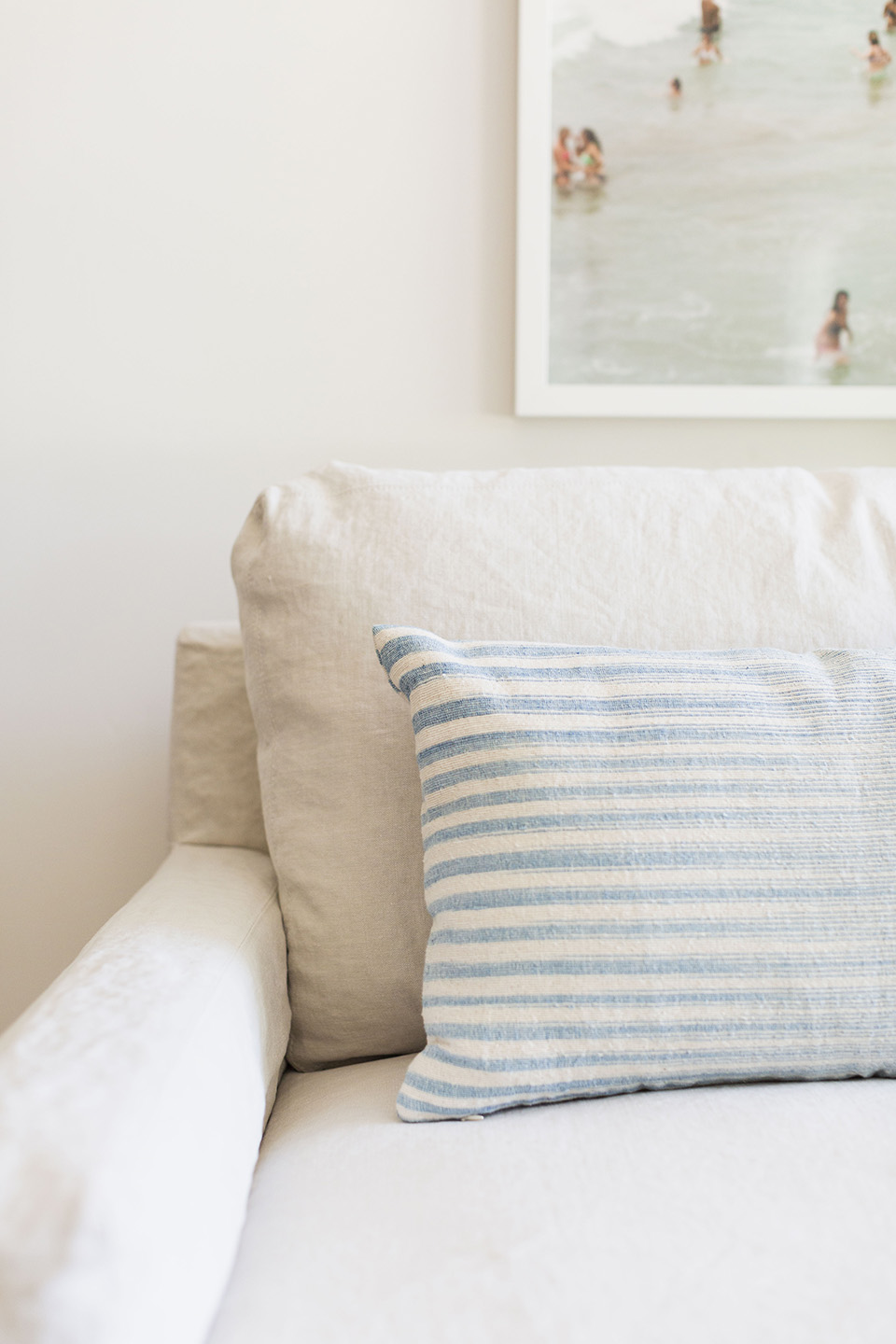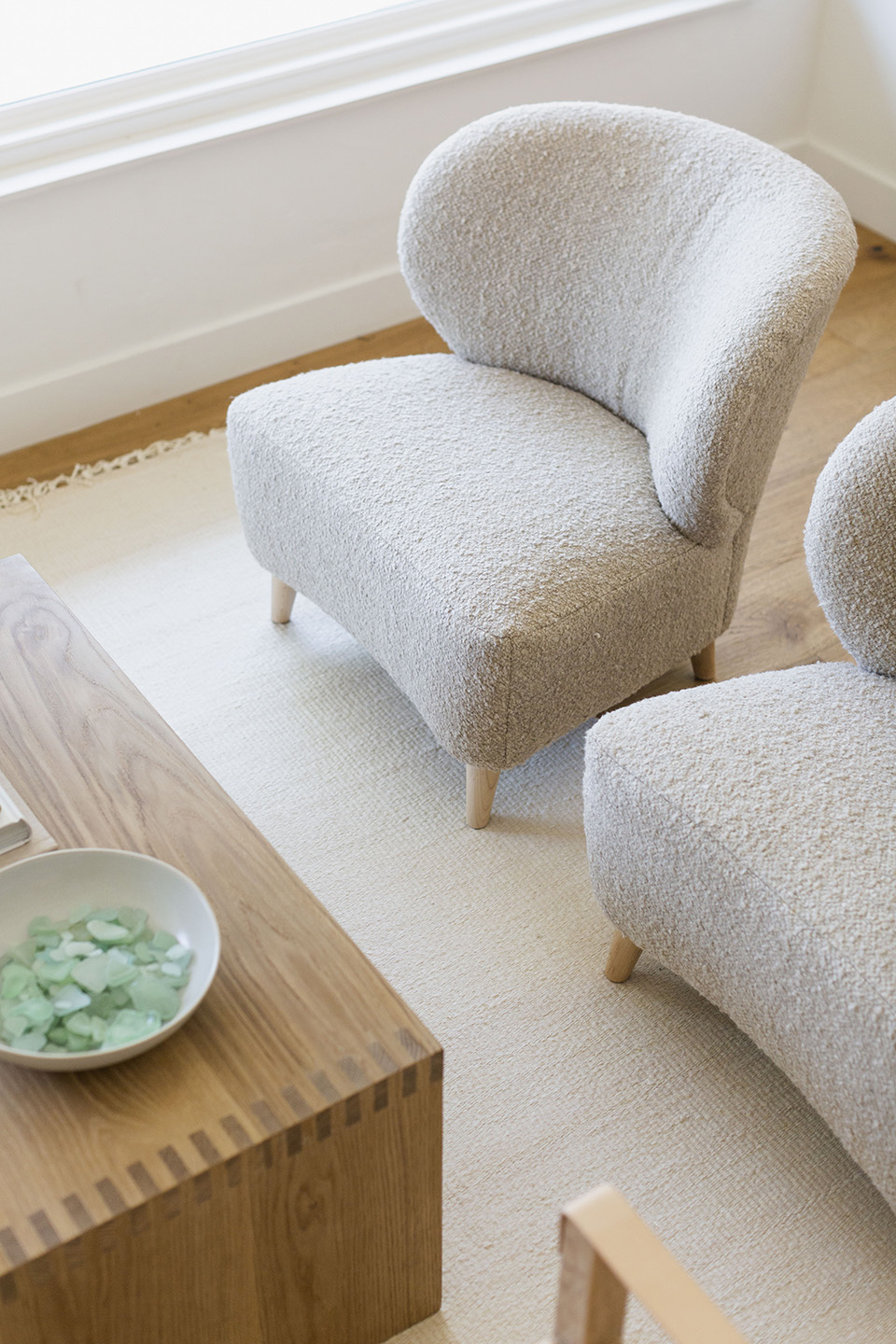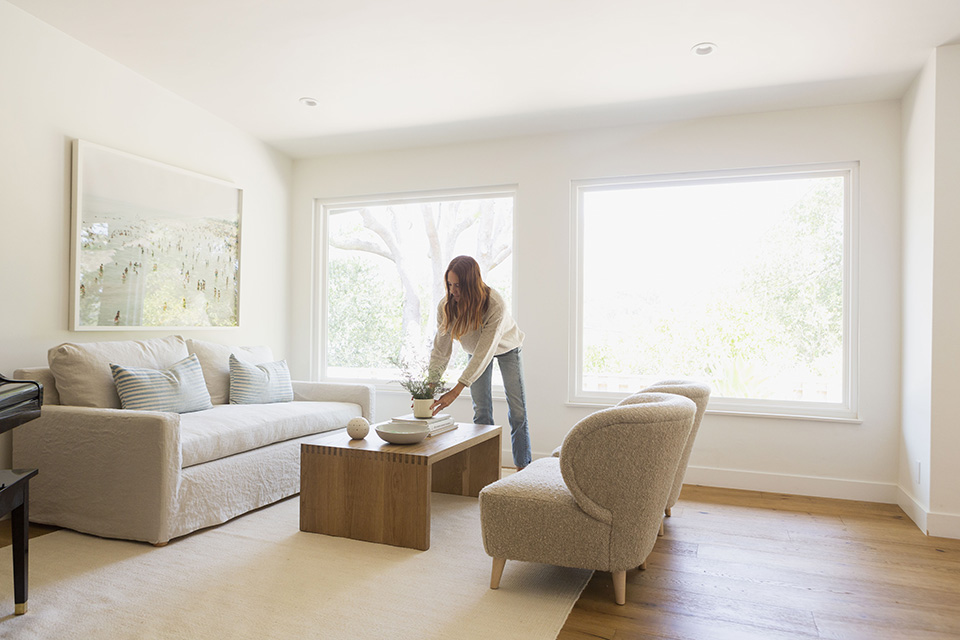 More of my favorites from Jenni Kayne: