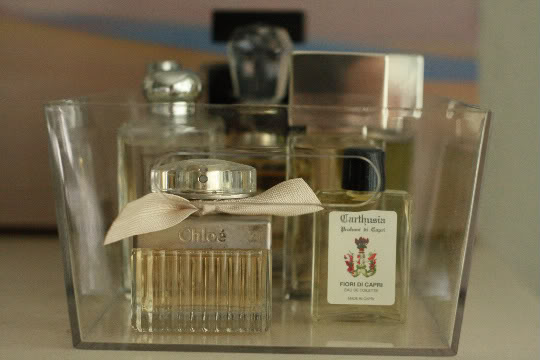 There's nothing quite like a scent that time stamps a period of your life or reminds you of someone. Whether it's detergent, a fresh baked pie, a favorite lotion or perfume, everyone seems to have a list of scents that they love for various reasons. For me, a few scents that will always remind me of my childhood are: orange trees (we had a mini orchard of them in our backyard), Gaultier perfume (my sister wore it all the time), Cloret gum (my moms favorite) and the smell of a christmas tree (still one of my all-time favorites). When it comes to my signature scent these days, I can't seem to pick just one since there are so many that I love. It's become such an issue that I've consumed quite the collection of perfumes, lotions and beauty products. Here's a look at some of my favorites. What are your favorites?
(pictured above, my ever-growing perfume collection which includes, Chloe, Narciso Rodriguez, Jo Malone and Philosykos by Diptyque)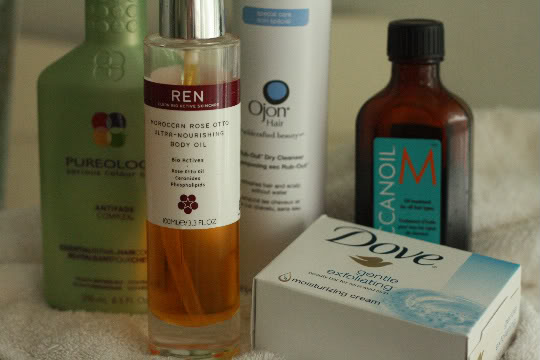 Pureology Shampoo, Moroccan Rose Oil by Ren, Ojon Dry Shampoo, Dove Soap, Moroccan Hair Oil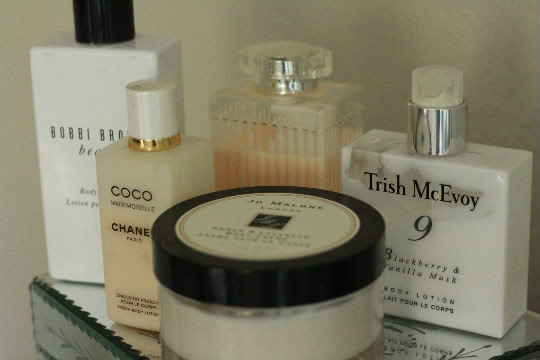 Lotion is the best way to wear a scent in my book, it's more subtle than a perfume and lasts longer.
Beach By Bobbi Brown, Coco Chanel, Jo Malone Amber & Lavender, Trish McEvoy #9, Chloe