This past weekend we had a barbecue marathon both days. It was the warmest June days yet and everyone seemed to be in the Summer mood, which got me thinking… It's about time I refreshed the playlist on my iphone/shuffle. Whether it's a beach day, picnic, backyard BBQ or lounging poolside, a good playlist is a definite must in my book. Here's a list of some favorites I'll be playing on repeat for the summer months ahead.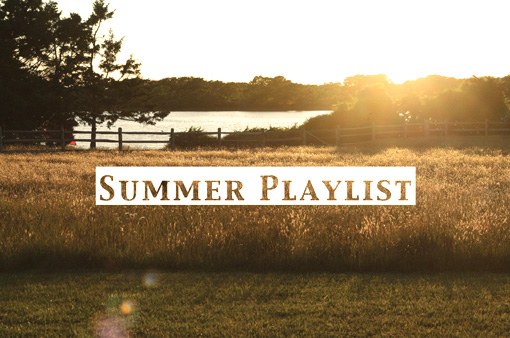 1. Vampire Weekend – "Ottoman"
2. Mark Ronson & the Business Intl – "Bang Bang Bang (album version)"
3. Sleigh Bells – "Rill Rill"
4. Black Keys – "Tighten Up"
5.  Spoon – "I Turn My Camera On"
6. Washed Out – "Feel It All Around"
7.  Mr. Bombe & Mr. Caribbean – "James Drake Mixtape"
8. 3-11 Porter – "Surround Me With Your Love"
9. Sebastien Tellier – "Le Long De La Riviere Tendre"
10. Washed Out – "Eyes Be Closed"
11. Bon Iver – "Calgary"
12. Cults – "Bumper"
13. Twin Shadow – "Castles In The Snow"
14. Monsters of Folk – "Say Please"
15. Adele – "Tired"
16. Ashes Grammer – "Shy"
17. Empire Of The Sun – "We Are The People"
18. Beirut – "Nantes"
19. Fleet Foxes – "Helplessness Blues"
20. Tom Petty – "Time To Move On"
21. Bon Iver – "Wash"
*Sidenote: I recently discovered 
Grooveshark
 and I'm slightly obsessed. You can plug in any song of your choice and make up a playlist.