It's hard to believe that Summer will be here (officially) in a few weeks. The weather sure doesn't seem so here in California but I'm crossing my fingers we're getting boat-loads of sunshine down the road.
Aside from wearing some of the prettiest summer things I picked up recently, I'm also antsy about getting that glowing tan back that makes you feel and look like the better, healthier version of yourself—are you all nodding your heads? But before we do anything crazy like greasing up with a reflector—nobody really does that anymore… right?—here are some ways I like to prep my skin, enhance the glow and protect.
Exfoliate 
The first place to start when it comes to prepping your skin for the Summer is exfoliating. I like to use a copper dry brush before my nighttime baths because it not only gets the dead skin off but it promotes blood flow while detoxifying and helping your lymphatic system. My other trick is using African Botanics Mineral Body Scrub before hopping in the shower, the key being use it on dry skin. For my face I've been loving Susanne Kaufman Glow Mask that uses only natural ingredients to remove dull skin and stimulates cell metabolism promoting collagen production—translation it makes your skin super fresh and glowy.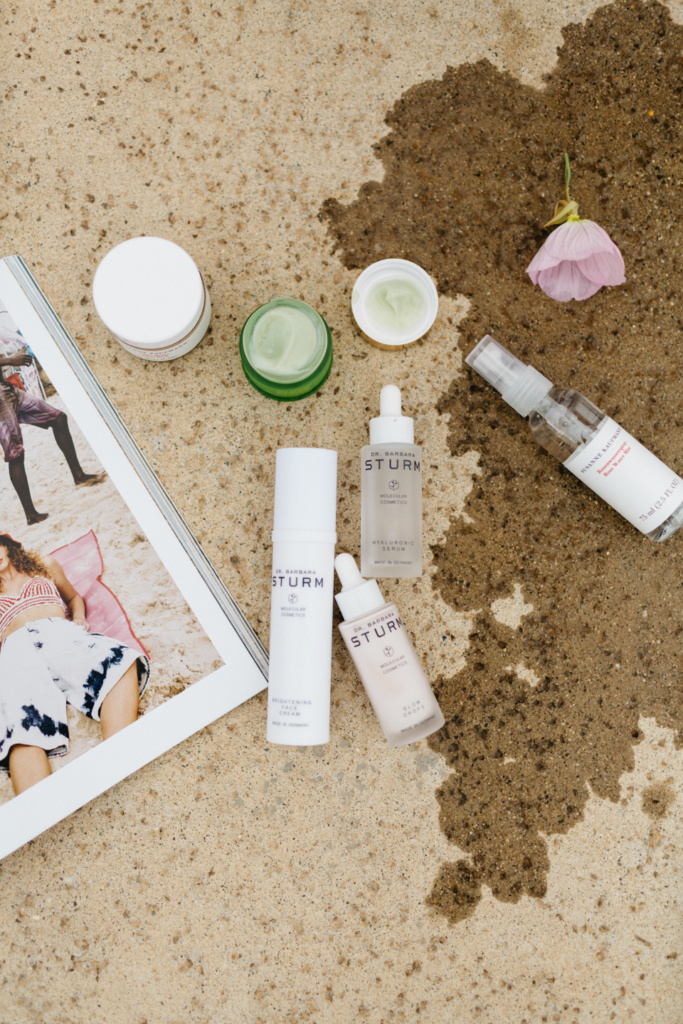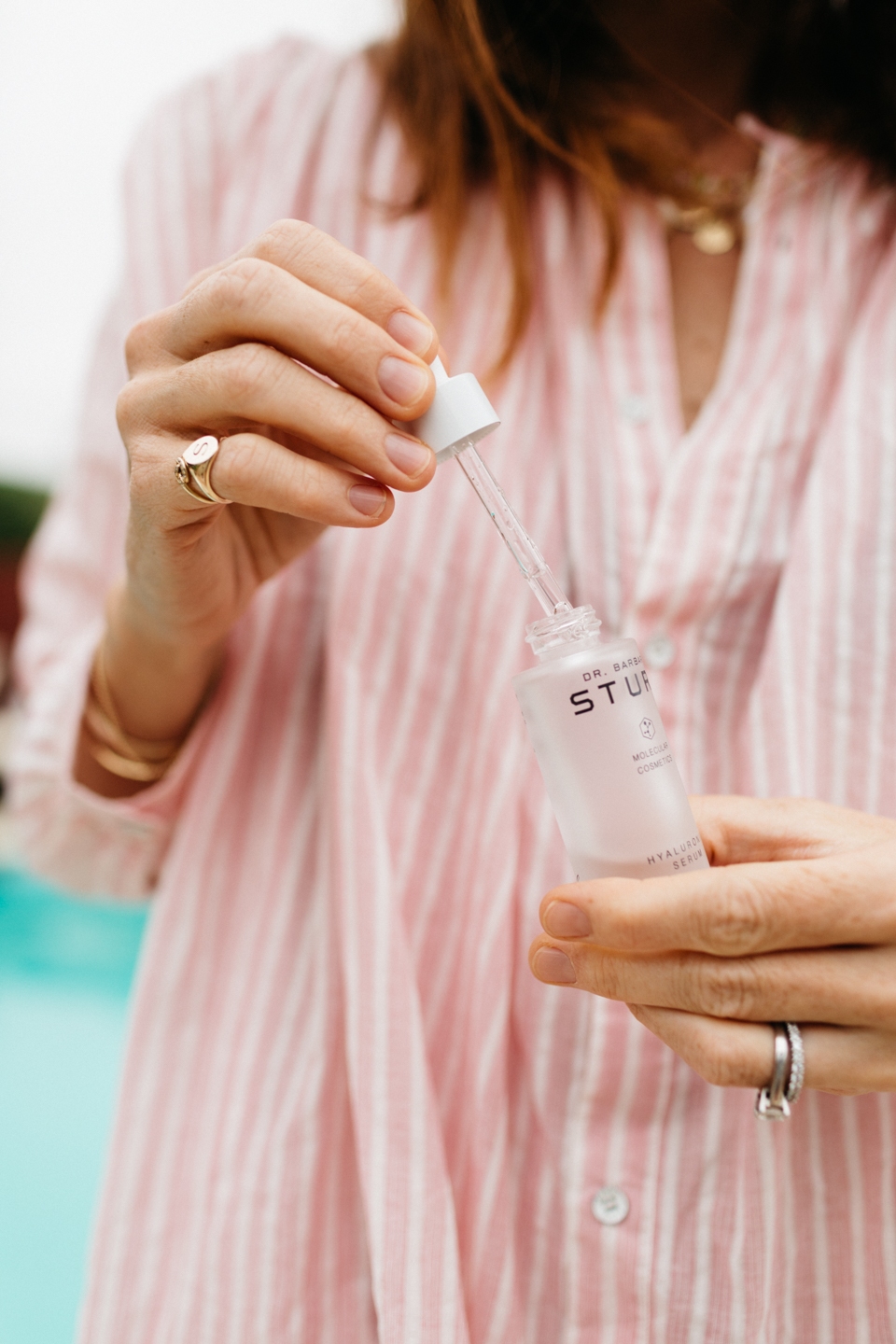 Hydrate, Hydrate and Hydrate more. 
What they say about drinking water, it's true. Invest in a water bottle that you like and bring that puppy with you everywhere. It's a good habit to start before we head into Summer. Past that, I have one beauty essential that will be worth every penny, I promise you. Dr. Sturm's Hyaluronic Serum has been the single most affective product to hydrate my skin and get that healthy glow. My runner up would be Phyto-C Icy Blue Serum that has hyaluronic acid and vitamin B5. Both work wonders. 
For my limbs, after evening baths I love putting on Beautycounter's Body Butter in Citrus Mimosa. It smells amazing and I wake up with super soft skin. My other favorite product for legs and arms is True Botanicals Resurfacing Body Mask and Pure Radiance Body Oil, which I'll always use before a special event or trip.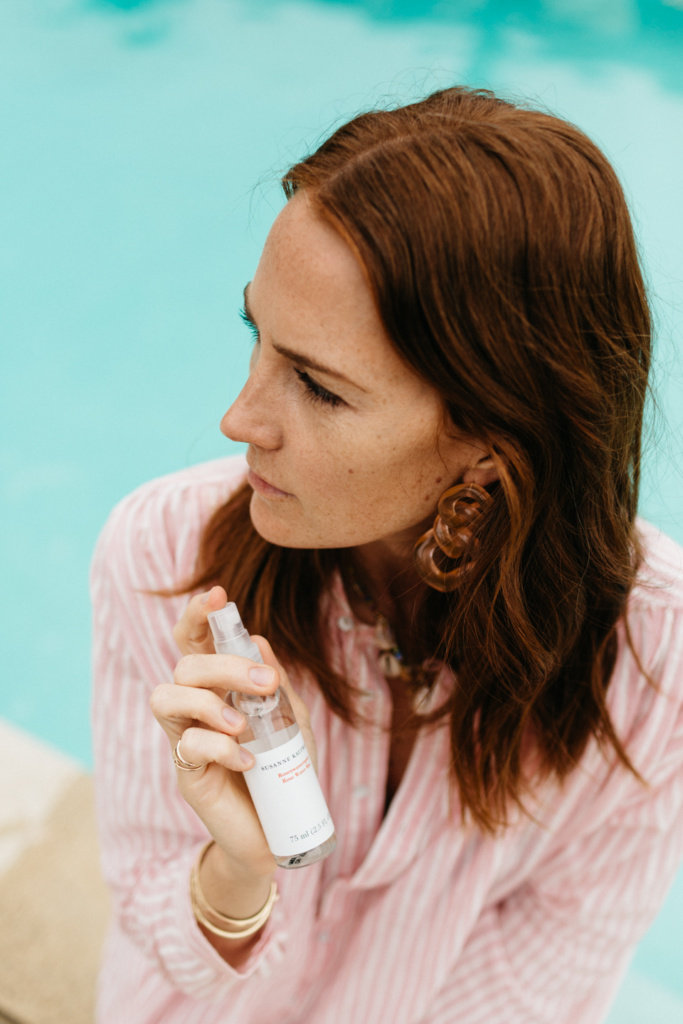 Glow from the Inside: Supplements and Diet 
The best way to get your skin glowing is to take a hard look at your diet. Sugar (sadly complex carbs i.e. bread, turns to sugar) is the fastest way to get dull, dry and inflamed skin. Consider upping your leafy greens (anything with those B vitamins), drink bone broth (it promotes collagen) instead of coffee, take a hot yoga class to sweat out any toxins, eat whole organic foods and avoid preservatives. Of course we're human, so it's nearly impossible to be a saint and do all of these, but everything counts so start small and do what feels right or works for you. I love starting my morning with the GOOP Glow Skin Superfood powder and taking Vitamin D, CoQ10 (for energy and cell/tissue support) and a Ritual multi-vitamin to support my skin along with healthier diet choices. I also feel like my skin looks ten times better after a solid sleep. I'll take magnesium supplements with dinner and GOOP Knock Me Out chews to help ensure a good night of zzz's.
My Favorites for Summer Skin Prep: