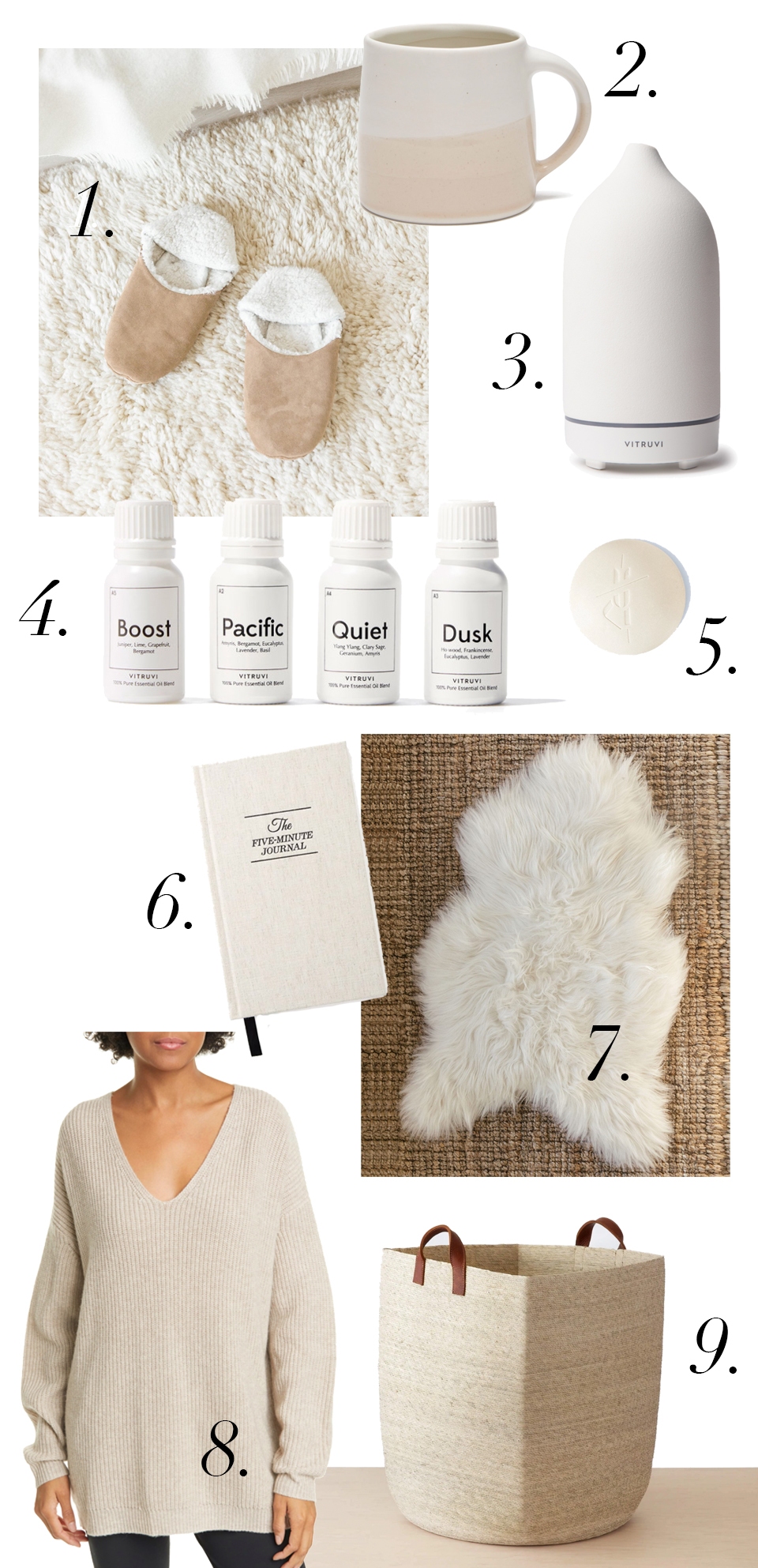 I especially relate to this gift guide because I always joke about hibernating during these chillier months. Nine times out of ten I'll opt to stay at home, order pizza, cozy up on the couch and watch a good movie—especially after the hustle of the holidays. Is there really any reason to go out in January, ha!? Every homebody knows that there are a few essentials when it comes to holing up at home… here are some of my favorites.
1.
Cozy slippers are a must! And word to the wise, get some with some good grip on the bottoms—true story I slipped and fell on our wood stairs BAD a year ago and am super cautious now. These Jenni Kayne Suede Moroccan Slippers are a favorite because they're so easy to slip on and off. For 20% off at Jenni Kayne enter code: SAMANTHA20.
2.
A hot cup of something to go along with a cozy spot, a good read/show or a chat with someone on the outside. Having all the goods to make a frothy drink of choice is a must for any homebody in hibernation mode. Some favorites below for concocting that latte without leaving your house.

3.
A good diffuser is not only great for incorporating calming essential oil scents into your home but it's also great during the dry months for skin. This Vitruvi one is not only sleek looking but the company happens to make some amazing essential oil blends.
4.
GOOP partnered with Vitruvi and created four blends of essential oils to fit your mood. Dab them on your wrists and neck or add to your diffuser.
5.
There's nothing like a good bedtime beauty routine to really unwind and get a solid sleep. I just discovered these Kate McLeod body stones—essentially a moisturizing stone that melts on contact with dry skin made with essential oils and coconut butter. The Sleep Stone contains chamomile to cool and calm; lavender to relax and ease anxiety. The combo is super grounding.
6.
Books, journals and all of the above will suit a homebody and compliment any of the gifts above. Here are some of my favorites:

7.
I've become addicted to having sheepskin rugs next to my bed. There's something so comforting and luxurious about waking up and stepping on something so soft. It's a small way to pamper yourself and I love the soft texture these add to interiors. Jenni Kayne turned me onto these and she has a handful that are the best neutral shades. I found this one for the nursery and it is the prettiest neutral pink without being too pink.
8.
There's no better time for some luxe loungewear and oversized knits are my go-to's whether I'm at home or running out for more eggs. I've been living in this Cabin Sweater (yes works with a baby bump too!) and might need it in the black too—it's that good! Some other knit favorites here:

9.
As someone who's always cold, even on a foggy summer day, I love curling up with a cashmere or knit throw. We have a couple baskets around our house that we keep a handful rolled up just in case. I just got this one from The Citizenry and I love everything about it, especially the leather handles.