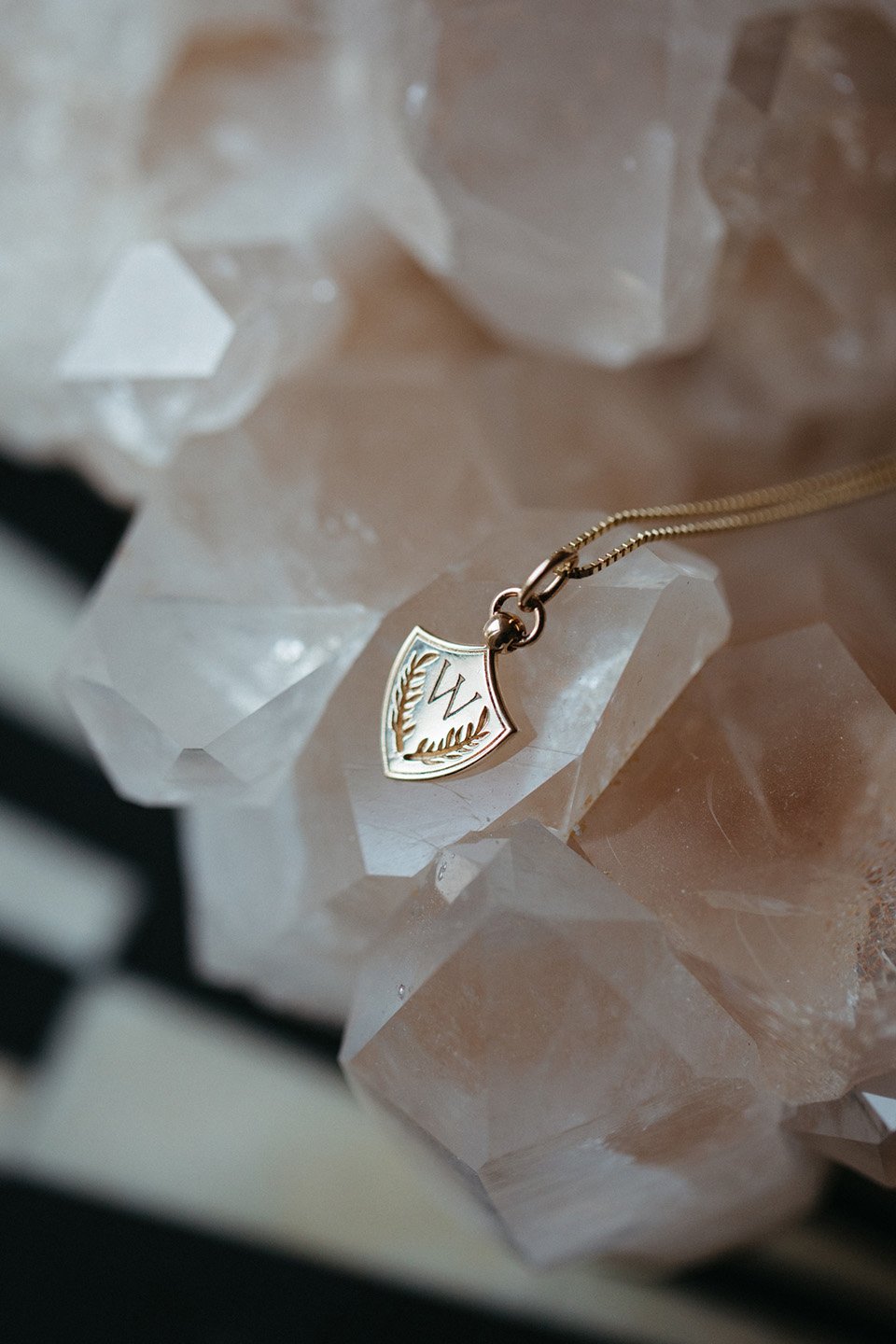 I'm so excited to share that the Fewer Finer Sam Charm is here! This collaboration has been in the works for almost a year so I'm beyond excited to see it come to fruition and get to share the final product with all of you. As long as I can remember I've been drawn to yellow gold, I remember digging through my mom and grandmothers (also redheads) collections and consider the pieces they have passed down to me some of my most treasured possessions. Growing my collection over the years has become a huge part of my own personal style. I love wearing pieces that represent a milestone or memory, celebrate a birthday or important date and tell my story while layering and wearing things together in my own way. 
When Madison asked me about designing a piece together I immediately thought of a charm, because it can be worn so many ways on different chains and I love the idea of mixing it with other charms. Crests kept popping up for me in little ways and I've always loved how they represent heritage and family with a vintage/timeless feel. And I wanted the option of it being personalized so I picked a classic font for a single initial framed by olive branches which have great symbolism (love and friendship) but also a nod to Santa Barbara, which is sprinkled with Olive trees. Madison's parents live here as well so it's something that has connected us and initially where we met during the pandemic. 
I could not be happier with how this charm turned out. The size feels so perfect—subtle and light on it's own with a thin chain yet perfect to pair with charms of various sizes and chunkier chains. I shared a few ways I like wearing this charm on Instagram here. Such a fun piece to layer with! 
I hope this charm makes it into your own personal collection and that you love it/wear it as much as I do! 
xx Sam