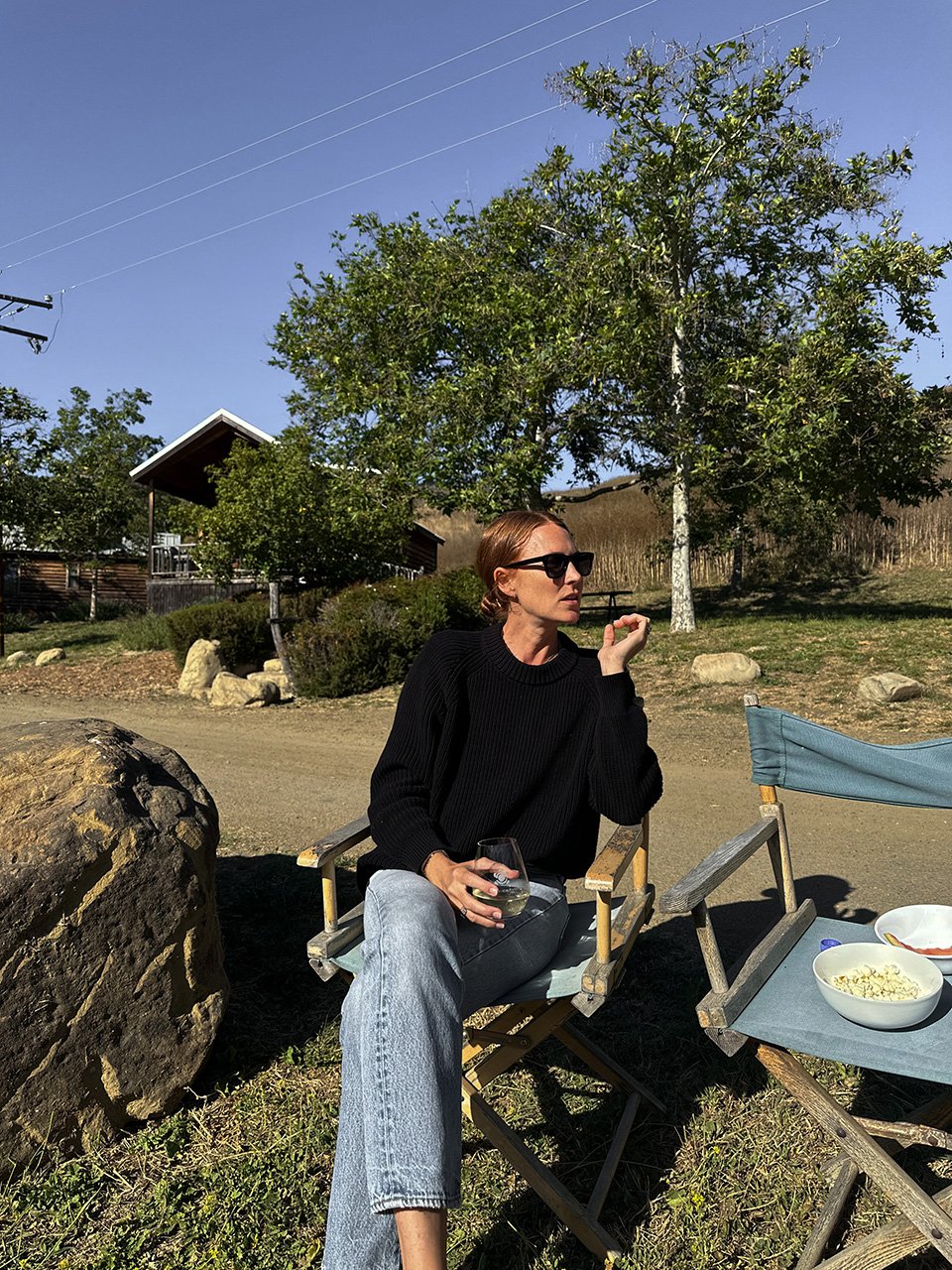 We recently went glamping with friends at one of our favorite spots, El Capitan Canyon and it was summer perfection with s'mores and all. The kids had a blast and to no ones surprise I overpacked. I left with a more clear idea of what you actually need for a two-night stay in the great outdoors and figured I'd share my notes here!
Being out in the elements means a lot of unpredictable weather and layering seems be the trick here. I found my wool layers to be super useful from sleeping and sitting around the campfire to tying around my waist for a hike. I plead the case for wool pieces being essential here but to sum it up, they don't absorb odor, pack easily and keep you warm. I also found my men's Patagonia fleece to be a favorite layer especially for summer because it's lightweight but was the perfect layer for mornings and evenings. Once the day warmed up, I would peel off layers like an onion until I reached this tank that I brought in white, brown and black. I like that it feels timeless and perfect for a campy summer vibe. Also perfect over a bikini. I brought this Ralph Lauren denim button down that I wore the entire time. It was a great layer during the day left open over a tank and under my favorite crewneck knit with the collar poking out on top. 
Denim is a no brainer for an outdoor adventure and what I wore the most. I brought my favorite vintage Levi's that came home with a new hole after a rigorous game of "kick the can" (it was an epic hiding spot) and wore these denim shorts quite a bit as well when the days warmed up. As mentioned the denim RL button down made for a quintessential denim on denim look and worked literally for everything we did from going to the beach (wore it over a bikini) to layered at night for campfires. 
Comfort is king while on a campy outdoor trip. The most important if you're doing all the outdoorsy things is comfortable hiking shoes—these are my personal favorites. Since we had the kids and weren't really doing any strenuous hikes I brought my Jenni Kayne Canyon boots that felt perfect for a casual walk to the neighboring farm and just all around the perfect closed toe shoe to pack. I wore these, my Bostons and flip flops the entire time. We had some pretty cool mornings so I was also really happy I brought along my coziest thick socks. I also grabbed my favorite sweatpant set from The Great (definitely browse this brand for any outdoorsy adventures, so many perfect pieces!) and lived in it paired with my Marfa Stance jacket at night. 
Unrelated to wardrobe… the one thing I really wish I had was a sleeping mask and ear plugs. Our cabin was super bright at the crack of dawn and lot's of sounds at night from critters and things dropping from the trees on our roof. Made for an exciting experience but I needed some sleep by the last night!