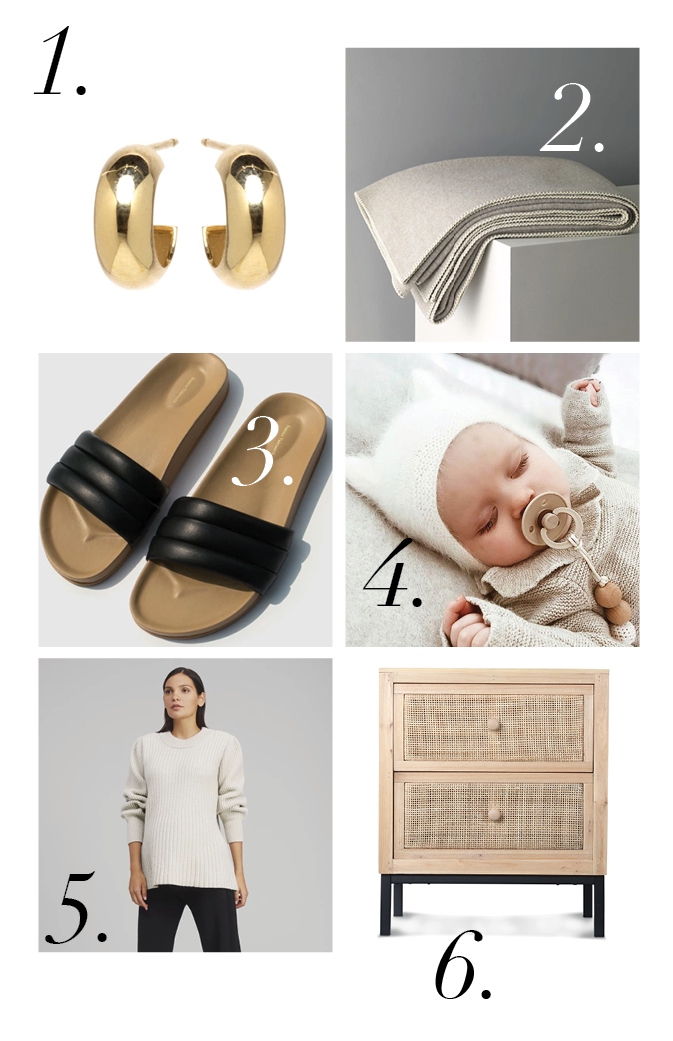 I'm officially in my third trimester now and it's all becoming more real that we'll be holding a baby soon. I get waves of giddy excitement and nervousness around all the things I want/need to get done beforehand. For starters, we're moving Elin into a new room and just had her closet finished with California Closets, however now it's all about carving out time to organize, design and officially move her in. So between house projects, prepping for baby and squeezing in a few Fall adventures, time seems to be flying by this month. Some favorite things from this past couple of weeks. Hope you're all soaking in the season!
1.
I got these Zoe Chicco Chubby Huggie Hoops a week ago and haven't stopped wearing them since. They're the perfect tiny hoop and I love the thickness of them.
2.
We are hosting Thanksgiving at our house this year so I've been gathering all kinds of inspiration from table decor to little upgrades to have in our home to make our guests more comfortable. I recently found R+D.LAB and have been obsessed with their simple products, glassware and chic throws. Some other things on my shopping list…

3.
A month ago I got my first pair of Beatrice Valenzuela sandals in nude and have been living in them since. So much so I decided I need them in black also, which if you're a dedicated fan may know they've been on backorder for sometime. Get them while you can!
4.
As I mentioned, I'm in my third trimester and feeling the clock ticking before this baby arrives. We've just started on Elin's new room but haven't even begun to wrap our heads around what we have and need to get for the baby. But one thing is for sure, these Bibs pacifiers are on my list of things to get. When Elin was a baby, neutral colored pacifiers didn't exist! If you're in the diaper game right now, would love any tips on aesthetically pleasing baby brands like this one.
5.
I recently discovered Frances Hart a brand new pregnancy friendly clothing line that is so beautiful. You'll see me wearing a couple of their pieces this weekend, like this Puff Sleeve Sweater.
6.
Making Elin's new room special for her has been heavy on my mind and while she has a new closet I'm still thinking she'll need a small dresser or nightstand. While browsing different websites I found this cute wicker option on Smallable and was obsessed with all their home products. Some of my favorites…