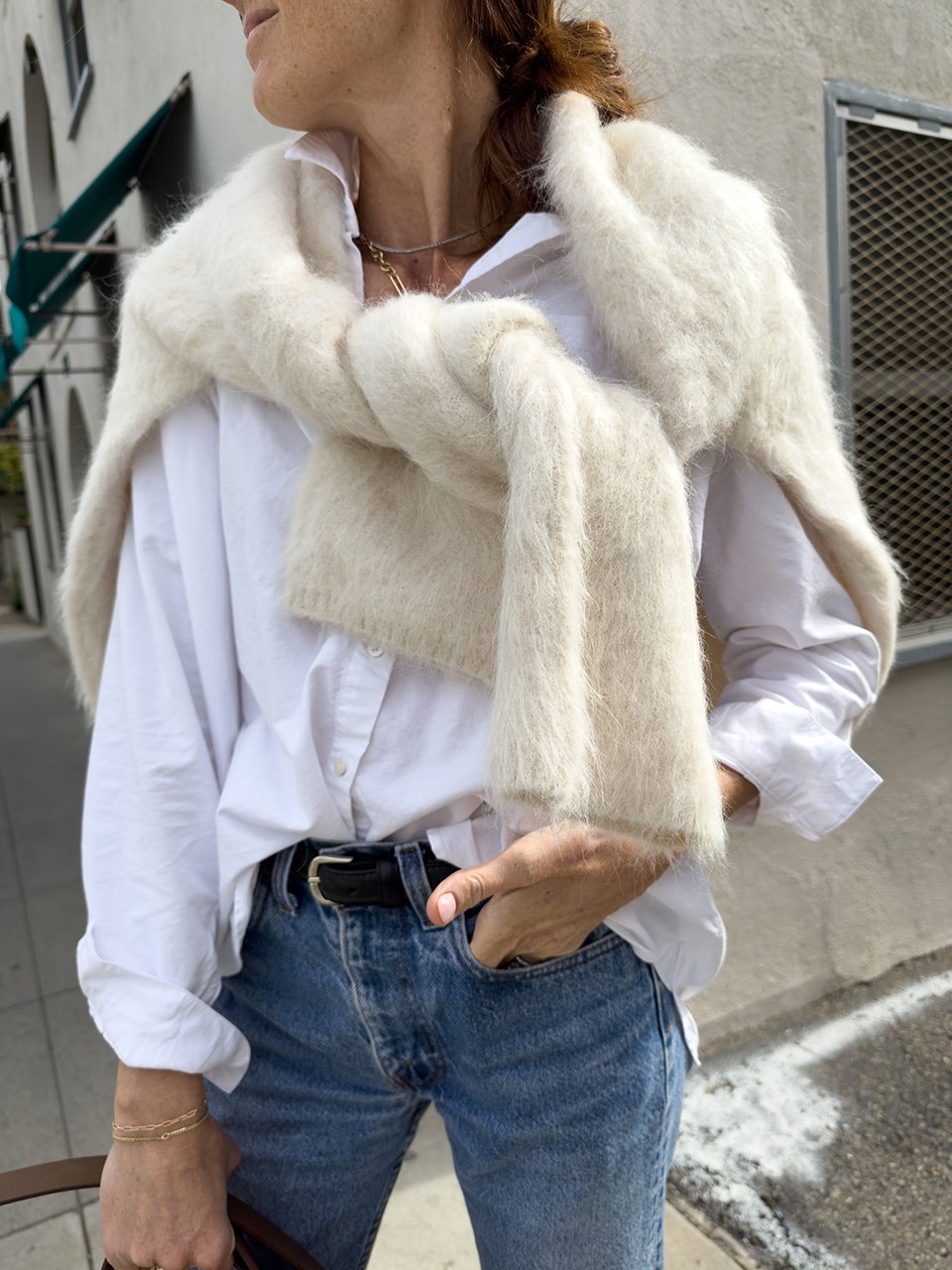 Spring is here and I've been shaking my February wardrobe slump with some retail therapy. Sometimes it's the little things, the basics that can re-ignite that loving feeling around your clothes and make old things feel brand new again. The other day I tried five different outfits on before reaching for my most basic oversized button-down and just like that I felt like myself again. So my m.o. these days has just been to keep it simple. 
After that I started thinking about the basics I really needed to jumpstart my Spring wardrobe which led into a mini edit/purge of what was looking dingy, things I haven't worn in over a year and a few things I could store. I narrowed it down to five favorites that have been essential lately with the unpredictable weather. 
A good pair of jeans… I'm a big fan of vintage Levi's (501 mostly) and have had luck lately at The General Store in Venice and Love Worn in Santa Barbara. However I also love the Diana Jean from Doen and Daphne by COH, both have a similar fit to vintage levis and I love the wash. 
That perfect white tee… I love a good classic white tee and jeans as a base to so many great Spring looks. I prefer a higher rounded neckline so that it peeks out the top of sweaters when layered and works with v-neck sweaters/cardigans—like I styled here. This Nili Lotan one as been my absolute favorite but a close second (at $8 dollars) is definitely this one from Target. I also ordered a more feminine style that felt perfect for Spring. Added some other finds below but a fresh white tee has really given my wardrobe life lately. 
Trench coat or light jacket… Oh Spring, always keeping us on our toes! But I don't think I've gone a day without being cold and hot in the same breath. In the fall I invested in a Marfa Stance jacket and have worn it SO much these last few months but it's proven to be such a nice layer for Spring too. Of course a trench coat is such a classic, cool look as well and the perfect layer. I have and love this one and am coveting a few others I linked below. 
A classic crewneck sweater… or ten! Ha but seriously you can't have too many sweaters I've come to realize. I've been leaning on my medium sized knits as they're perfect for throwing over shoulders or over a light jacket/trench and layering with collared shirts underneath. I've been coveting this one (so many colors and patterns I can't decide) and currently living in this one a favorite style from Jenni Kayne (code: Samantha15).
Add a belt… while thinking about the basics, a belt can change a simple jeans and tee look instantly. I recently got some from a brand I love called Déhanche—loving this one the most with these silver earrings—and excited to share I have a code for you (code: Samantha). I also love this simple black belt (pictured) and it comes in brown as well. 
Spring Basics: