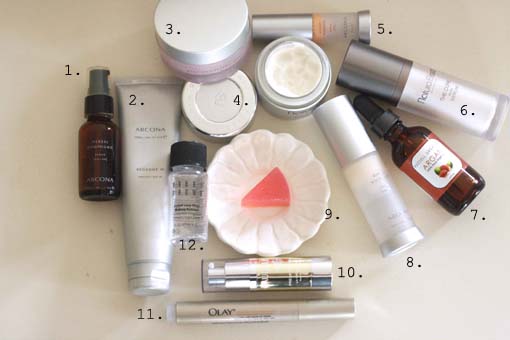 Finding the right facial products seems to be a never ending trial and error process. There are so many factors that can irritate my skin or cause a breakout—too much sugar, weather, hormones and makeup—so I'm constantly trying new potions and lotions recommended by friends or favorite brands. I do sometimes splurge on certain products that aren't cheap but I figure it's worth it in the long run. Here's a look at what I'm currently using and loving…
1. Arcona
Herbal Compound
—I put this on irritated skin or problem areas before going to bed. It has natural ingredients that kill bacteria without being to drying.
2. Arcona
Reozone 40
—I finally found a sunscreen that doesn't give me odd breakouts. I wear this one almost daily and it never causes problems.
3. Arcona
Triad Pads
—These are perfect for a post-workout. They leave my skin extra soft and clean.
4. Natura Bisse
Diamond Cream
—Incredibly moisturizing and luxurious. I savor this jar!
5. Arcona
Night Worker
—I use this the night before a special occasion and it makes my skin  look fresh and dewy.
6. Natura Bisse
The Cure Pure Serum
—Magic in a bottle. I use this serum in the morning because it's extra moisturizing yet not too greasy.
7. Russell Organics
Argan Oil
—I've been told this is the best anti-aging ingredient around. Three times a week I put this on all over my face and neck at night.
8. Arcona
Magic White Ice
—Since my skin tends to be on the dry side, sometimes I double up on my moisturizer. This is another great option I use for daily moisturizing.
9. Arcona
Berry Fruit Bar
—A trick I recently discovered for dry skin, only wash your face at night with a cleanser and rinse with warm water in the morning. And, use a gentle cleanser like this one.
10. Caudalie
Eye Cream
—Bye bye dark circles. Pricey, but so worth it.
11. Olay
Total Effects Eye Brush
—I love putting this on in the mornings, it's anti-aging and tinted. Easy on the wallet and works wonders.
A few other tips I try to live by when it comes to skin care…
Drink lot's of water
Load up on fatty acids: almonds, salmon, eggs, leafy greens
Rest
Exfoliating 2-3 times a week
Also include your neck and chest in daily routines
Avoid refined sugars (this one is the hardest for me, and it affects me the most)
Always wear sunscreen and have a hat handy