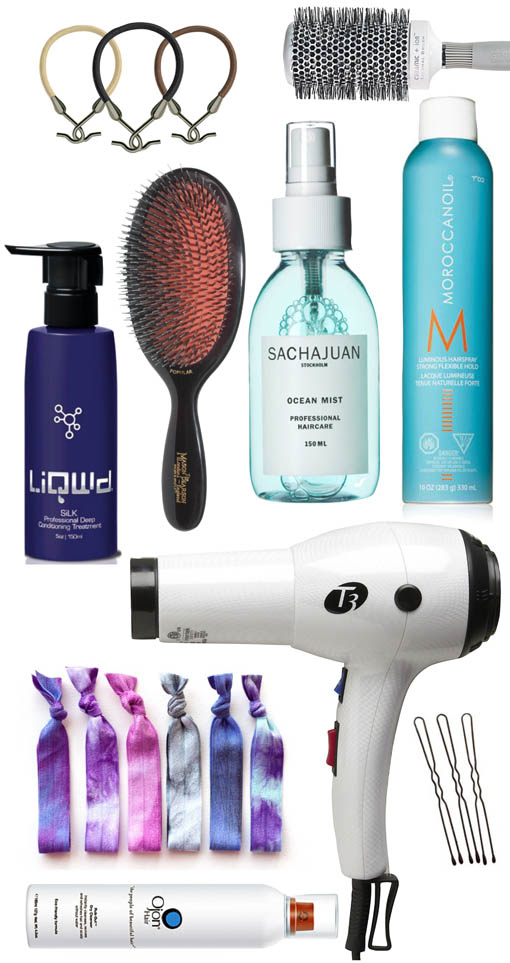 It seems like most mornings I wake up to a messy, not-so-cute mop on top of my head. If it wasn't for a few trusty tools and products, I'm not sure I would ever make it out the door. And now that Summer is here, heat, sun, chlorine and salt water take their toll, which means doubling up on conditioning and making the most of wavy air dried hair. My most recent favorite find? The entire hair care line by
Liqwd
. I'm currently using the Q-Keratin shampoo and conditioner and it leaves my hair incredibly soft and frizz free. What is your can't live without product right now?
Clockwise from top left:
Sacha Juan
Ocean Mist
– I spray this in my hair for perfect beach waves.
Moroccan Oil
Hairspray
– My most favorite hairspray mostly because of the smell.
French Hair Pins
– I have these stocked in every bag and in my car. When I need my hair out of my face I use these to throw it up in a messy high bun.
Ojon
Dry Shampoo
– Smells amazing and re vamps my hair.
Tie Dye Elastic
Hair Ties
– They're pretty and never snag.