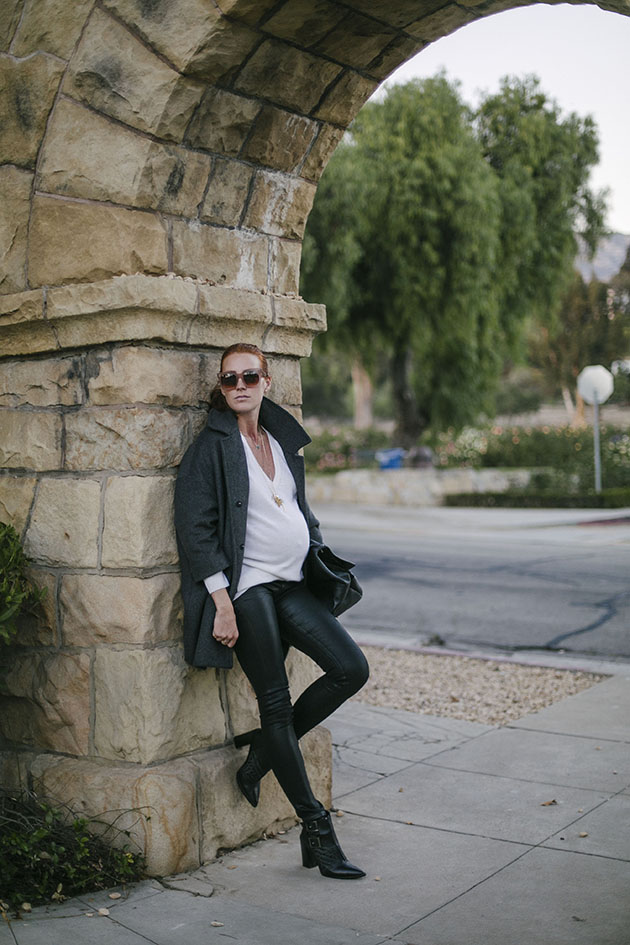 Last week I hit a wall with my wardrobe. You know, the days when you wake up and pace in front of your closet doors and realized nothing is right and something inspiring, something new is needed? That was me almost every morning, stumped. And then I realized I've entered the "full term" phase of my dressing the bump adventures. A tough stage since there's no clear map as to when things are going to suddenly change and what will work with my recovering figure. Just as I was feeling slightly antsy and frustrated with it all Glamour Magazine asked to interview me on being a stylish mama-to-be! I was incredibly flattered and the timing couldn't have been better for lifting my spirits. You can read the story on maternity dressing here, but one thing I realized I left out was a cocoon coat. By far one of the best things I picked up that I know I'll be wearing long after baby. The rounded shape gives a slimming illusion with skinny jeans and is perfect for staying warm and cozy.
Here are three other cocoon shaped finds—the Heidi Merrick one is a stunner!


Hatch coat, Equipment sweater, Citizens of Humanity jeans, Tibi Piper boots, Celine bag (similar) and Tilda sunglasses (similar), Jennifer Fisher charm necklace, Brooke Corson plate necklace.