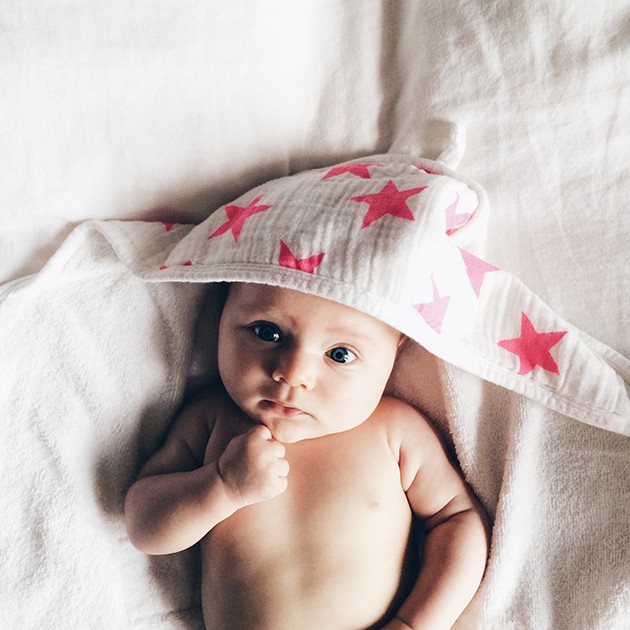 I've had moments in my life that I wish I could rewind and live over and over again. I can usually think of the top ten in my head right off the bat. A handful from my childhood (the ones we still laugh about to this day), memories with some of my best friends, the night I met my husband, the day I married him and the day our little Elin came into our lives. Three months have flown by far too quickly and every minute feels like a moment I want to hang on to, remember and re-live over and over again. She's cooing, grabbing at things, laughing, holding her head up and getting stronger every day. We've established our own routines, dad insists he gets to wake her up each morning, and overall feel like we're getting the hang of it all.
A few favorite things these past weeks…
Aiden + Anais towels (pictured above). Elin loves bathtime but is not a fan of getting out of the water. My remedy wrapping her up right afterwards with one of these Aden + Anais towels, which has a belt attached for an extra snug post bath cuddle…
Making Artifact Uprising albums with pictures of Elin for family and friends straight from my iPhone using their new app…
Elin is on a daytime nap schedule so when we're out and about, this Little Dream Bird car seat cover does wonders for sleeping on the go…
The Winkel toy that she can't get enough of…
Press Here, just about the cutest book that always catches Elin's attention…
While I use and love this diaper bag from Tory Burch, I also have this organizer that slips into any designer tote. It's currently in my Celine luggage bag…
Naturally I've been going a bit overboard with some pretty cute threads for Elin. Here are some favorite stops… anything and everything by J.Crew baby… soft pjs from Purebaby… knitwear by Oeuf… Paige Lauren for cozy daytime wears… and anything Kissy Kissy for its softness.