Nothing floats my boat more than finding a product that simply works. We all have some kind of beauty issue that we're always trying to address and when the solution finally presents itself life just gets better and the tip gets passed on. So here's my discovery for the month. After weeks of feeling like I was in a hair rut someone asked me what type of shampoo and conditioner I was using. I quickly replied with the brand and gushed about how long I have been using it (over a year) and loving it. They said, that's your problem! I was given the tip to change products, try something new and fresh. So I swung by Sephora and picked up Bumble and Bumble's Invisible Oil duo. It was just the trick that I needed. Although I do think I'm in need of a major style switch up. Stay tuned.
Clockwise from top left: Pinch Provisions Minimergency Kit, Essie Blanc nail polish, Bumble and Bumble Invisible Oil Shampoo and Conditioner, IS Clinical Cleanser, Moroccan Oil Dry Shampoo.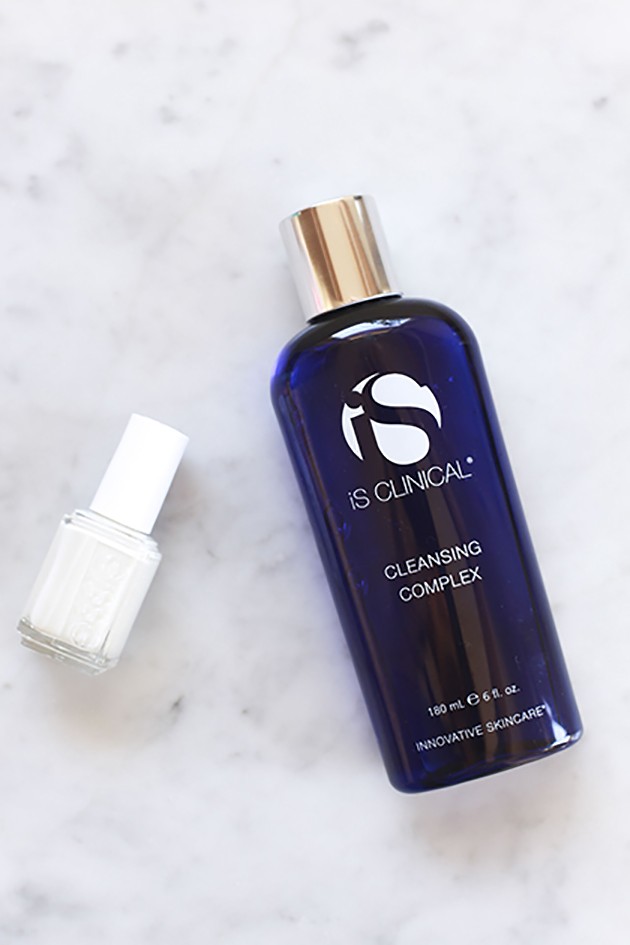 I used to have an overflowing collection of nail polishes in every shade you could imagine. I don't think I ever made my way through a bottle. I finally tossed them when I realized how much real estate they were taking up in my bathroom and how rarely I was even using them. Now I keep one color in my drawer, white. Blanc by Essie is the best that I have found. Another current mainstay on my bathroom counter is this cleanser by IS Clinical.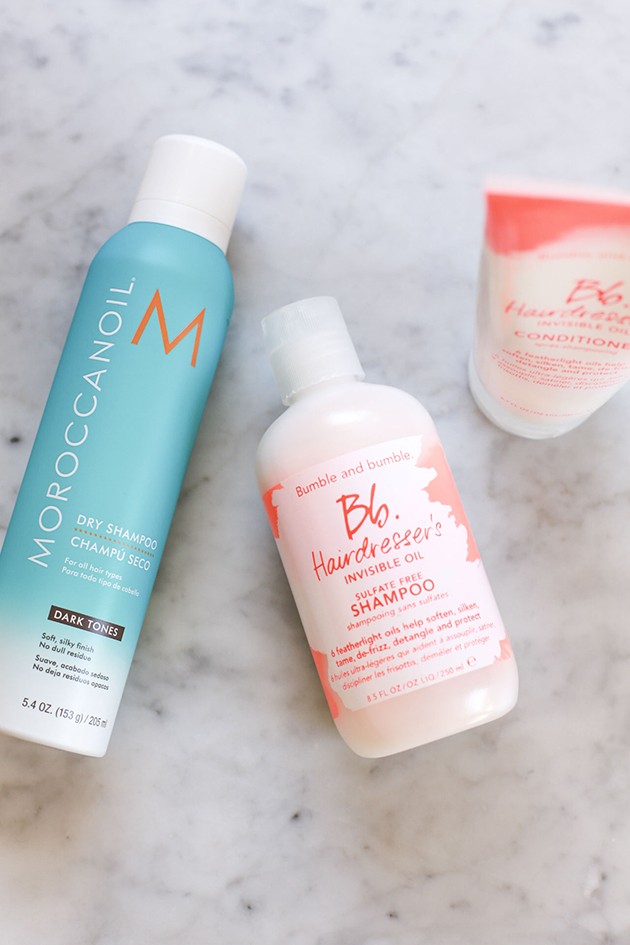 The latest trio making me love my hair again. Dry shampoo has become a favorite tool for getting that bedhead-like texture. Moroccan Oil just came out with their very own and so far, like most of their products, I'm obsessed with the smell. 
I'm not going to lie, having a baby definitely makes things a tad more hectic. So much so there have been days that I've run out of the house without deodorant or brushing my teeth. This tiny pouch is stocked with literally everything you might need in a beauty emergency. I keep one in my car and in almost every bag. And yes its come to the rescue a handful of times.