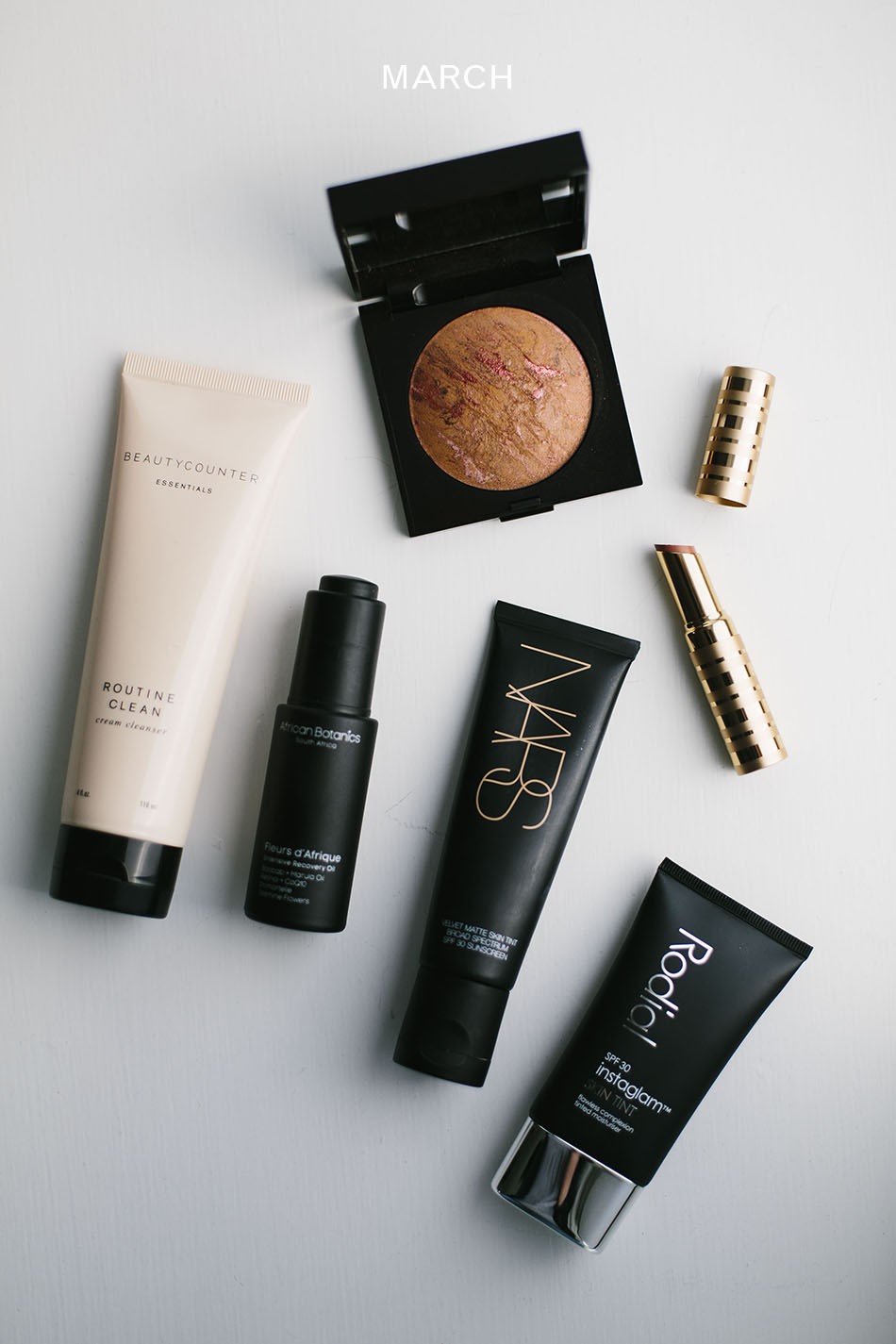 Something about the arrival of Spring has me stripping down my makeup routine to a natural, fresh faced glow. Wearing hardly anything besides a tinted moisturizer, bronzer and a swipe of light pink on my lips. Besides exfoliating and moisturizing daily, I've found a few other product favorites to help achieve that dewy glow. 
Clockwise from top:
Laura Mercier Baked Blush Illumine: A limited edition blush illuminator so get your hands on it while its around! It's been the last step of my minimal look and adds the best touch of color and highlight to my cheeks.
Beautycounter Lip Sheer in Twig: Subtle, light with just enough shine for an "undone" look. Not to mention this line is amazing because it's safe from any cancer causing ingredients which are in a lot of beauty products. You can learn more here.
Rodial Instaglam Skin Tint + Nars Velvet Matte Skin Tint: I can't decide which one of these I like better, but they're both good and they've both been my favorites as of late. I've even mixed them a bit and love the fact that they have a medium coverage that leaves my skin dewey versus shiny. Both have an SPF 30 in it, so I feel even more protected.
African Botanics Fleurs d'Afrique: One of the lines that I'm slightly addicted to because everything smells amazing, leaves my skin feeling brand new and contains only safe ingredients. This is the latest from African Botanics and it's become my favorite. It's an oil that helps recover and protect skin from sun damage, aging, dryness and any problem areas. My skin always weighs on the sensitive side and this little jar of magic has been making my skin look more youthful and glow! I've even added a drop to my primers and tinted moisturizers.
Beautycounter Routine Clean face wash: Simple, effective and smells like a dream. I've been using this with a Clarisonic brush and my skin feels prepped and ready for my fresh faced routine.
Photography by Arna Bee