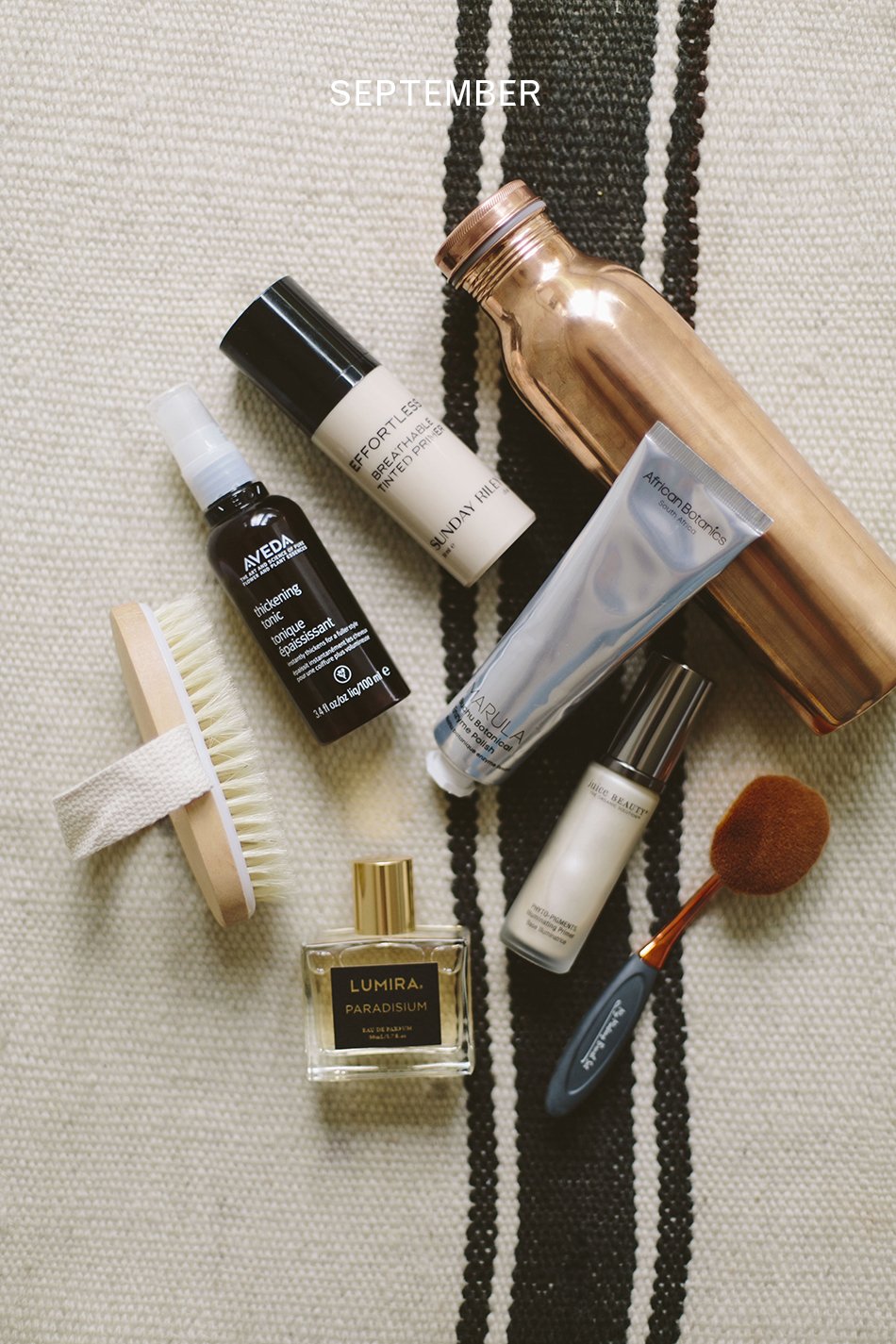 Sure, I like to look pretty. But lately I've been encountering the philosophy of "clean beauty" and it's sprung a few questions about what exactly is in the products I'm using. In a nutshell, some big brand companies out there are using toxic ingredients that have been directly linked to cancer, infertility, allergies, dermatitis and more—yikes! To put it in perspective there hasn't been any laws passed since 1938 that regulate the safety of the ingredients being used. For a product junkie like myself this nugget of knowledge has me look at my beauty bag a bit differently.
BeautyCounter is a great line of skincare, baby care and cosmetics that offers tons of information on the topic. I've been using their "never list" to educate myself a bit and somehow identify those ridiculously long words with too many x's in them. With that being said, I'll be trying my best to read the labels more and share organic favorites (that work) with all of you.
As for September, here are some recent favorites. Like clockwork my skin has reacted to the change in weather and felt über dry—nooooo! My remedies have always been drinking extra water, limiting caffeine and sugar (always the hardest!), using a humidifier, exfoliating and moisturizing every day.
Clockwise from top right:
Copper water bottle: I'm currently making my way through the first goodie box delivery from the Year of Wellness that recently launched over on LEAF.tv. The theme is detox and its completely motivated me to cleanse my body of any toxins and live a healthier lifestyle. This copper water bottles that was included is amazing, it helps fight off free radicals and does all sorts of good things for your liver and kidneys. I'm hooked on this program, which you can subscribe to here.
African Botanics Enzyme Polish: I'm always looking for a good exfoliator around this time of year. This one smells amazing and is composed of botanical ingredients.
Juice Beauty Primer: I love a good primer. I have a handful I use regularly and I'm pretty particular with the feel, consistency and effectiveness of the them. This one by Juice Beauty is a new favorite and is made with only organic ingredients. It also happens to be Gwyneth Paltrow's favorite from the brand.
Oval Brush Set by My Makeup Brushes: I'm all about the oval makeup brushes right now. This line makes a quality 10-piece set that's easy on the wallet.
Lumira perfume: You may have seen a candle from this line on here before, well the fragrance is just as good. This light scent is the prettiest thing and carries a sense of sophistication that I love.
Skin Brush: Another part of my detox box from Leaf.tv. Skin brushes are great to use before hopping in the shower. They do wonders for your lymphatic system and leave your skin, mind and body glowing.
Aveda Thickening Tonic: We all have our ups and downs when it comes to our head of hair. I was in a serious slump until I started using this. I spritz a little at the roots of my towel dried head and somehow my locks come to life with a teensy but more body.
Sunday Riley Breathable Tinted Primer: A favorite that has become part of my daily routine. I'll layer this with the Juice Beauty Primer for a natural dewy look.

Photography by Arna Bee