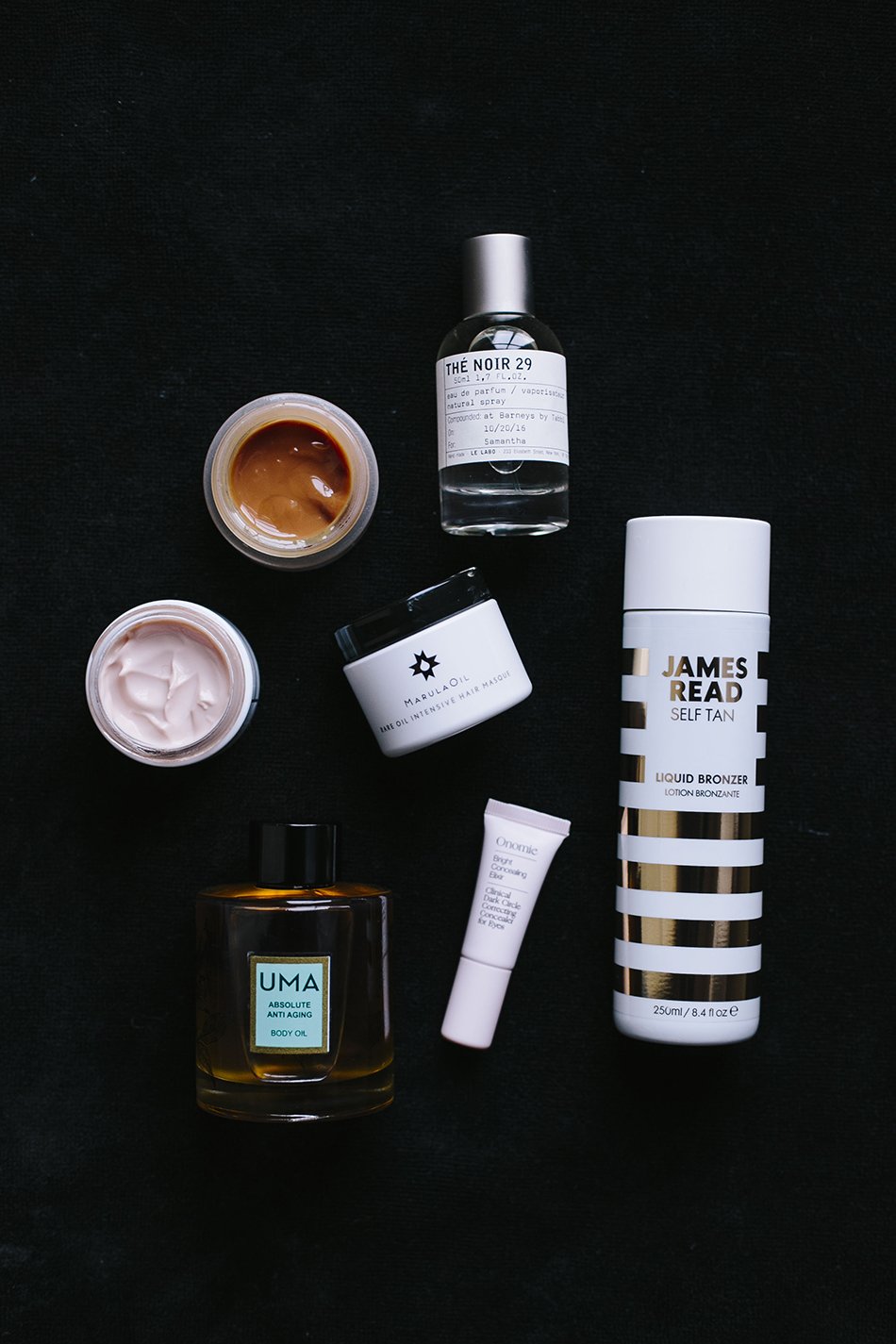 If there's one thing I miss while being away from home for a long period of time, it's my bathroom filled with my favorite lotions and potions. No matter how much I manage to fit in my suitcase, there's always something I find myself in need of. And traveling in itself always seems to throw a curve ball, like your secret hair serum that is the only thing that works on your hair exploding in your bag, and of course the international problem of hot tools getting way-too-hot—seriously though, what is up with that. But on the flip side, I did manage to bring some gems that have kept me feeling and looking like myself while being so far away from the mother ship of tricks and tools. 
Clockwise from top right:
Le Labo Thè Noir—my latest obsession that I refused to leave home without. The smell, oh the smell is so so good and it was my evening accessory that made me feel like a better version of myself. Perfume does that for me.
Marula Oil Intensive Hair Masque—my biggest beauty pet peeve when it comes to traveling is how everything from your head to your toes gets dry. I contemplated needing a hair masque but boy was I happy I packed this one. So many times I didn't even bother fussing with my hair post shower and letting it air dry, especially while in Hayman Island. I started putting this masque on and it brought my mane back to life, minimizing the frizz and bringing back some shine.
James Read Self Tan—being a redhead with sensitive skin, I've tried my fair share of self-tanners. This one is my new favorite and can be applied over lotion so you're not left with that horrible dry feeling.
Onomie Bright Concealing Elixir—there were some early mornings/late nights that could easily be given away thanks to my tired eyes. This creamy concealer was just what I needed and it helps minimize dark circles over time. My eyes typically get pretty sensitive to certain creams, and they're never bothered by this one.
Uma Body Oil—my remedy for incredibly dry skin from cold weather, wind, sun, traveling and chlorine. I've been lathering this body oil on my legs and arms every night before hopping into bed. The smell itself is incredibly relaxing.
Sisley Paris Neck Cream—the whole aging neck thing has been freaking me out lately. I've started noticing how much I look down at my phone, computer and even Elin causing those little wrinkles to faintly show—boo! So this cream has become a new part of my routine.
African Botanics Intense Skin Repair Balm—this little jar has permanent real estate in my bag, I can't seem to exist without it. The cure-all balm can be used everywhere—hands, face, elbows, scars, irritated skin—and actually heals blemishes as well. I put it all over before passing out on our 14+ hour flight to Australia.
Photograph by Arna Bee