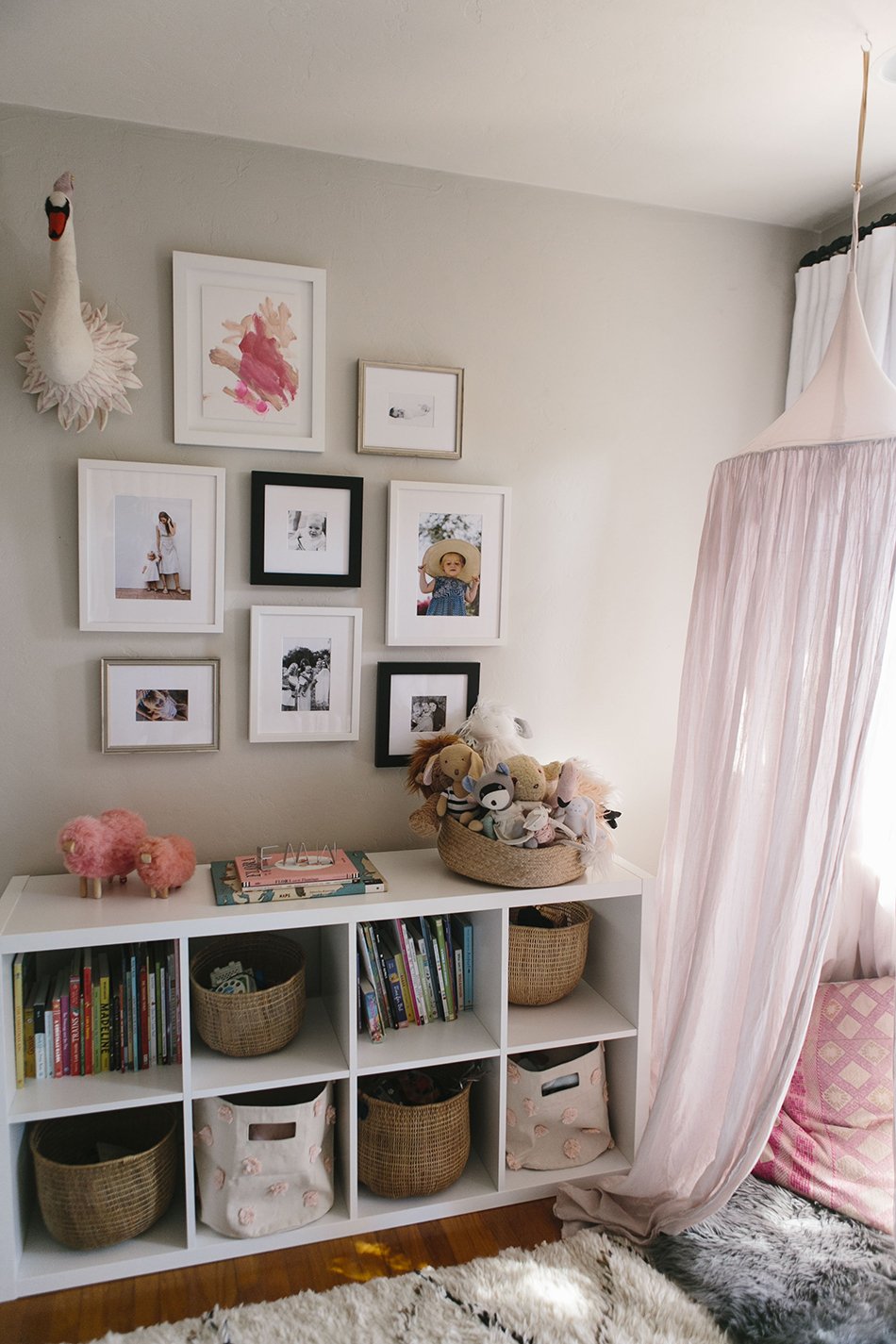 Two years ago this month I remember sitting in our gender-neutral nursery we created with calm grays, creams and tans and feeling like it was the most tranquil room in the house. Since we waited on revealing whether it was a boy or girl making his/her debut, I spent a lot of time daydreaming about what was to come while kicking up my feet in the rocker. The room was a clean slate ready to grow along with this little person and time would only tell what that would look like.

On November 16th Elin Mae made a speedy arrival into this world and before we knew it there were baby dolls, tutus, wands and teacups scattered around. It became evident that the room needed some updates. We created a place for all her toys and books, a cozy hideaway/reading tent and an art easel, where lately she likes to spend most of her time. The one thing we didn't update was her walls! So this year for her second birthday we decided to surprise her with a Framebridge gallery wall with images of family, friends and most importantly one of her paintings—her first framed artwork.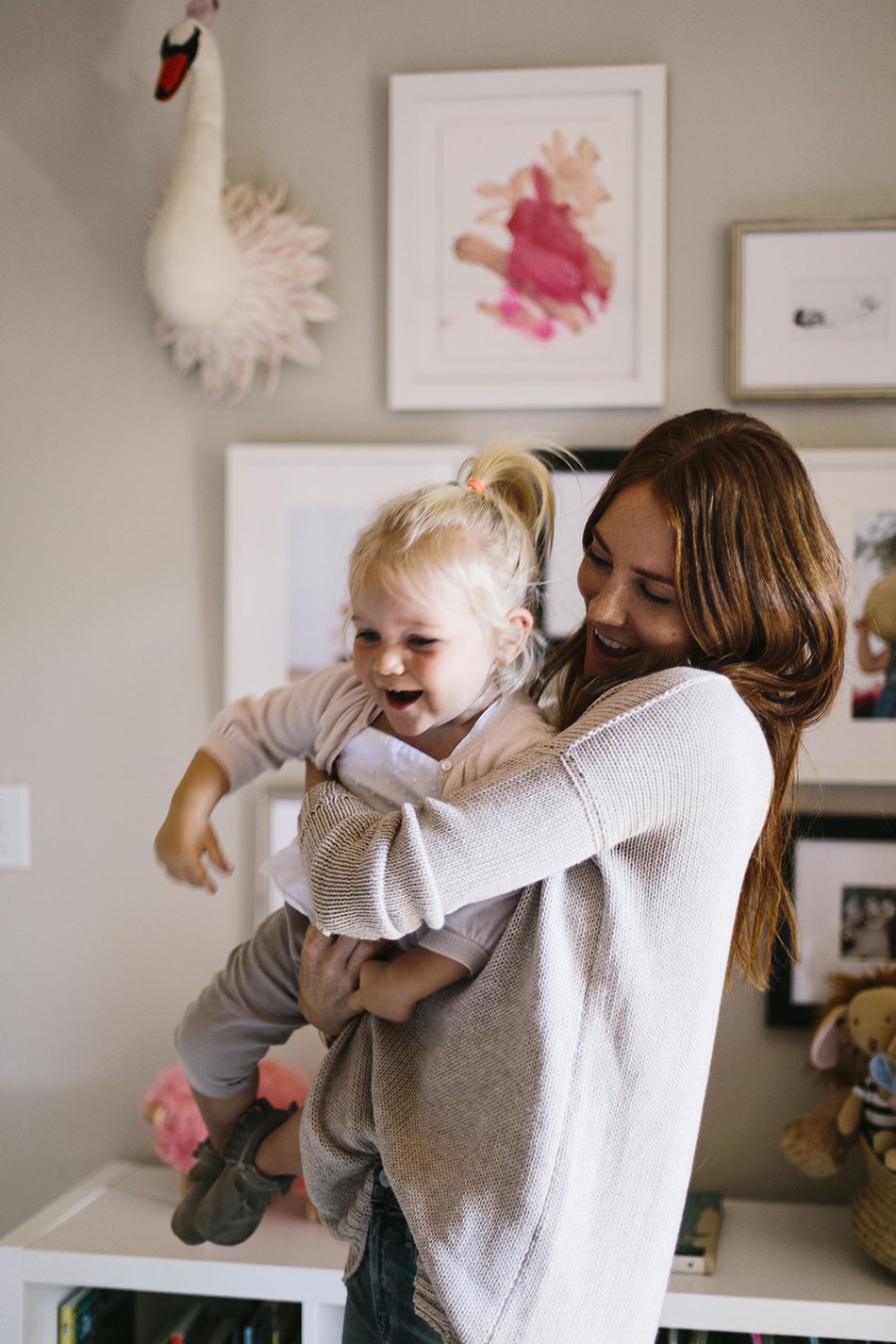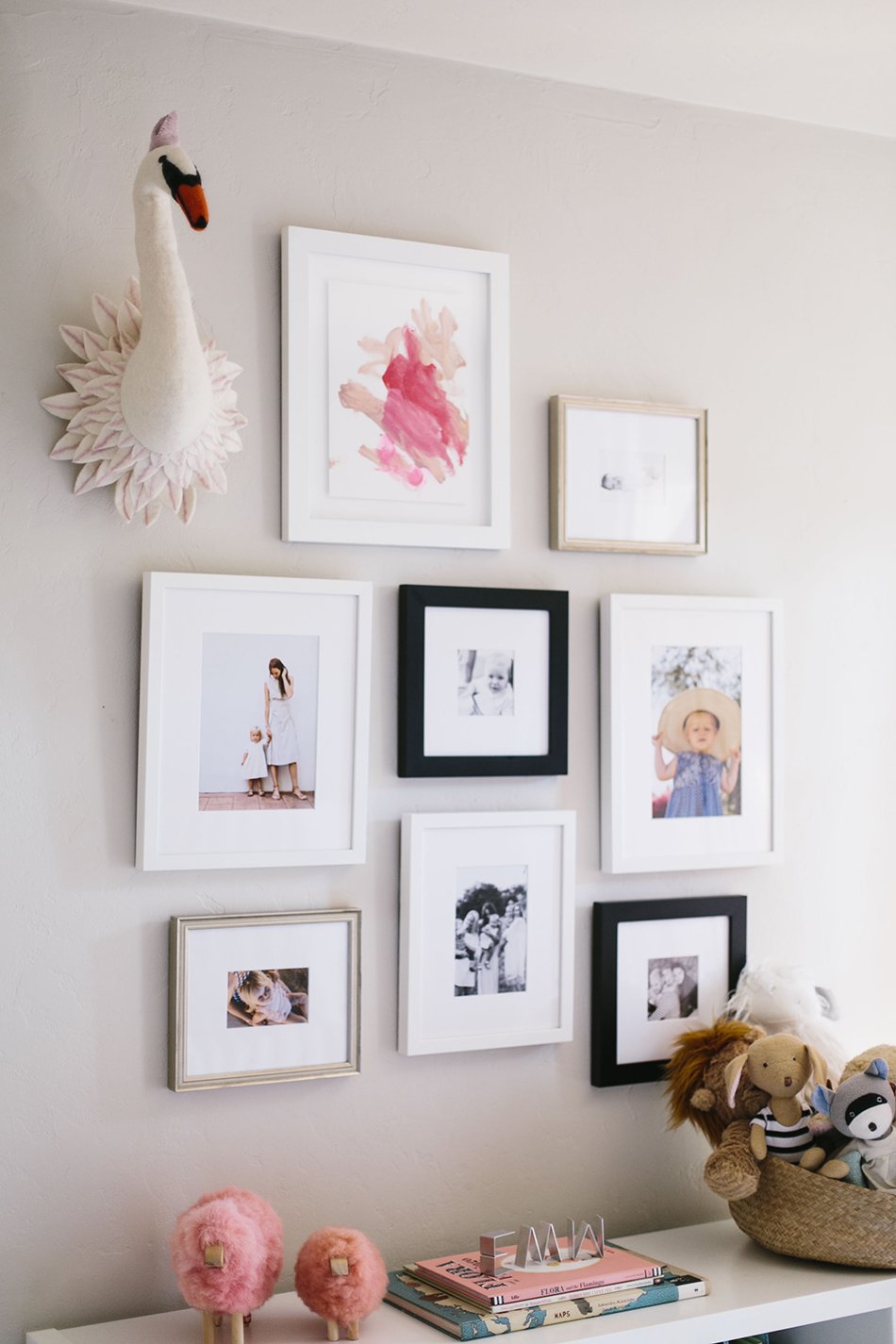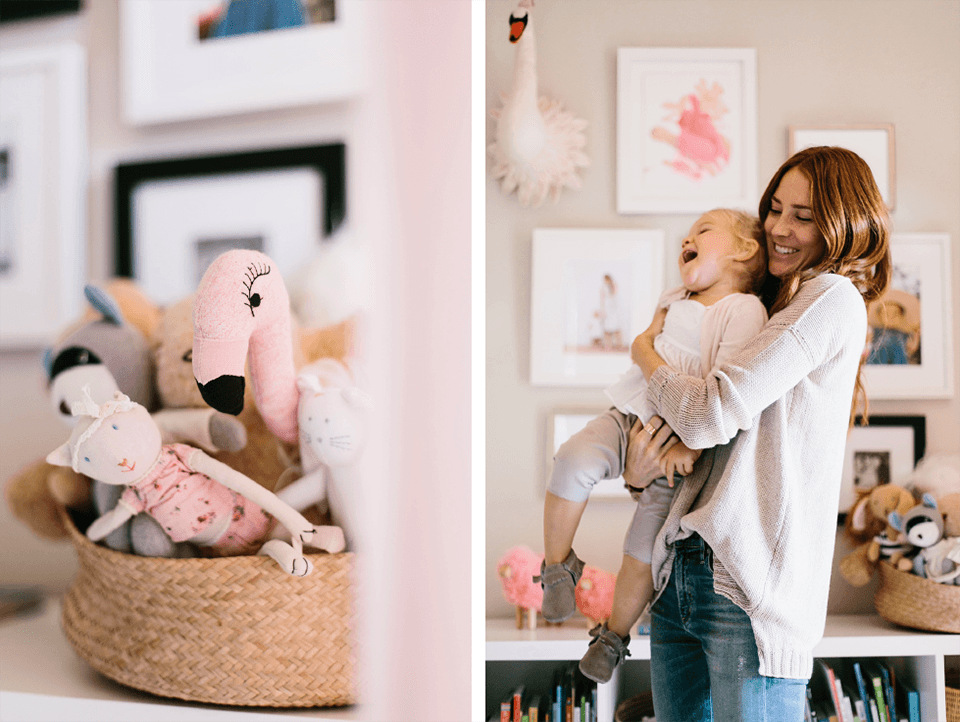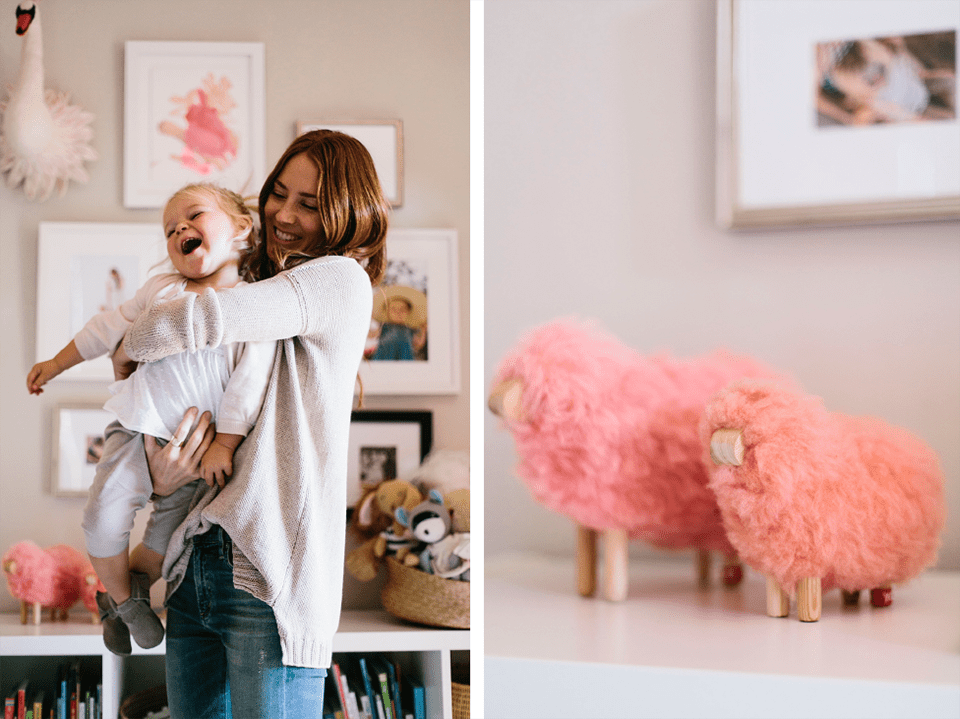 I got to work selecting images from favorite milestones, moments with family and friends that I knew she would remember and a painting with her favorite colors that conveniently mimic the new accent color in her room—hot pink. One thing I love about Framebridge is that you have the option of working with an actual designer who will oversee your whole framing process, and you can get assistance with selecting framing and putting together a gallery wall. Every piece is looked after, mounted in a way that protects and preserves, framed perfectly and ready for hanging—even a nail is included in a cute white envelope!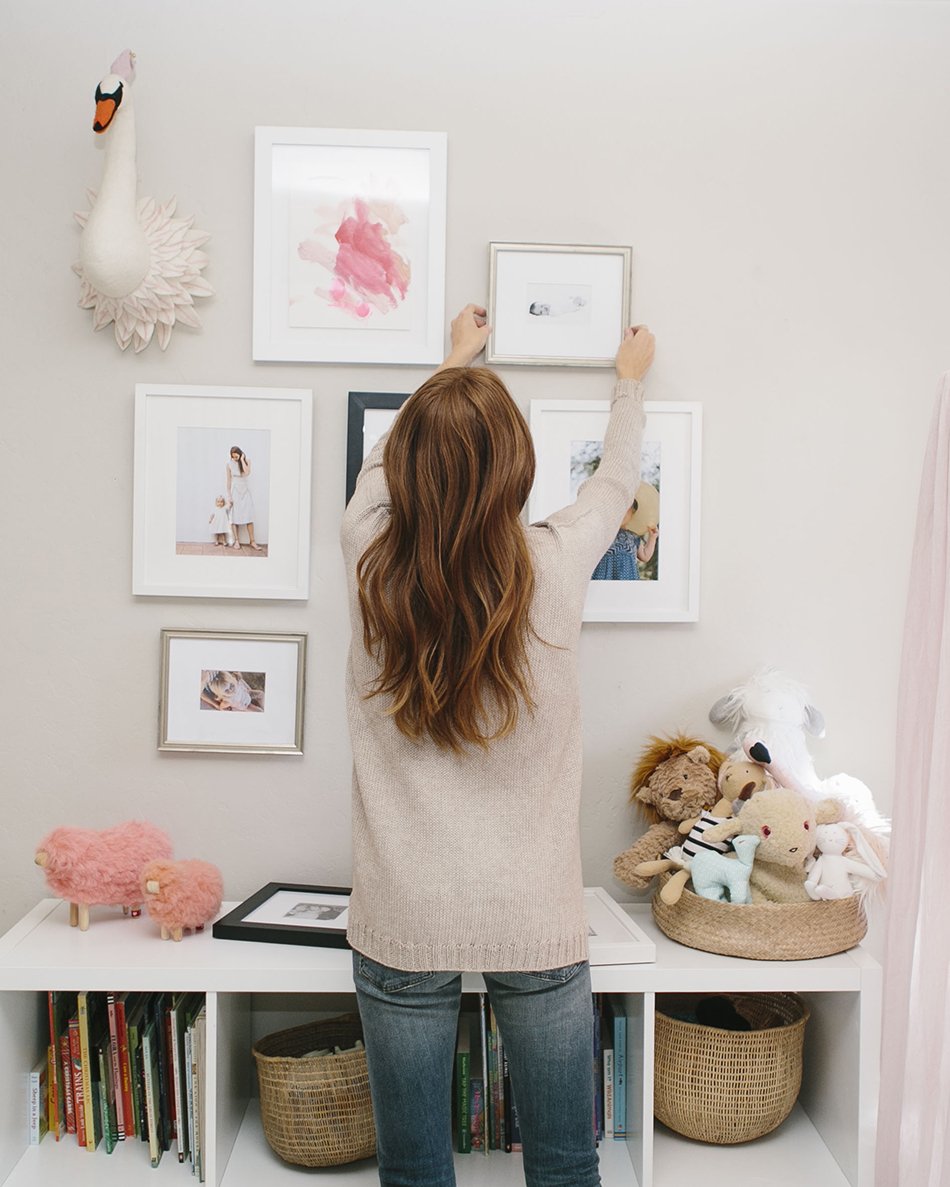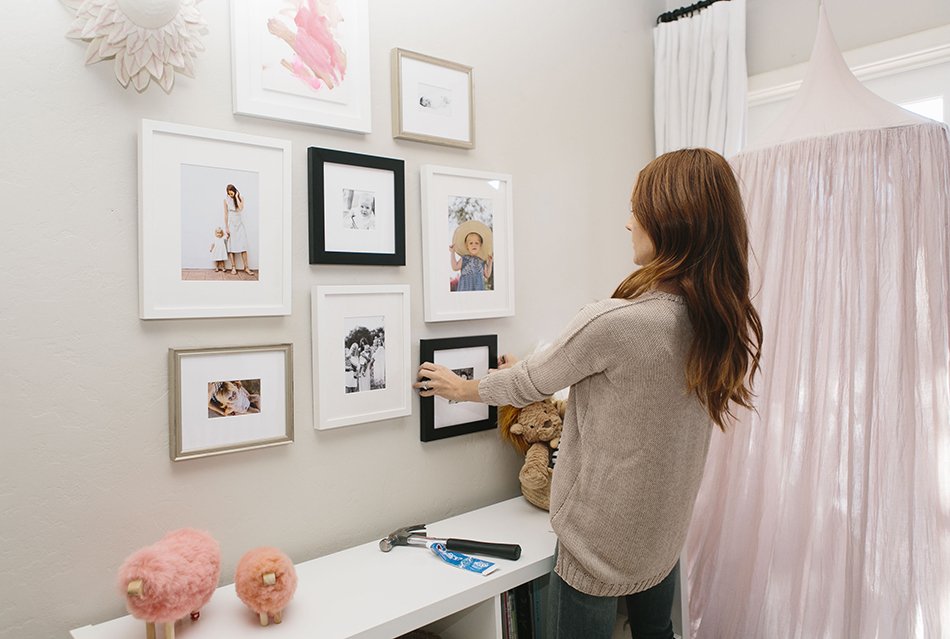 Next I chose three types of framing to mix and match— Newport (an antique silver frame) Irvine and Irvine Slim (both simple white gallery frames) and Mercer (a simple black gallery frame). I wanted to have a variety of colors, shapes and thickness to have a playful vibe. For her artwork, I went with Irvine, a thicker white but simple profile frame, and chose a float mount. This gives it a special touch when mixed in with the other pieces.
Once delivered, we mapped out the wall and used a little trick I recently discovered for hanging placement. Dab the back of the hanging bracket with a teensy bit (half a pea size) of colored toothpaste and position on the wall where you want it. Then lightly press against the wall so it leaves a dot and voilà your marker for the nail. It easily wipes away with a damp cloth.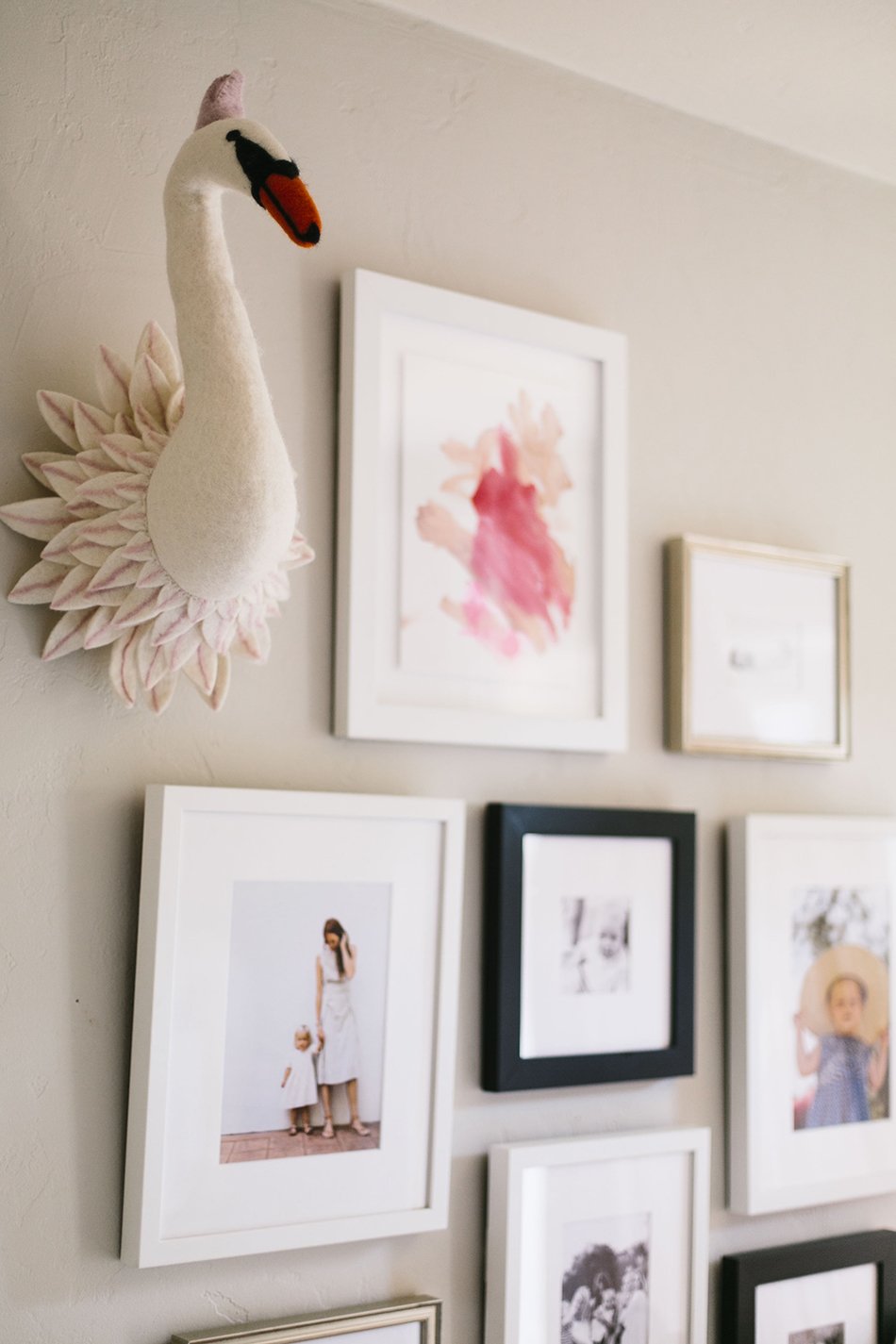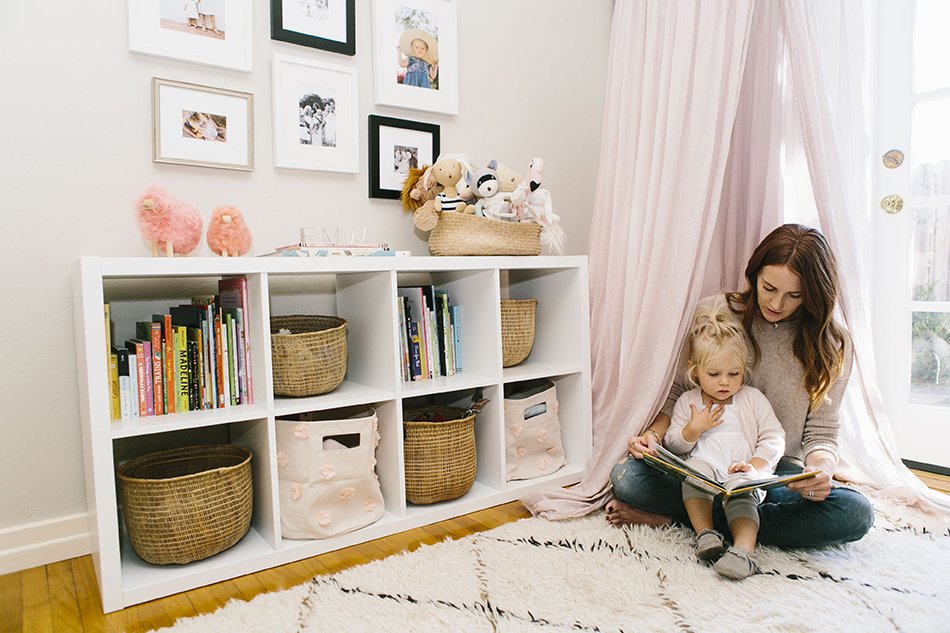 Needless to say revealing the gallery wall to Elin for the first time was loads of fun. It is the first thing she shows friends when they come over and immediately points out her "paain-teen" proudly. I love it because it defines Elin with things and people she loves and encourages her creative side.
With the holidays fast approaching, think of Framebridge for the perfect gift for all those special people on your list. You can upload any digital file to the site and they print it out, frame it, and send it back to you ready to hang. Or you can send in physical items, like Elin's art, and they frame those as well. They send you prepaid packaging for your items and shipping is always free!
They're offering Could I Have That readers 15% off their first order through 2/28/2017 using promo code: COULDIHAVETHAT15 The deadline to frame a mail in piece is 12/4, but you can do digital uploads up until 12/18!
Thank you to Framebridge for supporting this post. All opinions are my own.
Images by Arna Bee.