I had a day this week where I couldn't find anything to wear (and feel comfortable in) with my growing baby bump. I paced my closet and vetoed just about every piece that had been working for me these past couple of months. The change of seasons, the hot/cold nature of these recent fall days and feeling even more limited the more I progress. 
I decided to take a refresher course so I dipped into my archives to see how I did it before, especially since I still own a few pieces I remember wearing and a some maternity things I saved. Here are some styling tricks I had forgotten about and have already put into play. 
Cocoon Coats 
I've been lucky enough to be pregnant again around the same time of year, making my past outfits pretty easy to re-create. One thing I do remember finding essential was a cocoon shaped coat/cardigan like this one. I'd pair it over form fitting dresses and even jeans. It always made me feel comfortable and looked chic while complimenting the bump in front. So glad I kept both of these pieces, the dress is Isabel Marant (non-maternity) and the coat is by Hatch—linking similar options below.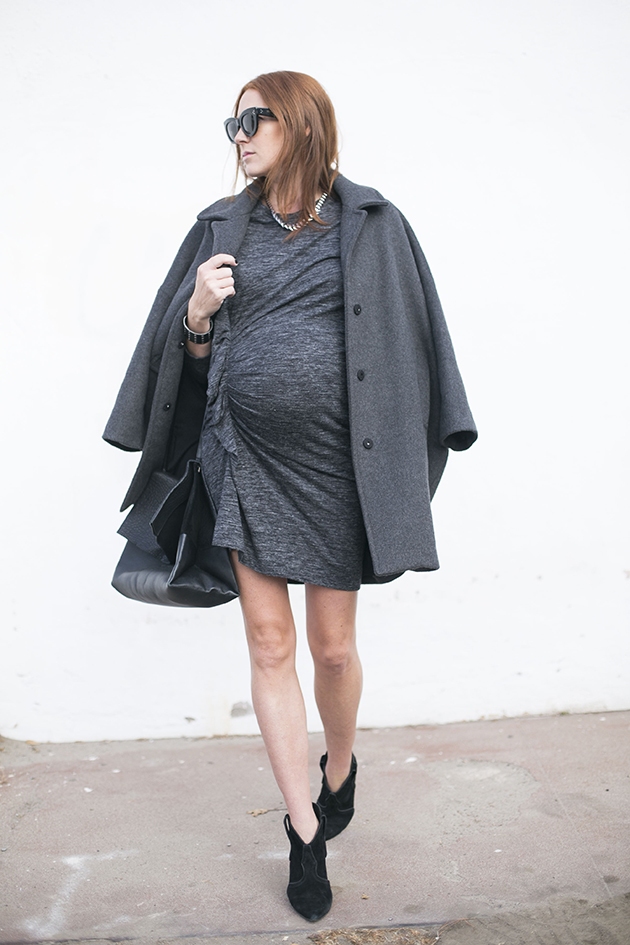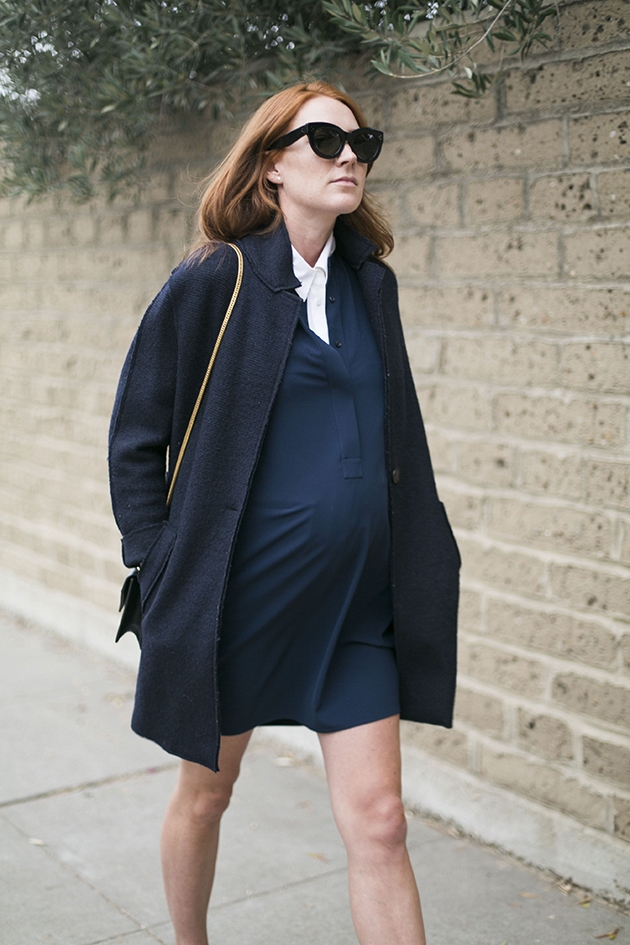 Layering 
Change the look of a normal non-maternity shift by layering a white collared shirt underneath. And if you feel that it's unflattering (in the rear) try throwing a longer coat over your shoulders for an added comfort layer. Also this time around I've learned to embrace the pregnancy spanx, something I didn't even think about five years ago. Wearing an Equipment dress and blouse underneath with a Zara coat. 
Add Some Edge 
A lot of what "works" with a baby bump can wind up feeling a tad frumpy or shapeless. I think that's why I have gravitated towards adding a little edge (with both pregnancies) to sun dresses and empire waist pieces. With Elin I was all about this Anine Bing leather jacket (still the only one in my wardrobe, it's a good one) and this time around I've been really into a combat boot. Either way, if you're feeling too delicate, try choosing something bold or masculine—take a peek at your husbands wardrobe, you might find and fit into something.