It's true what they say about the second baby, everything is so much more relaxed. I think I had Elin's nursery completed with diapers and wipes ready to go at least a month or two ahead of the due date (and she came a week late!). This time we seem to be leaving everything to the last minute. I still have a few essential things to do—washing clothes, hanging some frames but most importantly getting the changing pad out and set up—but we're ready to go for the most part. My main goal for the nursery was to make it feel calm and serene and while we re-used a lot from Elin's nursery I found some new Jenni Kayne pieces that brought in that dreamy soft texture fit for a newborn.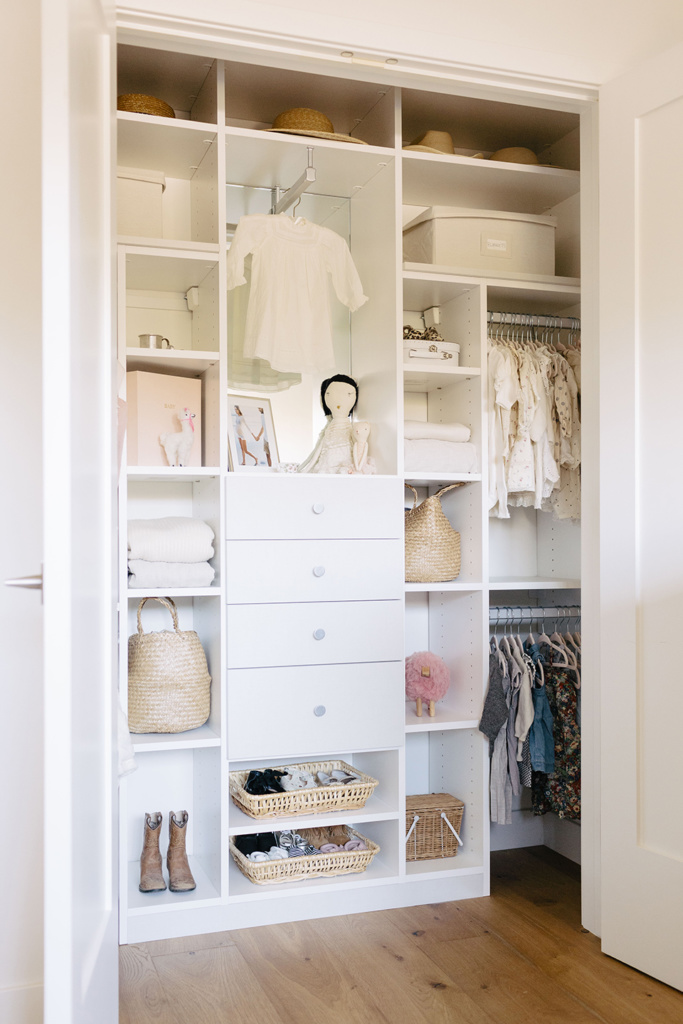 The Nursery
I wanted the nursery to feel calm, soft, light and neutral with touches of muted pink. We used most of the same furniture pieces but brought in a few favorites I had been eyeing by Jenni Kayne—an ivory wool knit rug layered with a double sheepskin rug in dark linen and an Alpaca Basketweave Pillow in Oatmeal.  Good thing I kept all of Elin's old clothes because we're reusing about 90% of it! Pulling out all her old tiny dresses and onesies was so nostalgic and got us all crazy excited to meet this little one. Transforming a 5-year-old's closet (which we worked with California Closets on) to a baby's required a few things—everything is so tiny it was hard to fill at first! But incorporating some baskets, frames, her baby book and using a couple shelves to fold cozy blankets pulled it all together. I also found these linen boxes to be handy for storing extra bedding and baby gear.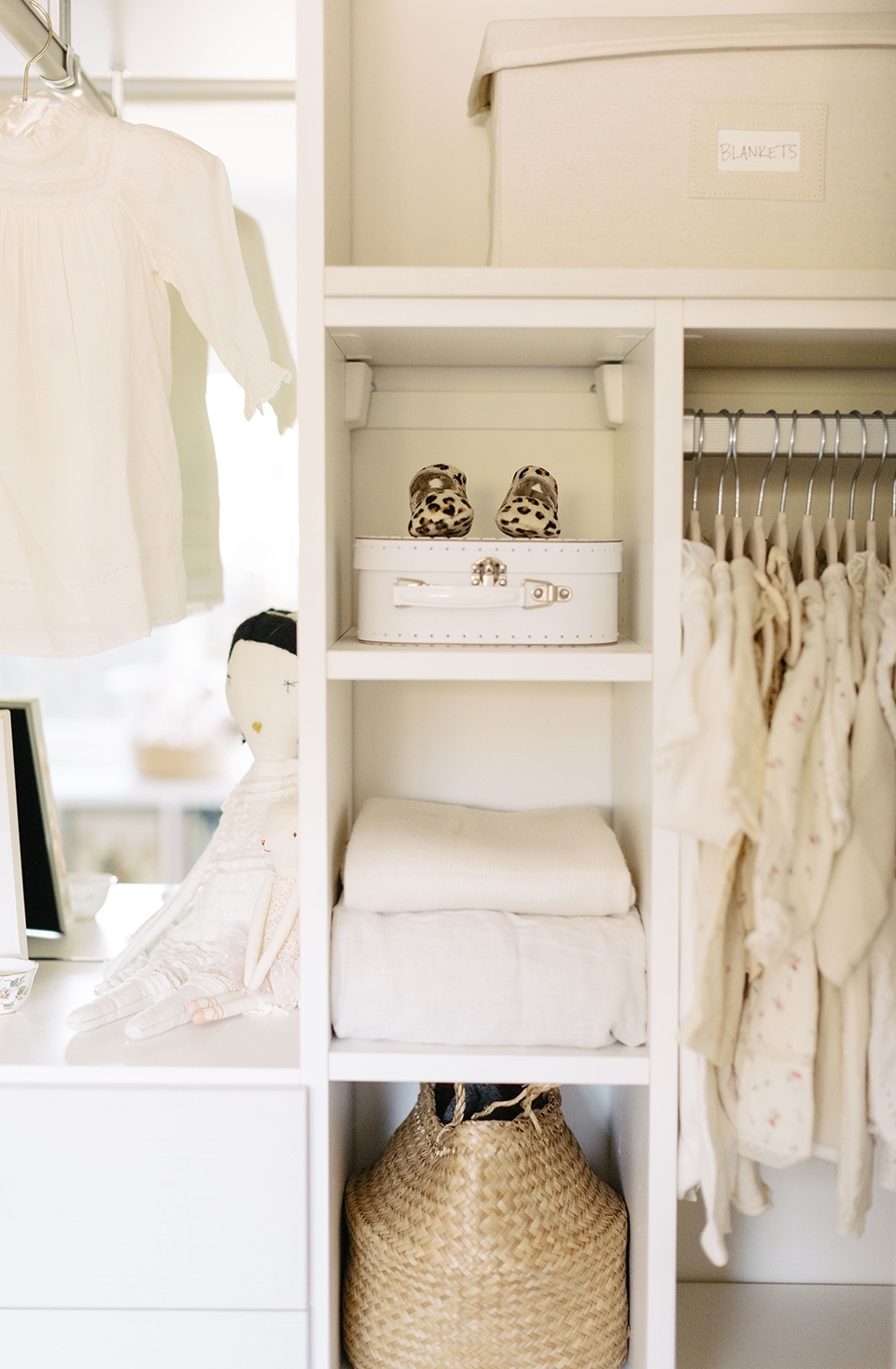 One of my favorite things to bring into a nursery is a sheepskin rug. I had one in Elin's nursery and always loved that super soft texture added to the room and the fact that it was a cozy spot to lay her down on. I've become slightly obsessed with the neutral colors at Jenni Kayne and admittedly found this dark linen shade and designed the room around it. Sweet baby quilt is from St. Frank.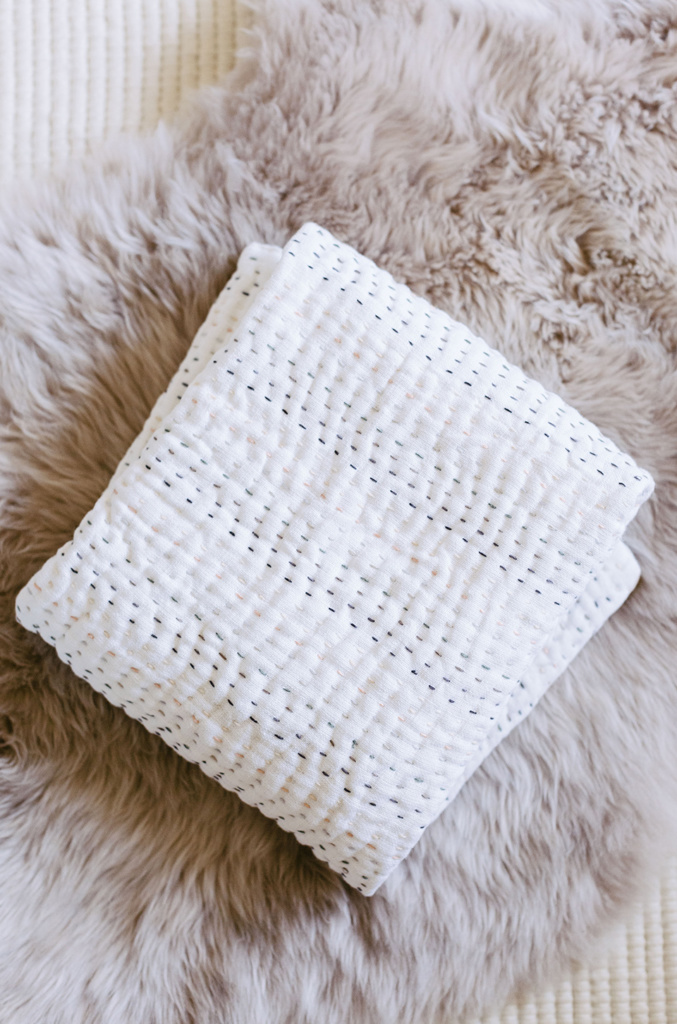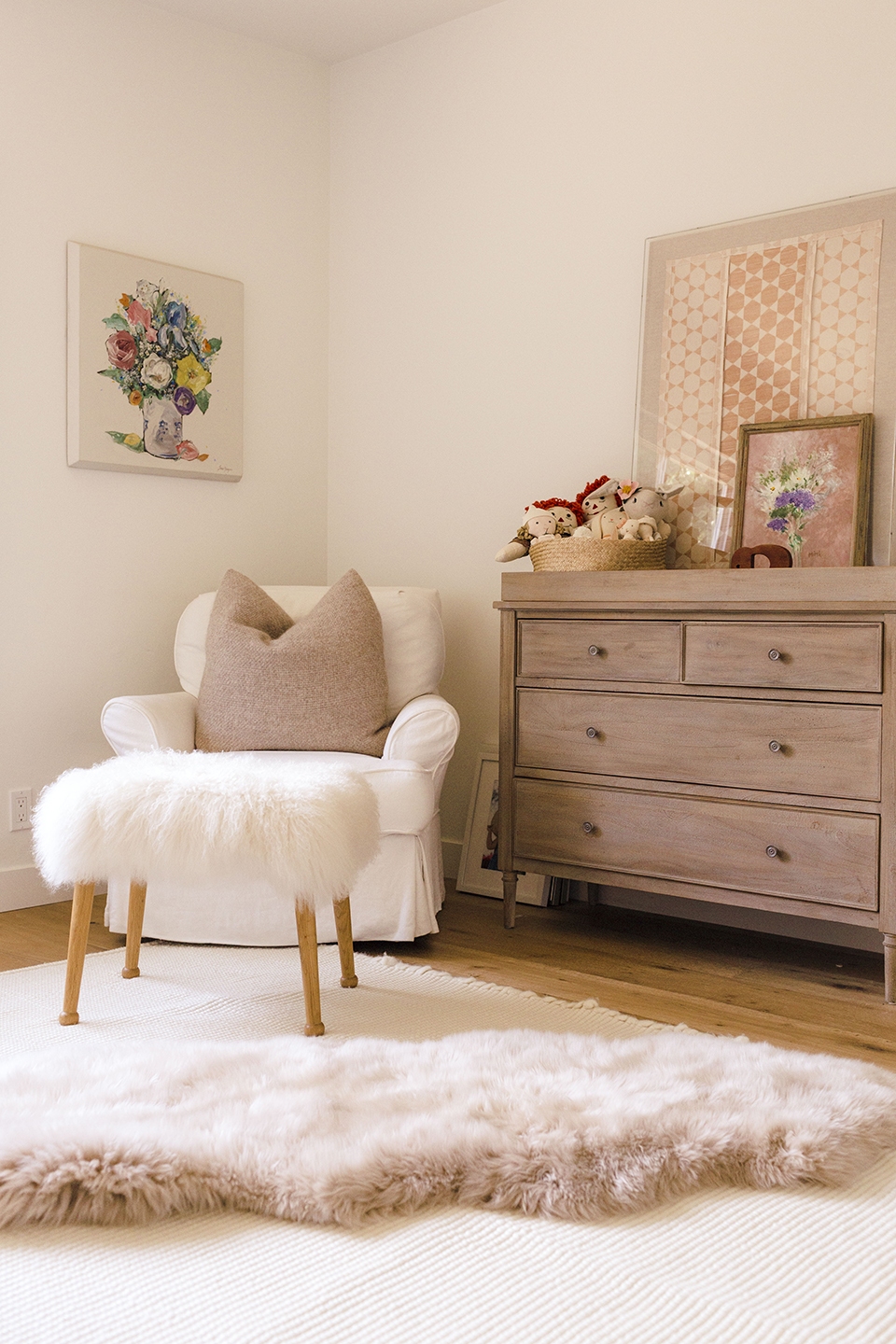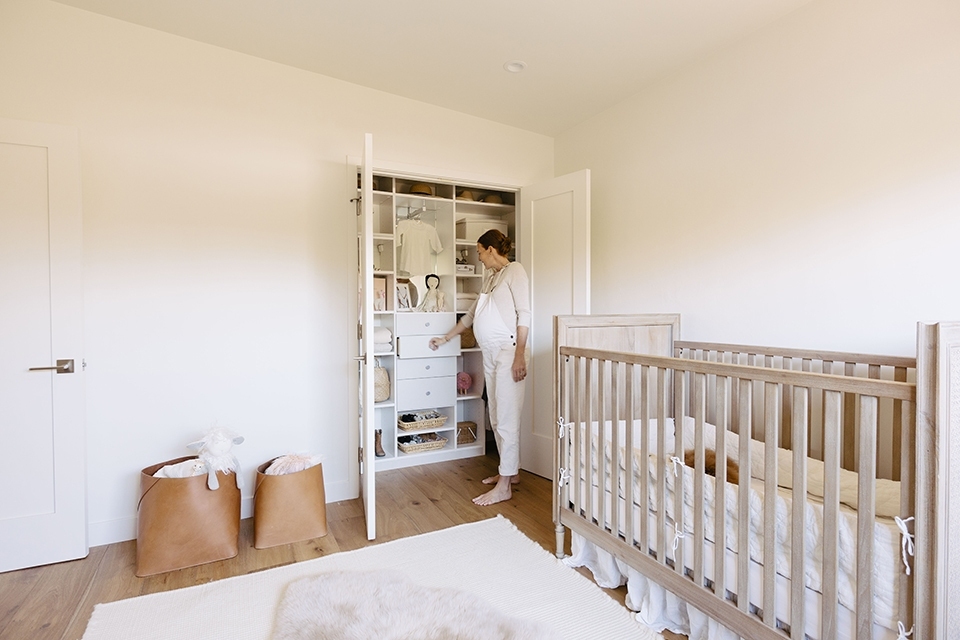 Other Resources: 
I use baskets all over our house for books, toys and even clothes. Check out my guide on where to find the best baskets. Pictured here are a few sizes of these seagrass ones that work perfectly in the closet. I love how they can also fold down to have a wider opening for books or toys. But I'll probably move them around again at some point!
The slip covered rocker we got from a local store here in Santa Barbara called Chicken Little but here's a few similar finds—Grady Swivel Glider, Hayden Glider and Comfort Glider.
Flower paintings are pieces passed down from my grandparents. 
Crib, dresser/changing table and bedding is from Restoration Hardware all from Elin's nursery so it's 5 years old. 
Leopard shoes I picked up at Poppy in Montecito along with the white case with handle. 
The white dress (similar) hanging was a little splurge I made at Bonpoint. I couldn't resist how angelic and perfect it was. It may not fit for a while (12m in size) so it might be baby girl's first birthday outfit. Either way I love seeing it displayed, because I have a weakness for beautiful white cotton baby pieces.