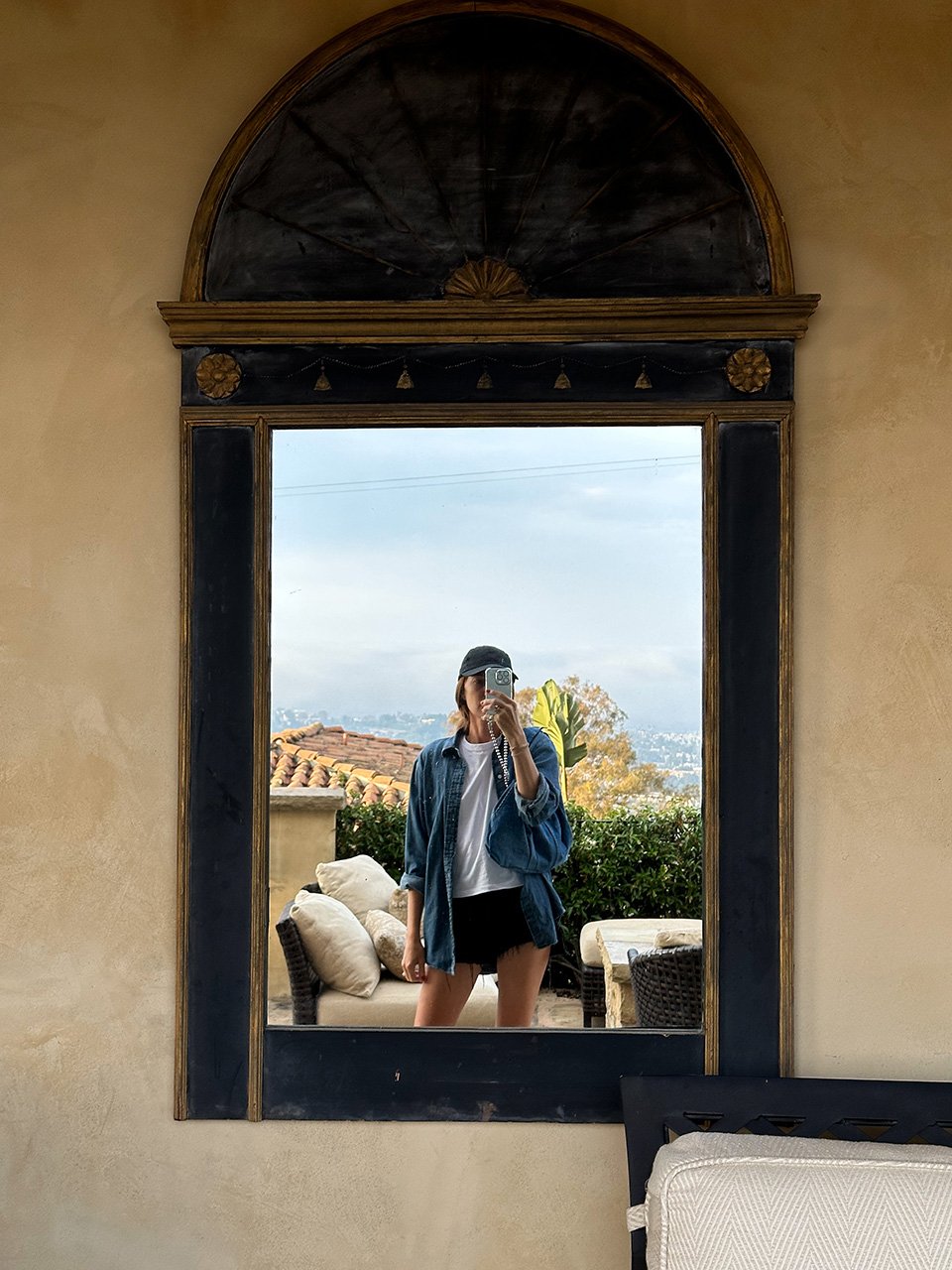 Every season I end up going through a phase of relying on an old oversized Ralph Lauren denim button-down I've had hanging in my closet for nearly 6 years now. It works perfectly under heavier sweaters in the cooler months and (lately) been a favorite as an extra layer over t-shirts, dresses and bathing suits. There's a classic americana summer vibe to it that I love and there's so many ways to style it. 
I've been wearing it the most these past couple of weeks over a basic tee paired with linen shorts (just bought these and they might take second place for my hero summer wardrobe pick) or denim shorts… and if I'm headed to the beach just a bikini top underneath sans tee. The best part about this shirt is the oversized shape. That "borrowed from the boys" look that is feminine and cool when paired with short shorts or a mini dress. It's all about what you pair it. A little shopping tip, look in the men's department for that oversized fit and roll the sleeves up if they're too big. The more oversized the better if you ask me. 
Because this shirt is so classic there are so many ways to style it… starting with shoes. I love wearing these Saint Laurent ankle strap sandals because they have that more feminine look so the juxtaposition is nice. You can also go with a fun sneaker (I've really been into a metallic sneaker lately too), a graphic tee and tailored linen shorts or that same combo but with a leather sandal. Moving into Fall, I love the idea of this same formula but with loafers or these!
Of course nothing compliments a denim basic like a great handbag—which can really personalize how you style this shirt. This recycled denim bag has been a favorite pairing for a monochromatic look and this classic The Row Margaux bag because it gives Carolyn Kennedy on a weekend vibes. Also loving a bold earring with this denim shirt for that same reason. Lastly, sunglasses (my latest obsession) are a fun accessory to switch out with this denim shirt because really, everything goes with a classic denim wardrobe hero so have at it! My favorites rounded up below.