In my experience I can't say I've ever regretted spending a little cash on a well-made beautiful sweater. It's an area I find to be worth every penny considering I live in knitwear year-round and the timeless styles will be with me for years and years. So before I dive into my favorite styles and brands, consider these recommendations as something that will live in your wardrobe longer than one season. 
When it comes to—say it with me—"sweata weatha" there are a handful of brands I look to first that are mainstays in my wardrobe—some I've had for nearly ten years! They are Nili Lotan, Khaite, Dôen, Brochu Walker, Jenni Kayne (15% off code Samantha15), Lingua Franca, St. Roche, La Ligne, Anine Bing and By Malene Birger. All of which I gravitate towards for the shape, colors and quality. 
I'm a basics girl at heart so an oversized crewneck gets the most play in my world. I love layering with t-shirts underneath and letting that casual layer show just a little at the top (adds a fun touch to an otherwise simple outfit) or an oxford for a classic kind of layered look. I have this Anine Bing Rosie sweater in both grey and oatmeal and have worn it endlessly and the quality has held up so nicely. Dare I say better than this Khaite Mae sweater I recently got (and absolutely love the fit of) but it has pilled more than the Rosie sweater. Another crewneck favorite has been this oversized crewneck style from Jenni Kayne (shown below, I'm wearing size xs), which if we're getting into the nitty gritty has the perfect shape neckline in my opinion with the prettiest detailed ribbing. Also this rich forest green might be one of my favorite colors for Fall, looks so good with black accessories. 
Top outfit details: sweater, jeans, loafers, bag, sunglasses. Below outfit: crewneck sweater, belt (code "Samantha" for 20% off), vintage levis, bag and same loafers + sunglasses.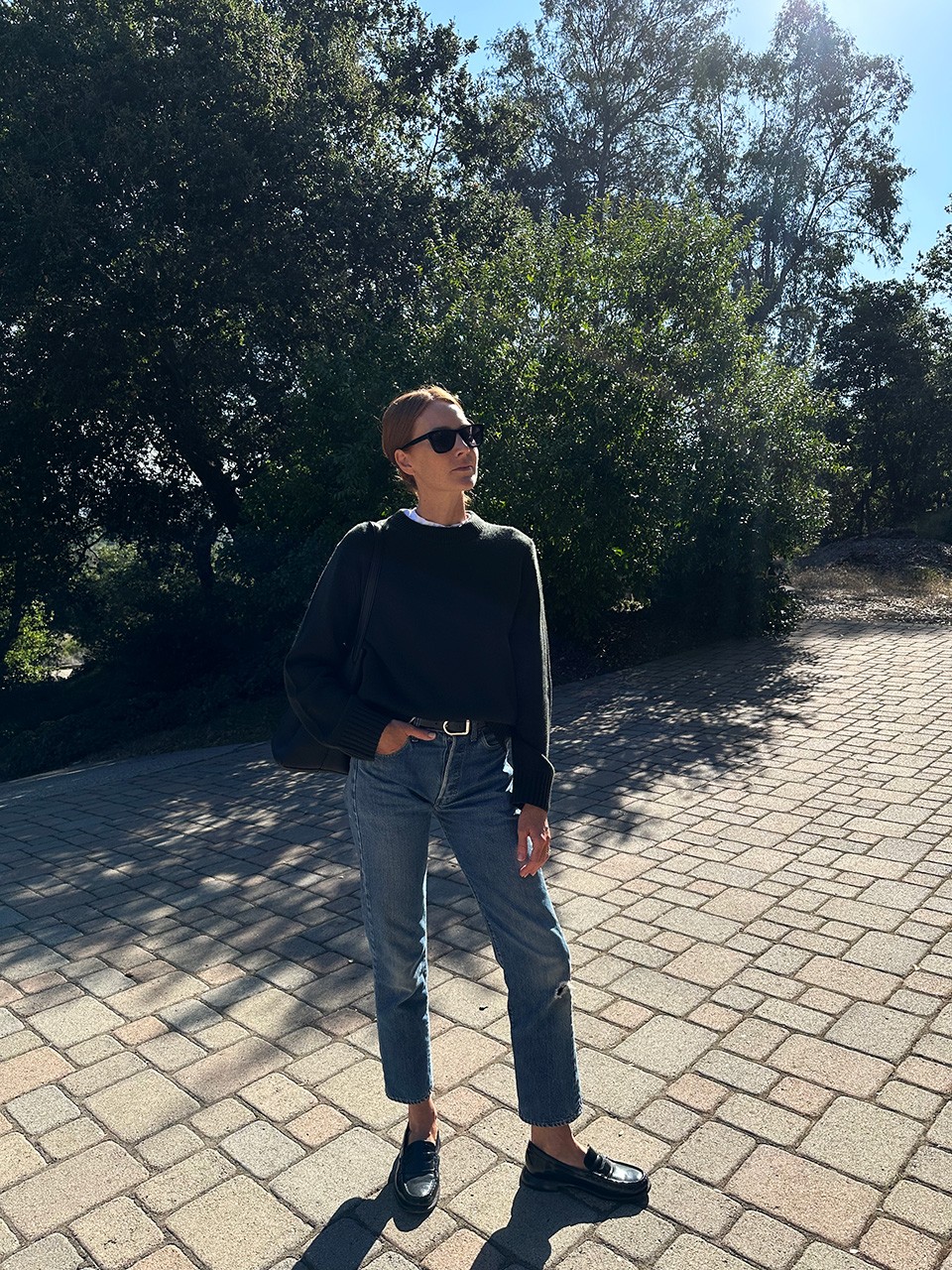 May latest obsession has been cardigans as shirts. These last couple of weeks have been much cooler thanks to some heavy fog and it's been the perfect layer for that Fallish type weather. I've managed to accumulate three cardigans from Dôen and I'm obsessed with all three. I go up in sizing for most Dôen knits but especially this Ashford Cardigan (pictured below) which I absolutely love in a size medium, perfectly boxy and slightly cropped. Equally love a leather jacket thrown on top of a cardigan too, or any great outerwear piece! 
Another layered paring I love and have been wearing lately is v-necks and crewneck tees—see the first image with this sweater. Makes for a creative base to throw a blazer or leather jacket on top of or some great jewelry. Go for an off-season South of France vibe and pair with a Breton stripe or a graphic tee for something different. The point is get creative with the layers!
Cardigan I have in two colors—Dôen Ashford knit; jeans are vintage and bag is The Row Park Tote Small. 
Sweater Edit Just For You