If I must pack away bikinis than let there be coats to replace them. Nothing makes dressing for the cold more fun that diving into the plethora of cool coats out there. The simple affect that a great coat has on any outfit will quickly make you realize how easy dressing (and layering) for cooler temps can be with the right outerwear. Last year I really dove into this category (translation: spent more than I normally do) and can tell you that investing in the right coat is always worth it. Sometimes you strike gold and snag a Zara coat for $100 that people still ask years later if it's Hermes (true story) and that's great too! Sometimes it has nothing to do with the price, just the fit and style of what you want. 
I did some homework and rounded up some favorites (with your requests from IG in mind) and noted a few style thoughts on each category… such a great time to shop for outerwear as there are so many great arrivals—get em' while they're hot!
Wool Coats
Lately the look in the wool coat department has been "bigger is better" with bold shoulders and longer lengths. This one from Toteme is a favorite of mine I got last year and can vouch that it's perfect in so many ways—from the boucle texture to the long length (seen here). The shape of this black wool coat (and under $300 price) immediately caught my eye, the roomy fit and also loved how they showed it styled with a grey hoodie—love this concept of layering a classic wool coat with a casual worn-in hoodie and sneakers. On my personal wishlist, this stunning brown wool-blend coat that I could see paired with chocolate browns, blacks or even gray layers. Camel is another great neutral to look for in a wool coat like this J.Crew one or this cool modern shape.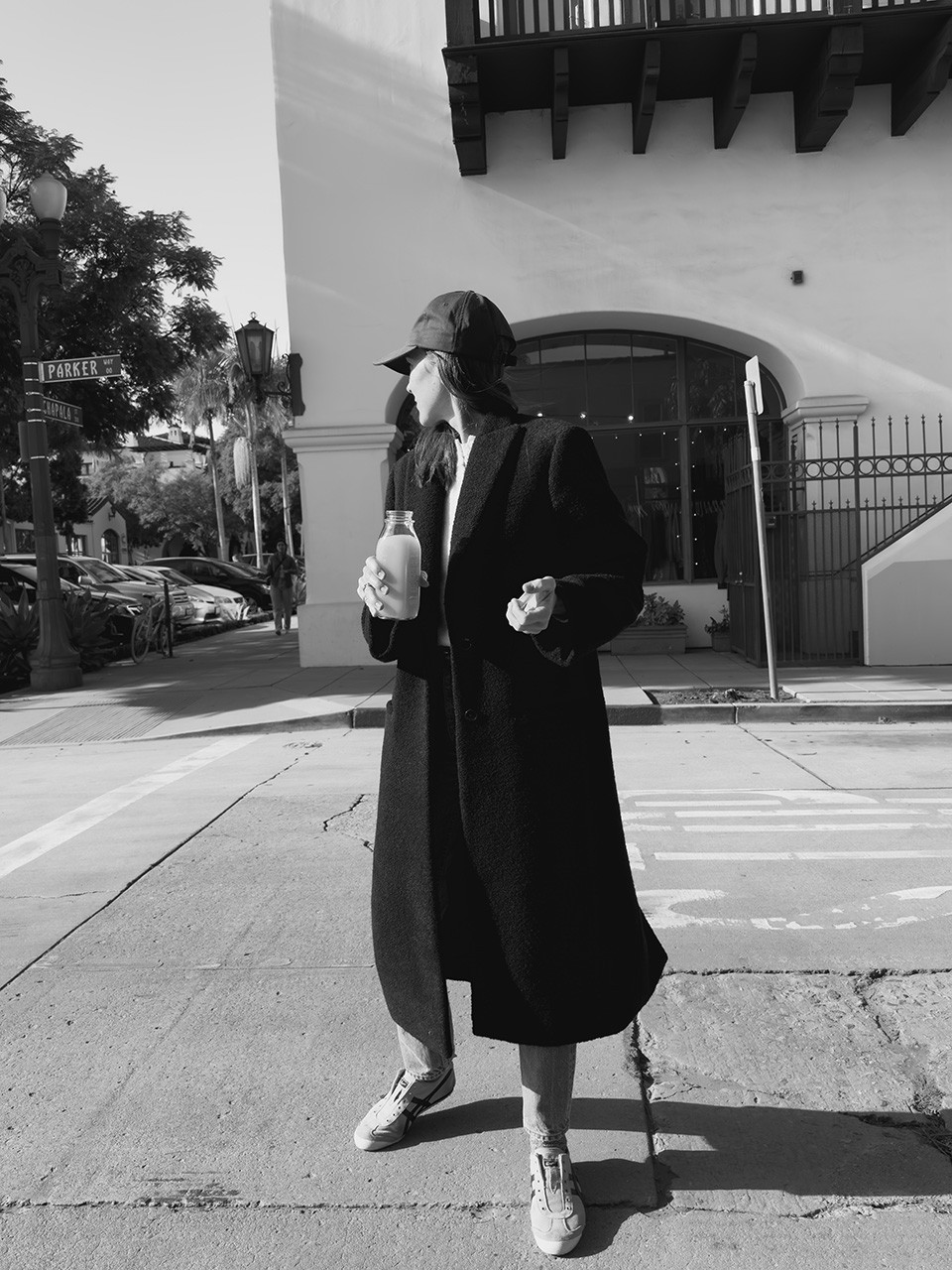 Raincoats and Trenches
The undiscovered category I didn't know I loved so much… during my search I found so many great lightweight rain jackets that could be styled over knitwear or even on athleisure days… like this Varley one and a slightly transparent hooded jacket I'm now coveting. Of course the Swedish brand Stutterheim raincoats will forever be a go-to, the simple straight forward designs are timeless and functional. When it comes to trench coats, all it takes is that perfect one and you'll have it forever. J.Crew does it right every year (the heritage trench is perfection) but if you're looking for something different in the category I really love this one. These lightweight coats are perfect for playing around with layers whether it's a cashmere sweater on top thrown over your shoulders and tied or underneath with a white tee poking through. Lot's of ways to make the layered look a little more exciting.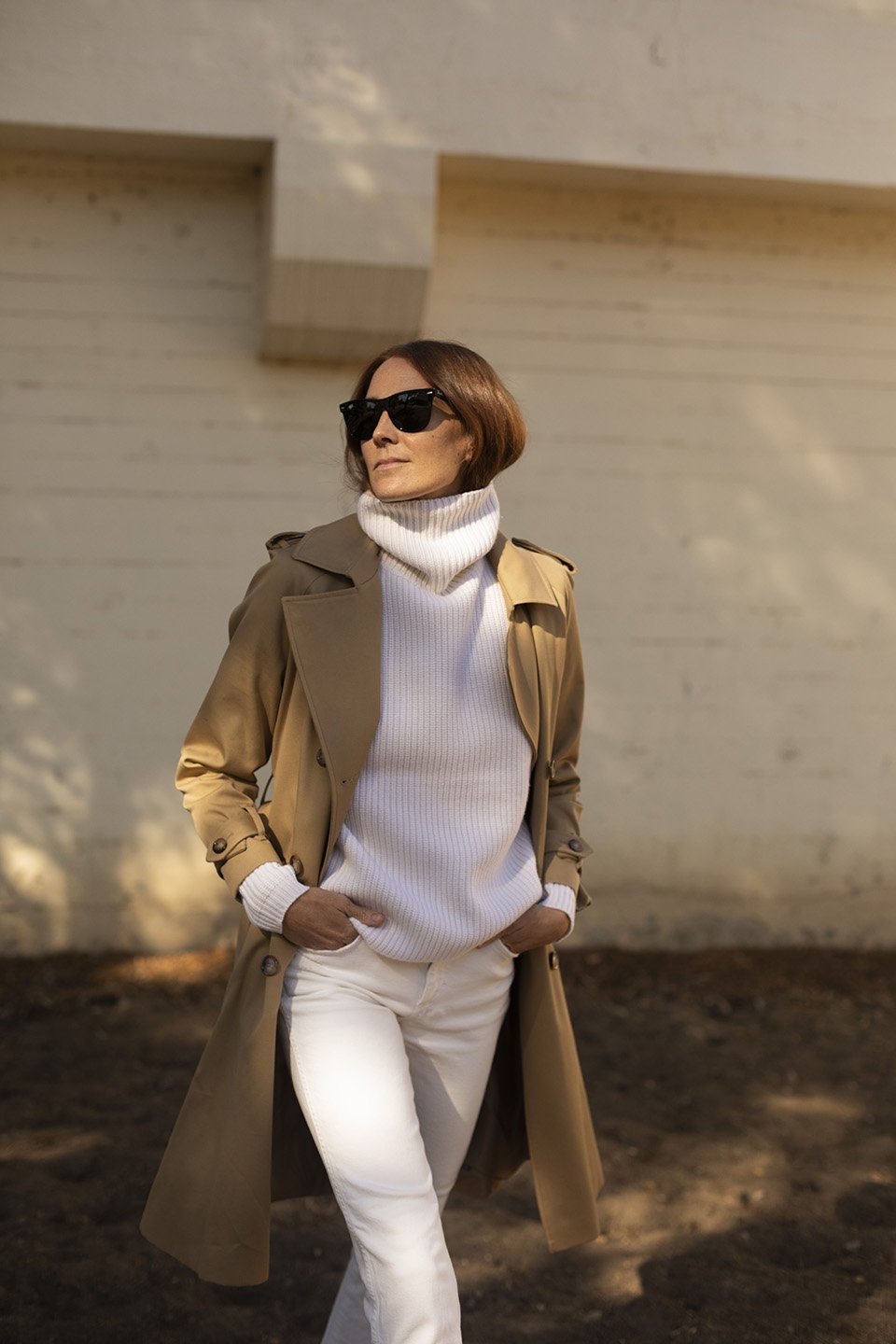 Sezane makes some really great trench coats (wearing the Scott trench above), personally keeping my eye on the Clyde Trench that I missed out on last year… fingers crossed they bring it back!
Puffers and Quilted Coats
Last year I hosted a Marfa Stance trunk show in Santa Barbara (they're coming back this month!) and got to try on nearly every style (twice over) and gosh did I get obsessed. I now own two (the parachute parka and the  parachute bomber) and find them so perfect for chilly coastal California days. Similar finds to that look this oxblood color coat  (which feels so relevant lately) and this incredible collab coat that I came across and have been obsessing over. On to puffers… this Toteme coat is by far one of my favorite pieces in my wardrobe and as puffy as I get in my neck of the woods. But I did find a few I'd recommend if you're needing that extra warmth… like this olive green one or this chic puffer style. I also like this black one that feels like a mix of a bomber jacket and a puffer…