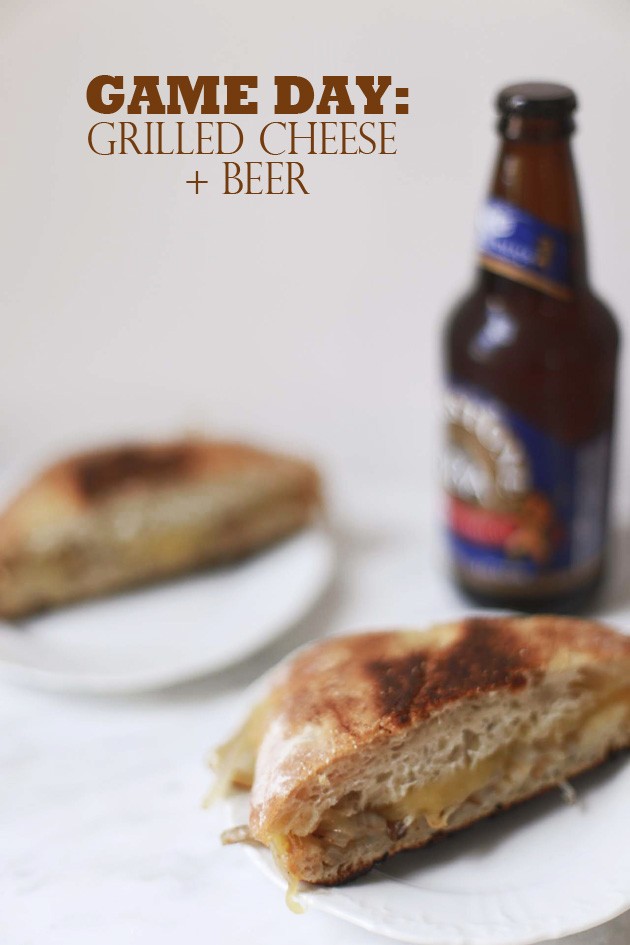 When it comes to football sports, I'm pretty clueless 95% of the time. I mix up names (Pete Corolla?), refer to teams for the incorrect sport, cheer at the wrong time and lose interest faster than a two-year-old with a plate of broccoli.
But as comical as my football knowledge is, I still love the idea of getting together with friends, making something incredibly unhealthy and having a beer.  Over the weekend my husband was glued to the the recent game between the blue team and the white team (laugh it up). Just the sound of the game in the background made me crave something cheesy and indulgent. Using what I had in the kitchen I whipped up a cheddar and onion grilled cheese and cracked open a couple of beers. And then, I learned a couple of things thanks to my patient husband. One, the blue team is the Seattle Seahawks who won – go blue team! Two, the "down's" represent 4 attempts to get 10 yards, hence the stop and go. Baby steps.
Side note: I experimented a little and added marmalade to the sauteed onions. The result was an unexpected sweetness that paired perfectly with the white cheddar. I highly suggest trying it out.