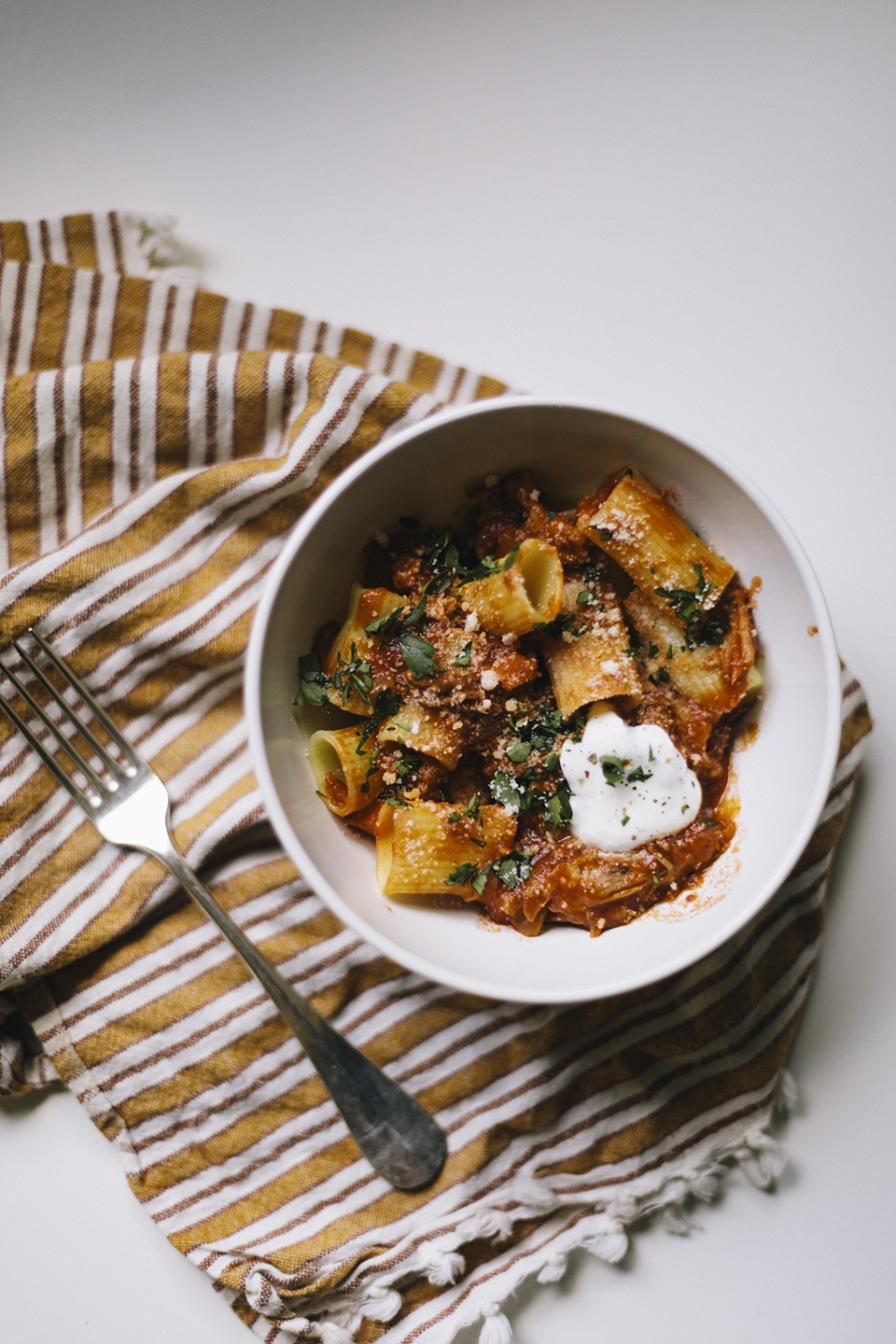 I know everyone feels this way but life sure does feel eerie and surreal with Coronavirus taking over everywhere. I went to the grocery store this morning and for the first time I felt slightly depressed about it all. People avoiding each other like the plague, bare shelves and a sense of isolation that came over me like a tidal wave. I suddenly felt immensely grateful to have Todd and my babies to hug during this time.
Oddly enough the one thing that stresses me out the most on a normal day (what to eat or what's for dinner) has become a fun and relaxing activity for Elin and I to do together. We've spent more time in the kitchen these last few days making meals to freeze, baking and testing out new recipes that it's somehow brought back a little personal joy that I needed to re-discover in the kitchen. I love food and I love eating out, so making meals feel special has been one way to lift our spirits.
Here is one recipe that's been my favorite so far, especially on a cold night curled up with a good movie. The sauce is an easy thing to freeze and pasta lasts forever in your pantry. Highly suggest whipping up a batch of chocolate chip cookies to follow—we keep the dough in our freezer and bake a few at a time. I hope you and your families are safe and sticking close to home. Let me know if you guys try this recipe!
Pork Ragu Pasta with Creamy Goat Cheese:
I found this recipe in Athena Calderone's Cook Beautiful book, one of my all-time favorites that I resort to repeatedly. Here's my adaption, i made a few changes.
Here's what you need:
4 lbs boneless pork shoulder
2 tbs olive oil
2 sprigs rosemary and or sage
1 cup dry white wine
6 cups chicken stock so it covers the meat
4 tbs unsalted grassfed butter
2 carrots finely chopped
1 stalk of celery
1 onion
4 cloves garlic chopped
1 cup milk (i used oat)
1 can crushed tomatoes
1 tbs tomato paste
1 lb rigatoni
4 oz goat cheese
1/2 cup grated pecorino romano cheese
4 sprigs fresh parsley chopped
salt and pepper to taste
Here's how you make it: 
Preheat oven to 325 degrees
season the pork with salt and pepper, heat olive oil in a large dutch oven. Sear the pork in two batches so all sides are well browned. Transfer the pork to a dish, drain all but 2 tablespoons of the fat. Tie the rosemary/sage into a bundle with kitchen twine or string — i think we used some random string we found in the drawer (haha) — add it to the pot with the wine. Scrape any brown bits from the meat and simmer over medium-low heat until the wine has reduced by half. Put the pork back in with the chicken stock and bring to a simmer. Cover the pot with a tight-fitting lid and place it in the oven. Cook for 1 1/2 to 2 hours or until the pork is tender.
Transfer the pork to a platter. Skim the fat of the top of the liquid — it looks slightly lighter, might take you 5-10 minutes. Bring the braising liquid to a vigorous boil for 30 minutes until the liquid has reduced to 1 cup. Meanwhile shred the pork.
Transfer the braising liquid to a small bowl. Return pot to stove and melt the butter over medium heat. Add carrots, celery, onion and garlic, sauté until the onion is soft. Add milk, tomatoes, tomato paste, pork and braising liquid. Simmer uncovered for 45 to an hour. Should get thick.
Meanwhile make your pasta per usual and drain. Make your creamy goat cheese by combining goat cheese and 1/3 cup warm water in a bowl and stirring vigorously to get a creamy consistency like sour cream.
To serve divide pasta in bowls and top with a pile of ragu, grated cheese, chopped parsley and a dollop of goat cheese, season with salt and pepper.
Enjoy! And watch a funny, uplifting movie! xx Sam