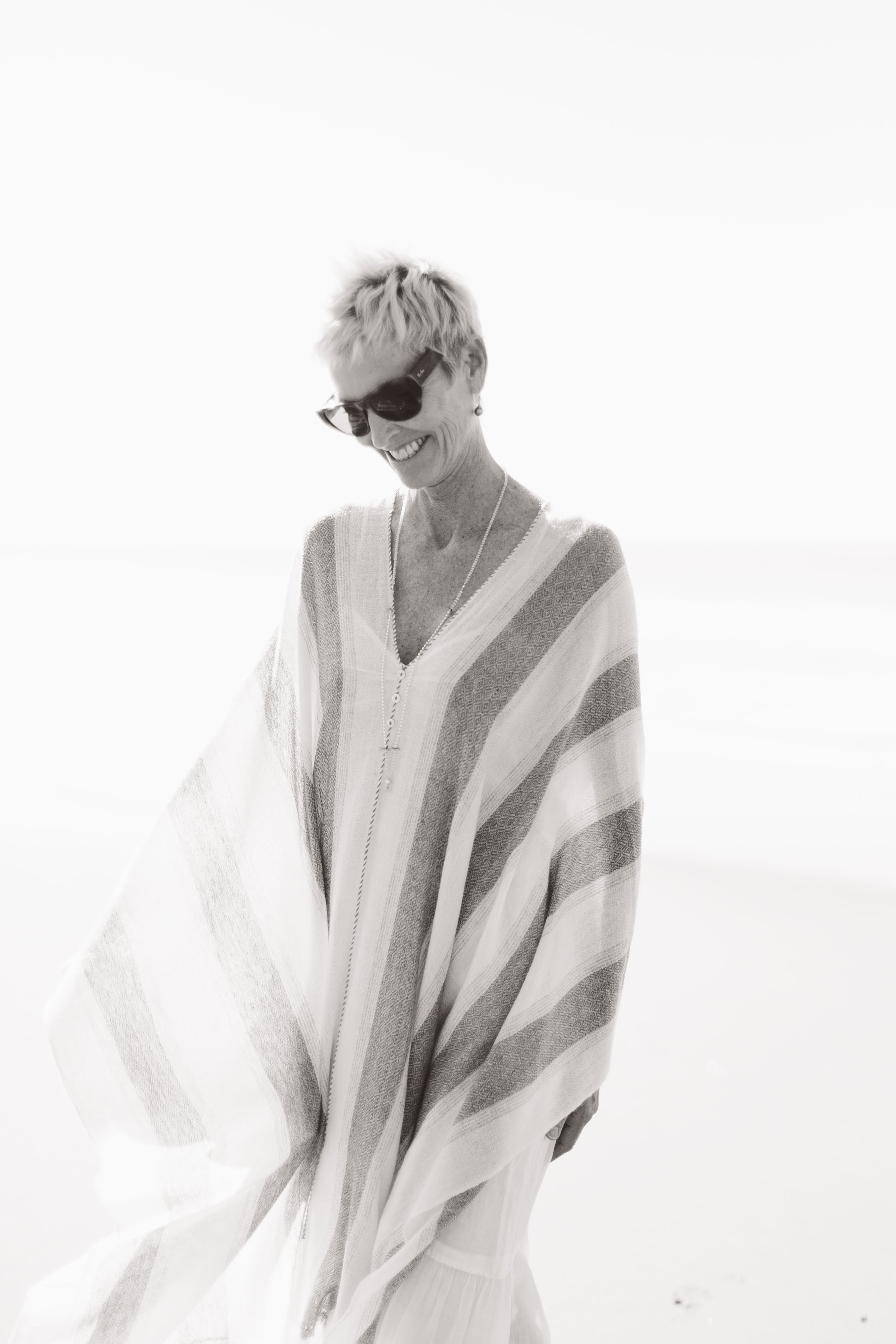 Kate McMahon is among the few people in this world that can somehow make a white tee and jeans look groundbreaking. She's got the kind of style that radiates from within and it doesn't end with the clothes she wears. For as long as I've known her she's had a hand in something creative that I've been a fan of. Her most recent venture is a hand-made knitwear line called Kakoon. From ponchos and cardigans to beanies and baby clothes, every piece is impeccably made and über soft. In a light-filled studio in Montecito just a few minutes from the beach Kate knits each piece by hand. So when she's not working away, you'll find her living her dreamy Santa Barbara lifestyle which is filled with trips to the Farmer's Market, beach walks, patio lounging and well, just being the coolest cat in town. Here's a look inside her studio and everyday favorites.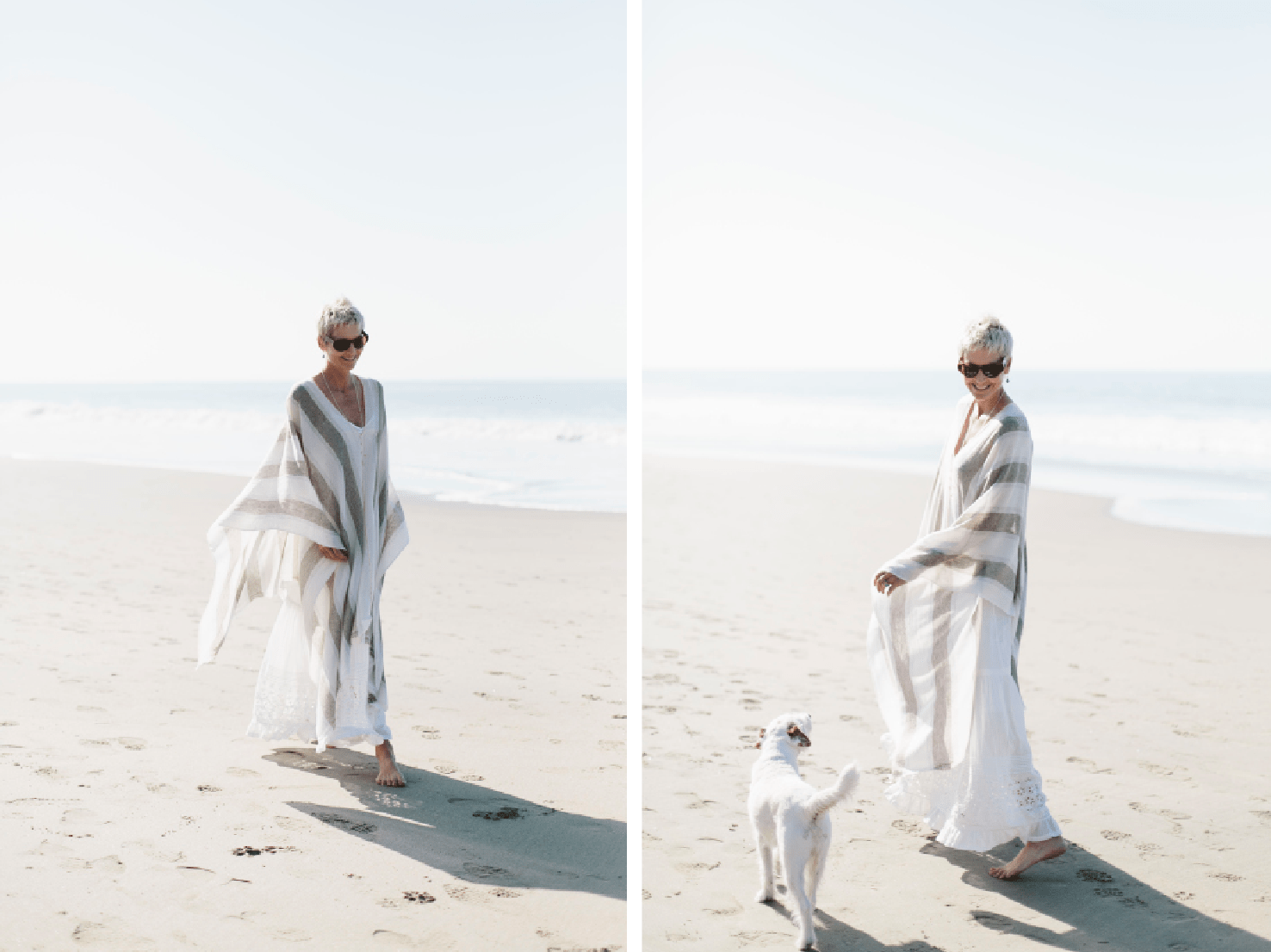 How would you describe your personal style and where do you think it stems from?
KM: I would describe my personal style as casual, elegant and timeless. I believe it stems from growing up in an affluent, but earthy environment and being surrounded by beauty and nature.
Who is your fashion icon(s)?
KM: I love Lauren Hutton's style and sensibility. She feels real, to me.
What are your secrets to looking stylish and confident with minimal effort?
KM: The secret to my style is to be fresh, subtle, and effortless. Confidence comes from feeling authentic and comfortable inside and out.
What's your style motto?
KM: "Less is more" works for me!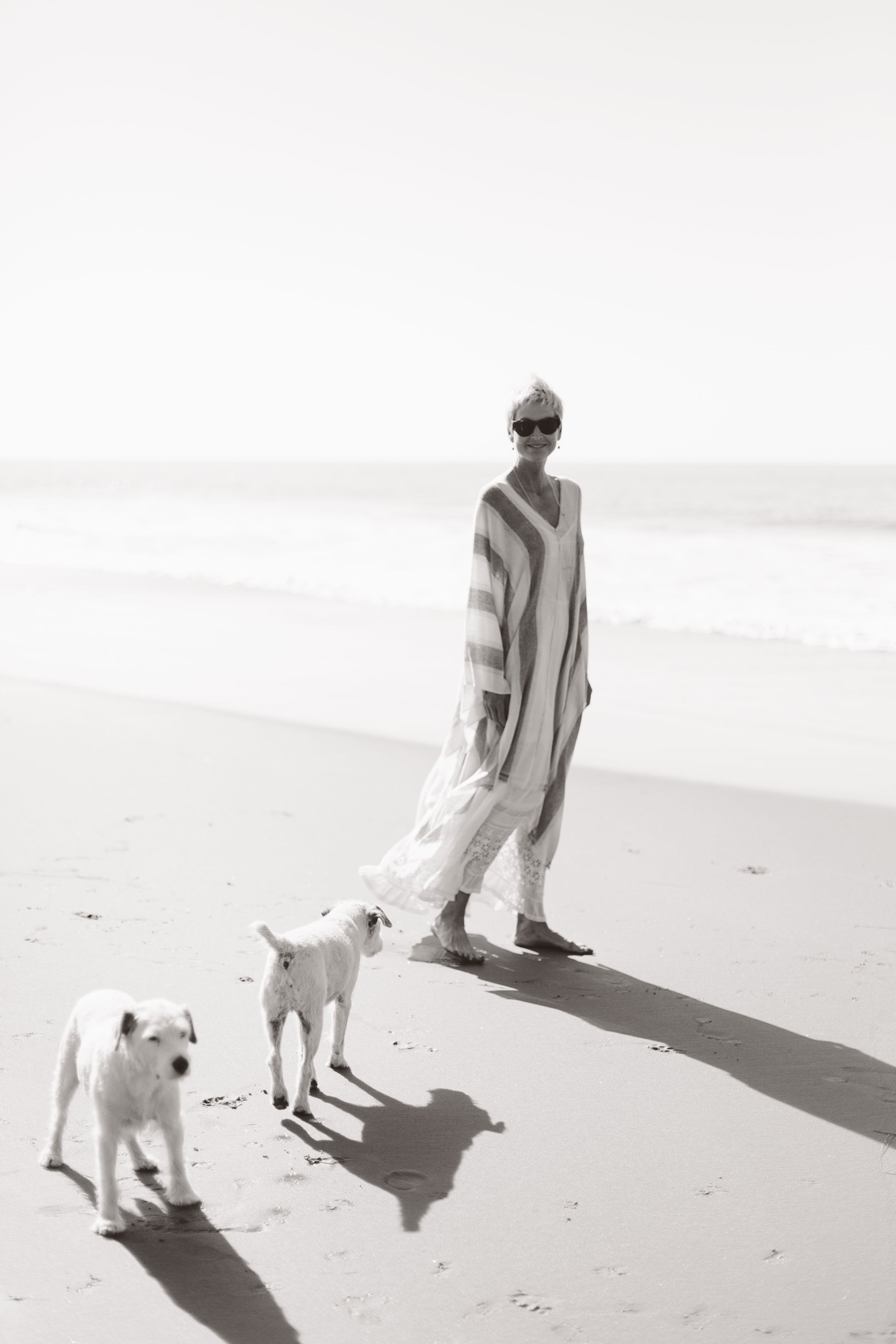 What are the top 3 essential items in your closet?
KM: My three essentials are … Levi's 501 boyfriend jeans, white blouse or shirt, hippie sandals or moccasins.
What is your favorite outfit that you've worn recently, and why?
KM: At the moment my favorite outfit is a white vintage lace blouse from Buenos Aires, Argentina, worn-in boyfriend jeans, and my Birkenstocks. I insist on being comfortable, and I like the juxtaposition of something girlie and boyish at the same time.
Tell us about your beauty regime…
KM: My daily beauty regime is pretty basic… I use Sunday Riley "Start Over" Eye Cream, and Good Genes Corrective Serum on my face. Del Jardin Essential Oil Crème – made in San Miguel De Allende, Mexico, on my body. For makeup, I prefer IQ Beauty Tinted Moisturizing Foundation that is super light and glowy, a hint of blush, and always mascara. That's it for all occasions!
What is your favorite way to wear your hair, and how do you style it?
KM: My hair is kind of my signature look that sets me apart. I like it super blonde and really short. It's effortless this way and has impact. And it makes me feel sporty and feminine at the same time.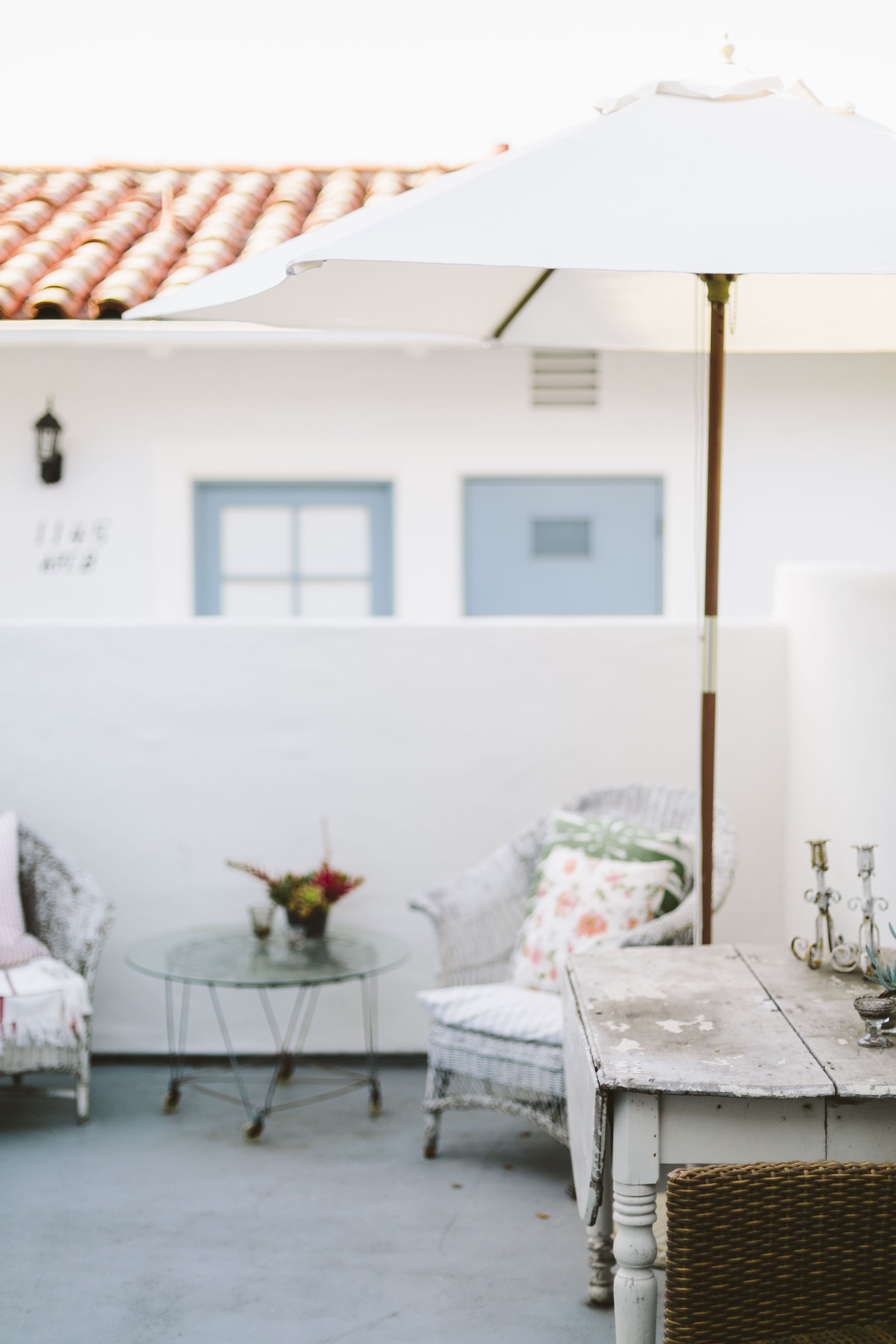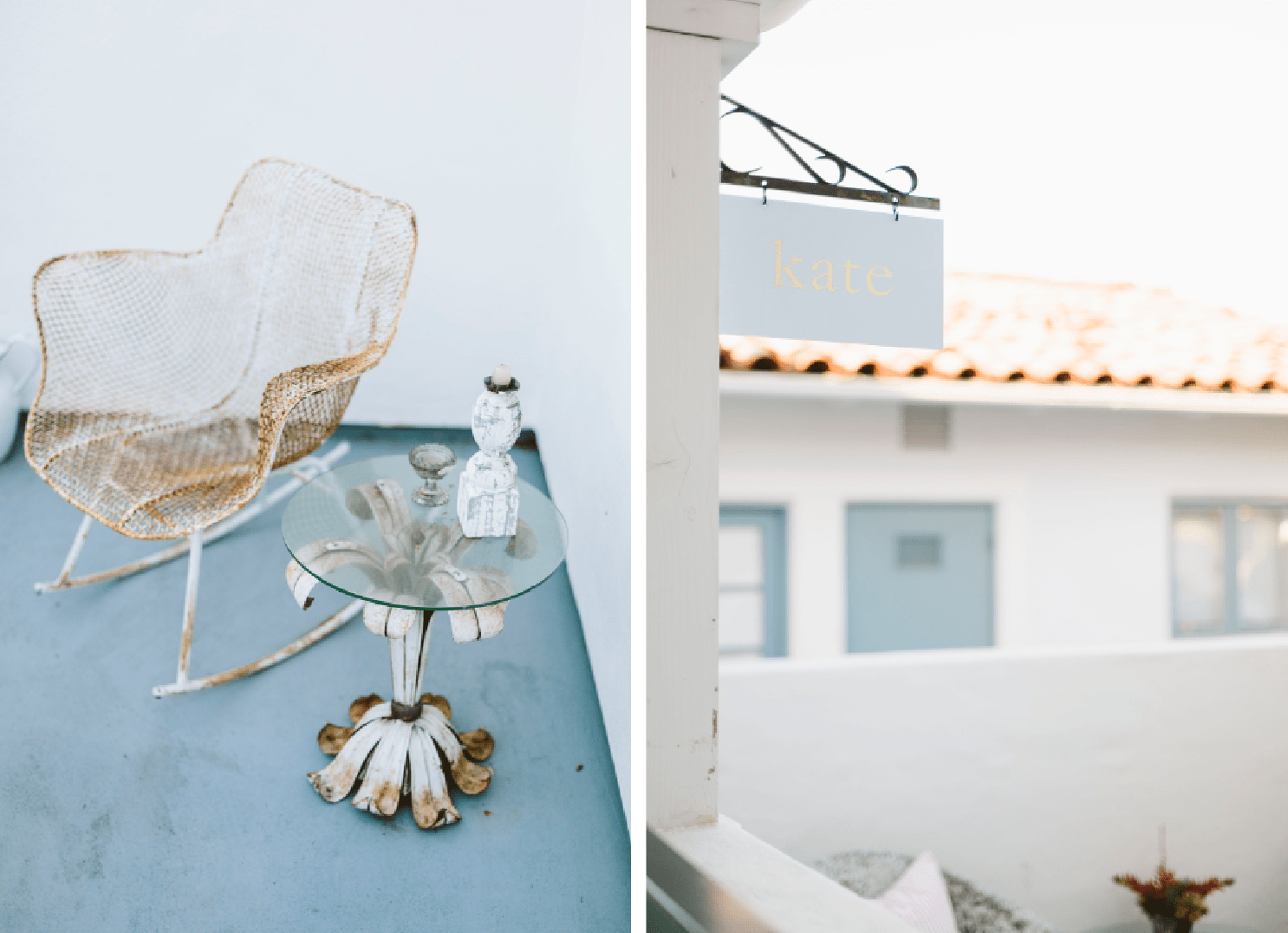 Walk us through your daily routine…
KM: My day starts early at 4:30 or 5:00 am. I start with a glass of warm lemon water, followed by a scoop of concentrated greens protein. Then it's time for an almond cappuccino while I sit and knit and spend time with my thoughts until the sun rises and the dogs start getting restless for their morning walk on the beach, or hike in the hills. On the days I don't hike, I cycle or take a yoga class. From 11:00-4:00, I'm in my studio/shop knitting for clients or other high end boutiques. My studio is also my home so it is a welcoming and inspiring place to hangout for clients and friends. I end the day with a sunset walk with the dogs, a healthy meal, a movie or concert, or a night out with friends.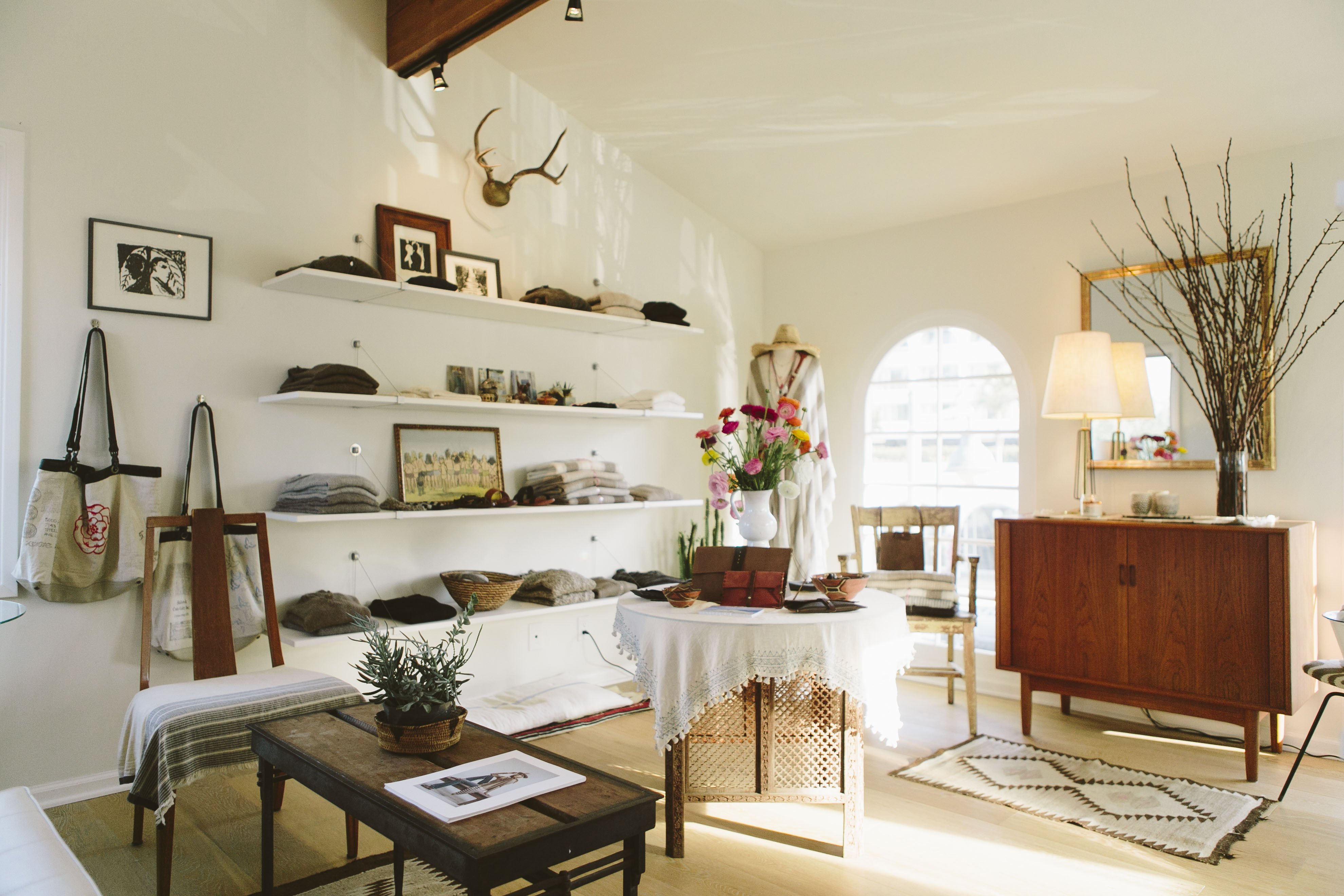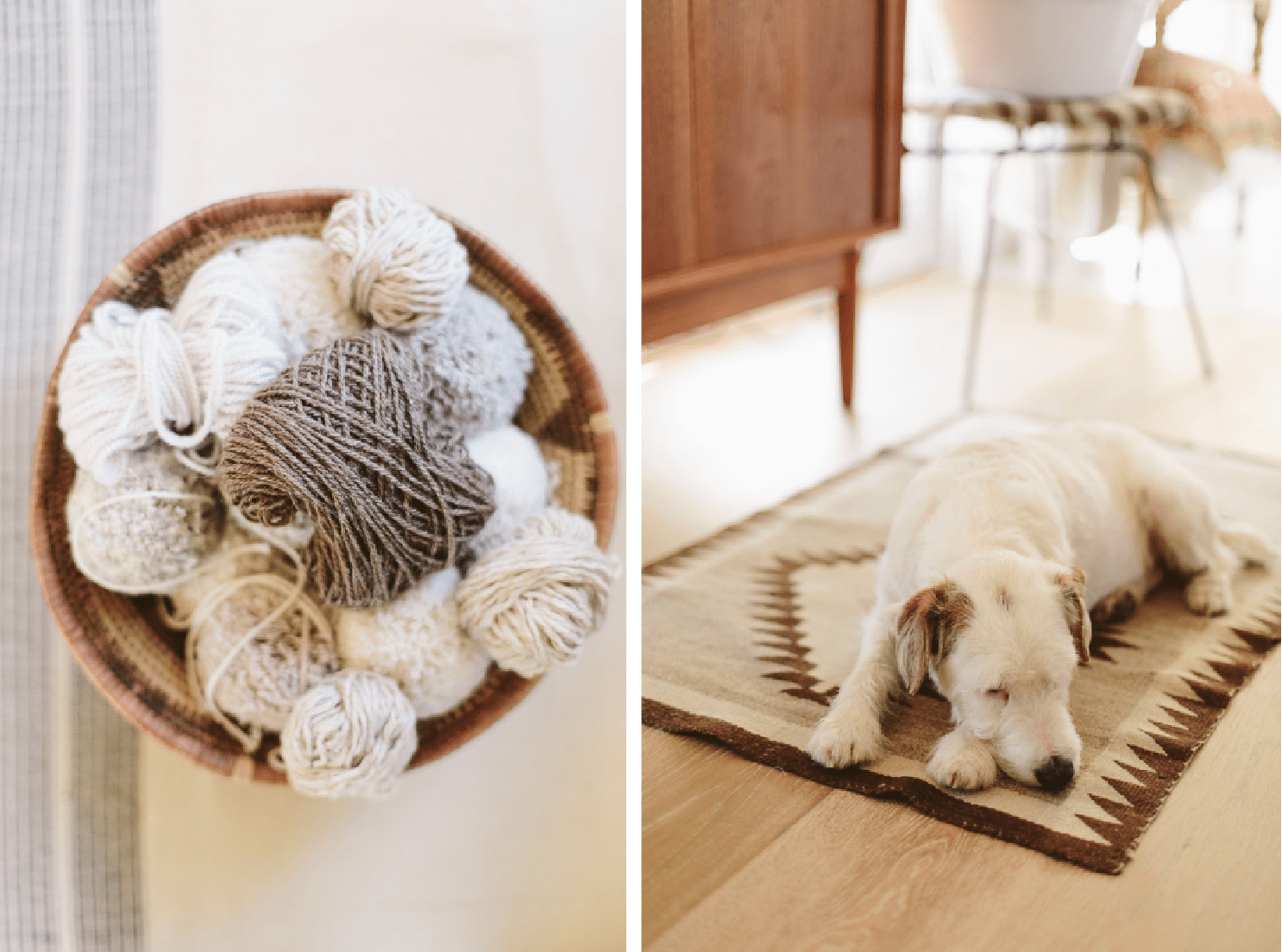 Where and how do you like to shop?
KM: I shop at flea markets and vintage shops to find unique, one of a kind pieces. Otherwise, I shop at Wendy Foster Montecito. Wendy is an icon in Santa Barbara and has an amazing eye for quality fashion that stands the test of time.
What are your three favorite clothing/accessory brands?
KM: Nili Lotan is my favorite designer for everyday basics. I wear my own hand-knit sweaters (Kakoon); I choose vintage for dress up; and Kendall Conrad makes the most beautiful bags and accessories.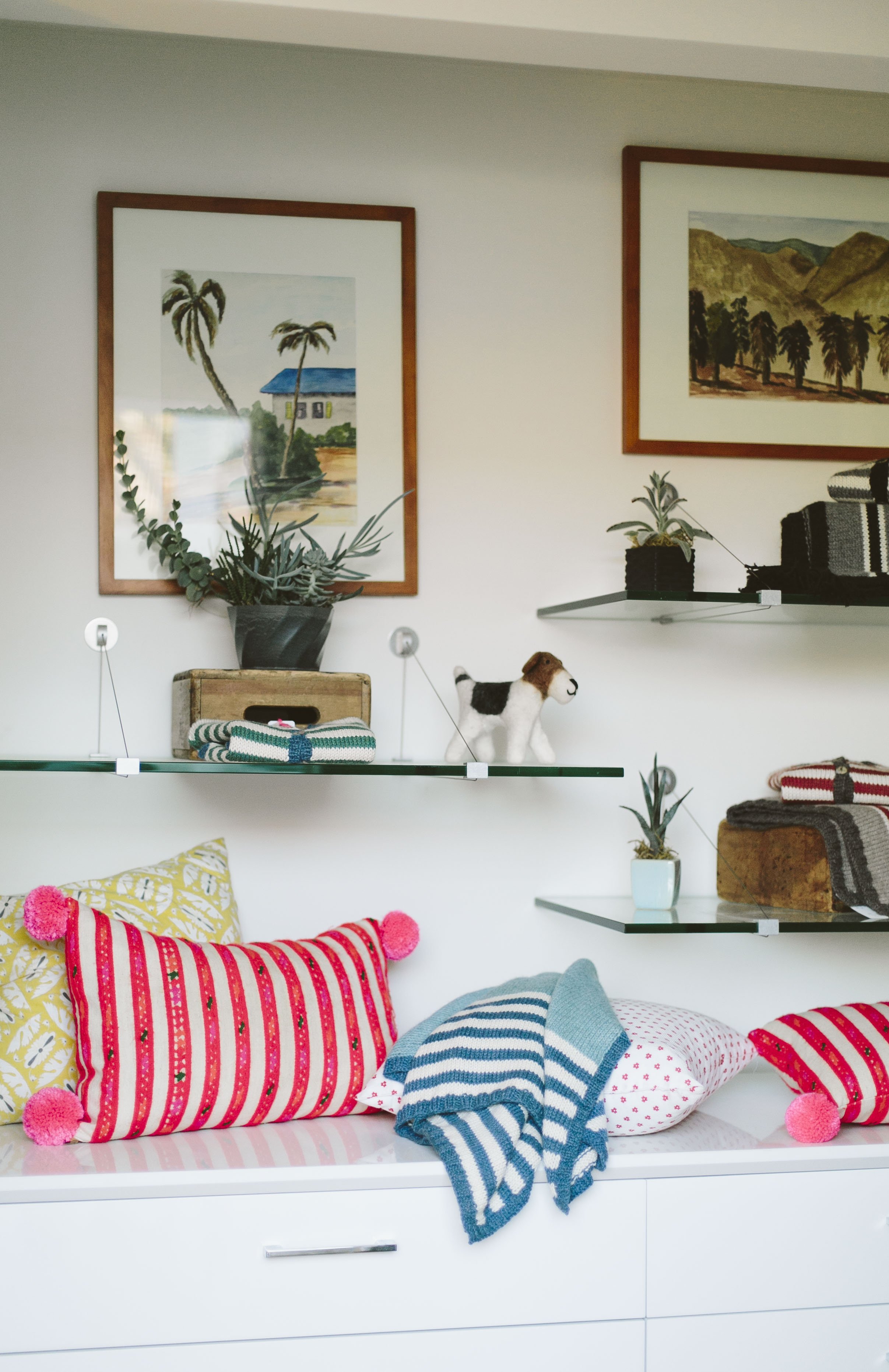 Describe your perfect weekend getaway?
KM: My perfect weekend getaway is driving up the coast to Big Sur… Staying at Deetjens Big Sur Inn tucked away in the trees, picnicking at Pfeiffer Beach, cocktails at Post Ranch Inn, massage and hot tubs at Esalen. Napping, day dreaming, and wandering.
What are your traveling essentials?
KM: Knitting, running shoes, cozy clothes, lingerie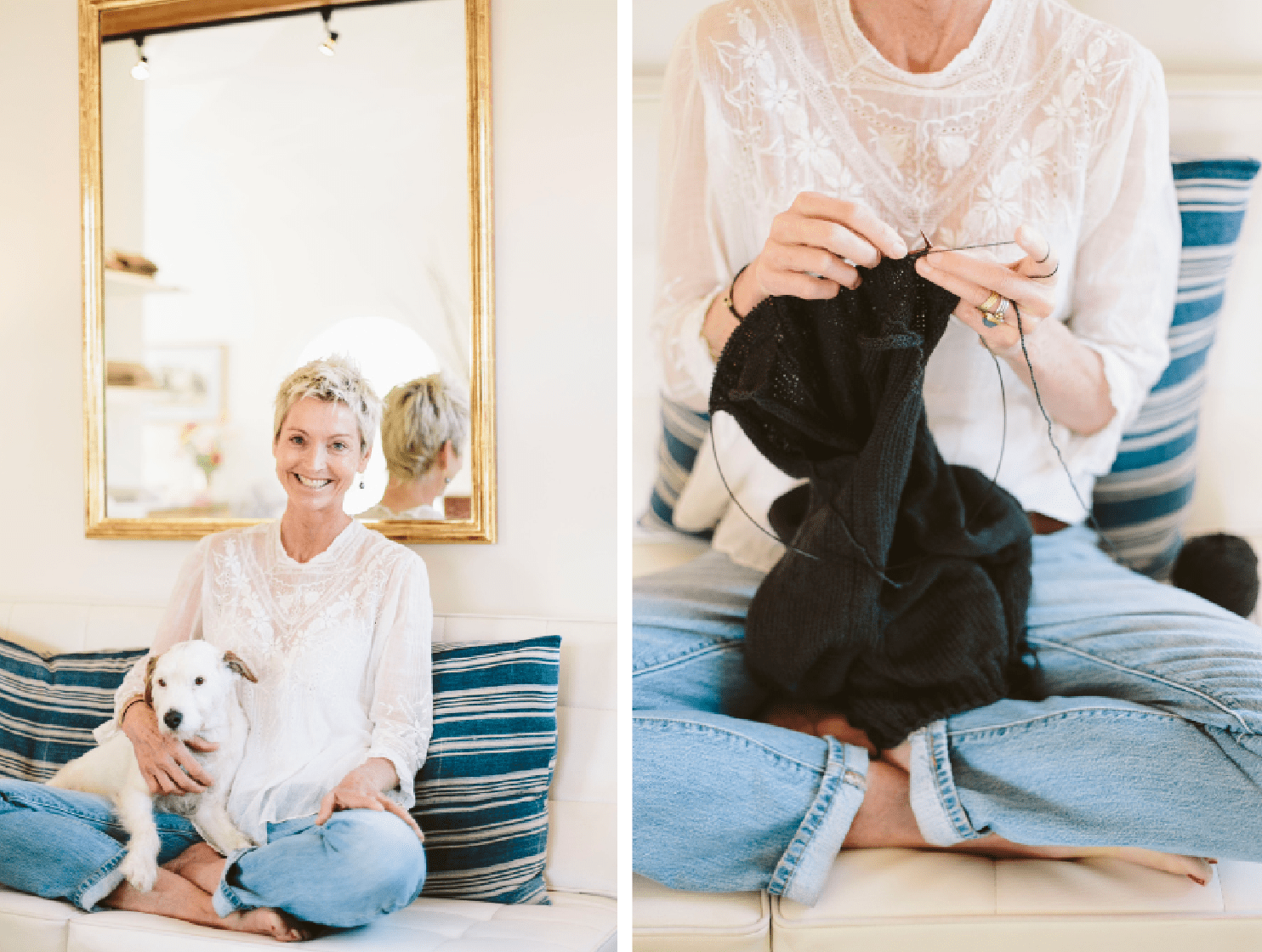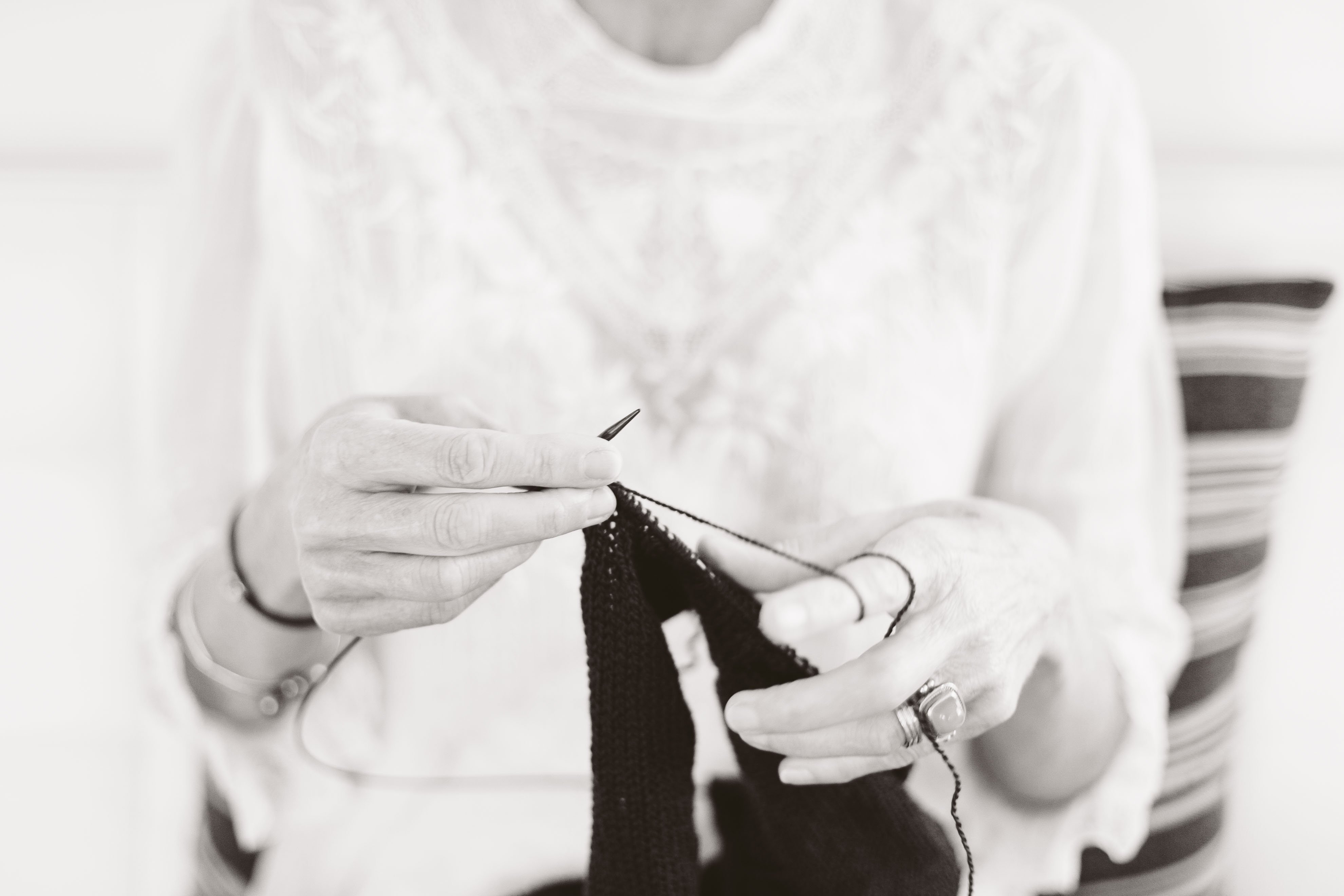 Where is your favorite vacation spot?
KM: One of my favorite vacation spots in the Flat Creek Ranch in Jackson Hole, Wyoming. It is a dude ranch nestled at the base of a canyon where the Flat Creek River flows into a pristine lake. Six cabins are thoughtfully situated along the water where one can view wildlife of all forms come for morning and afternoon thirst quenching. Fly-fishing, horseback riding, hiking, and relaxing are the activities offered…no internet service allows for complete disconnection from normal reality. Oh and I forgot to mention the gourmet meals! A perfect time to bond in a very real way with family and friends.
How do you prefer to spend your spare time?
KM: In my spare time you can find me either in the mountains or at the beach. I love to be in nature. I love the quiet to breathe and create and dream. I live and work in the lower village of Montecito surrounded by community and activity so I like to escape everyday to re-energize.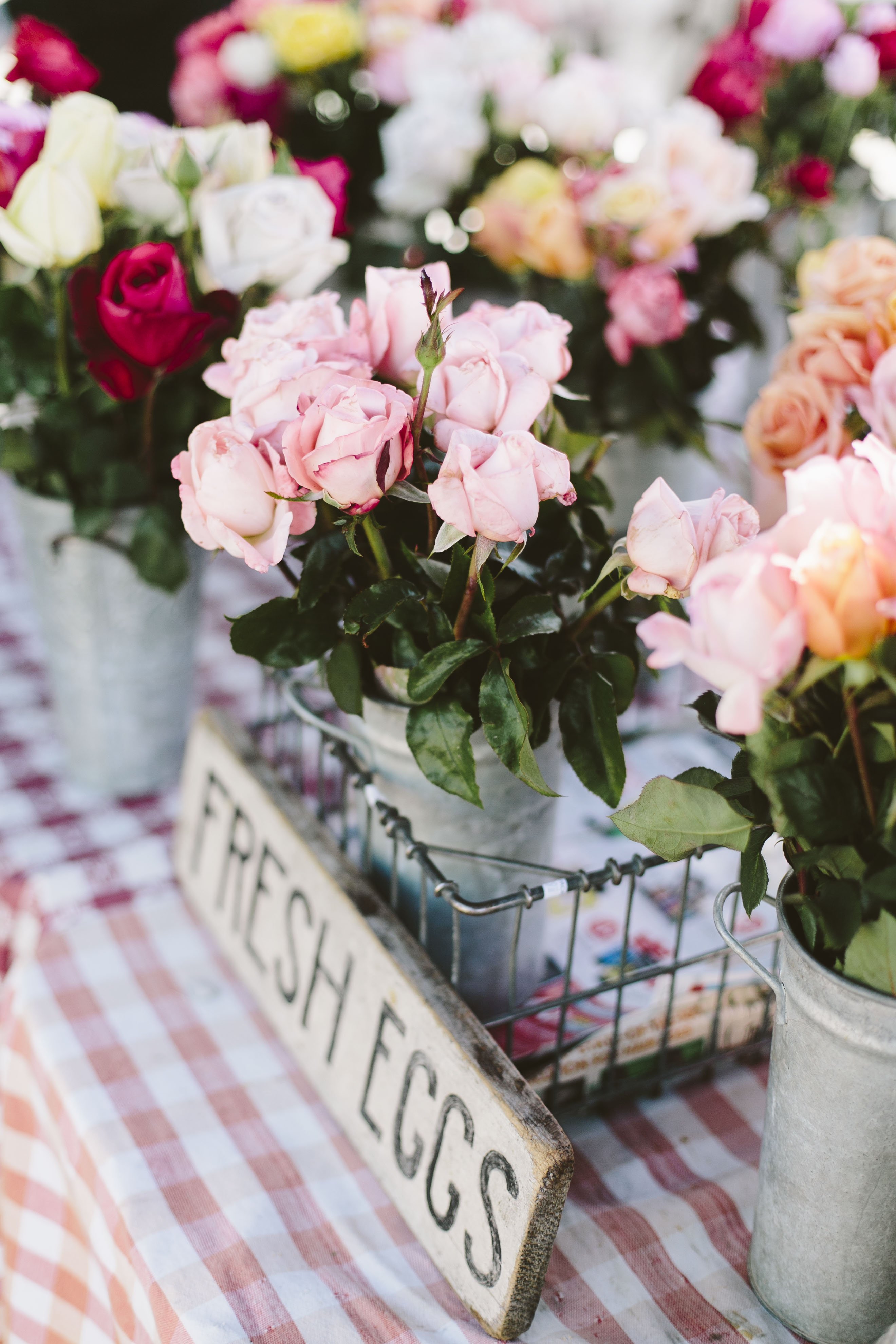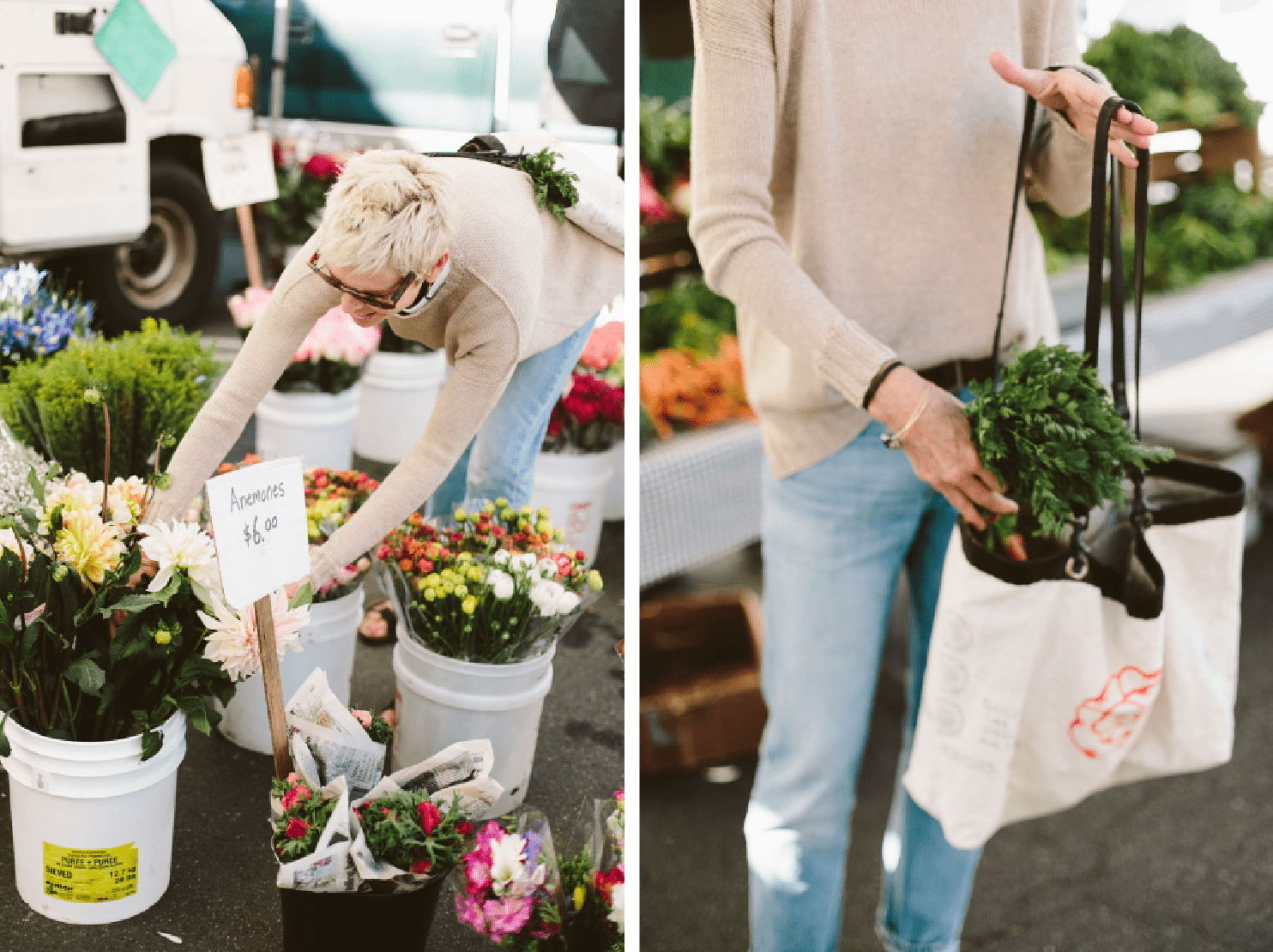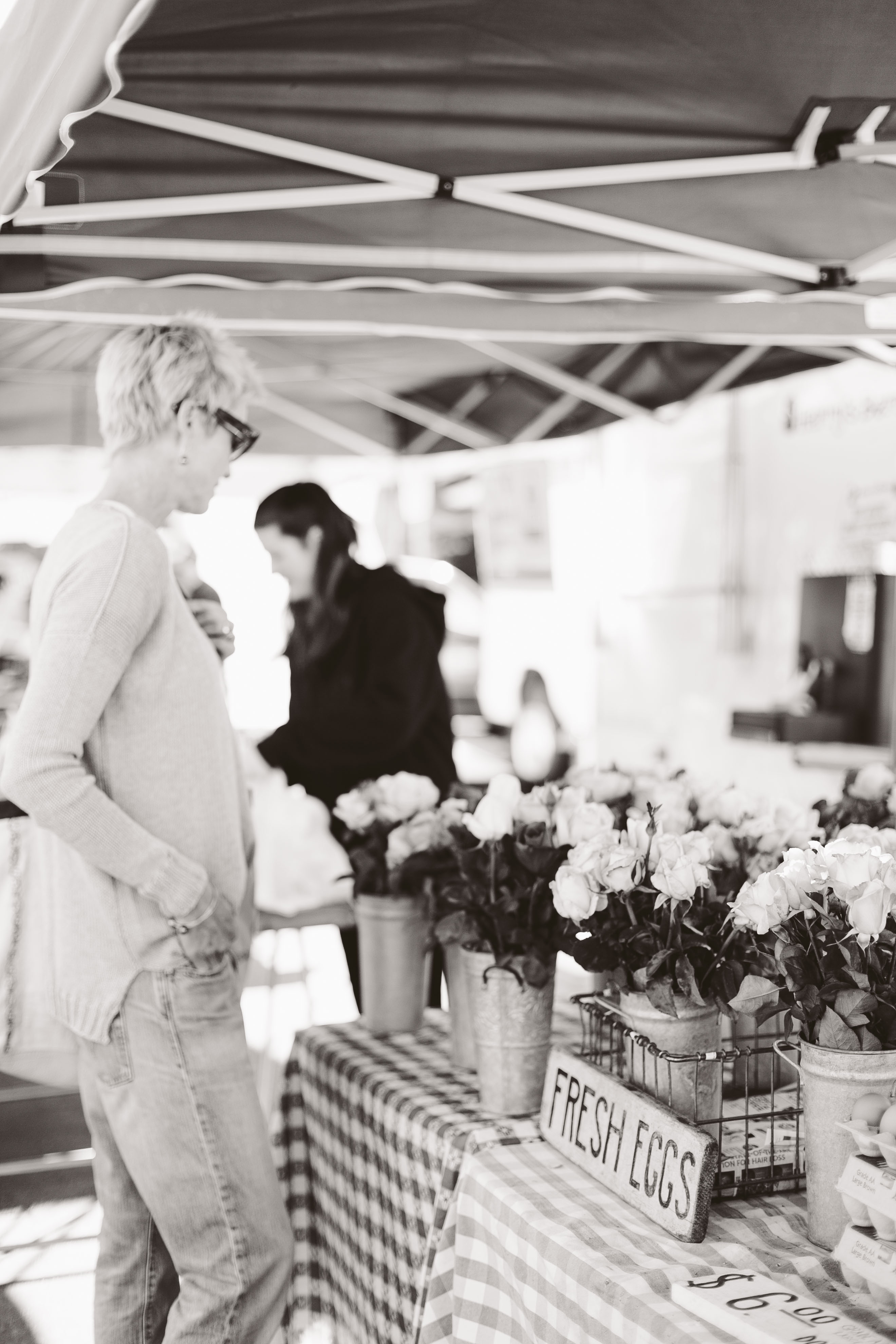 Describe your home in three words. What are your favorite things about the place you live?
KM: My studio is simple, uplifting, and light. I love it for many reasons… Stylistically, it is clean and efficient, but cozy too. It's convenient to the Farmers' Market, the beach and I frequent all of the local shops and restaurants. It's also a great hangout spot for my clients and friends.
What are your tips for channeling your personal style into your living space?
KM: My living space is an extension of my personal style. Casual, elegant, eclectic, earthy, unique. I feel like my style is expressed consistently in all things I do.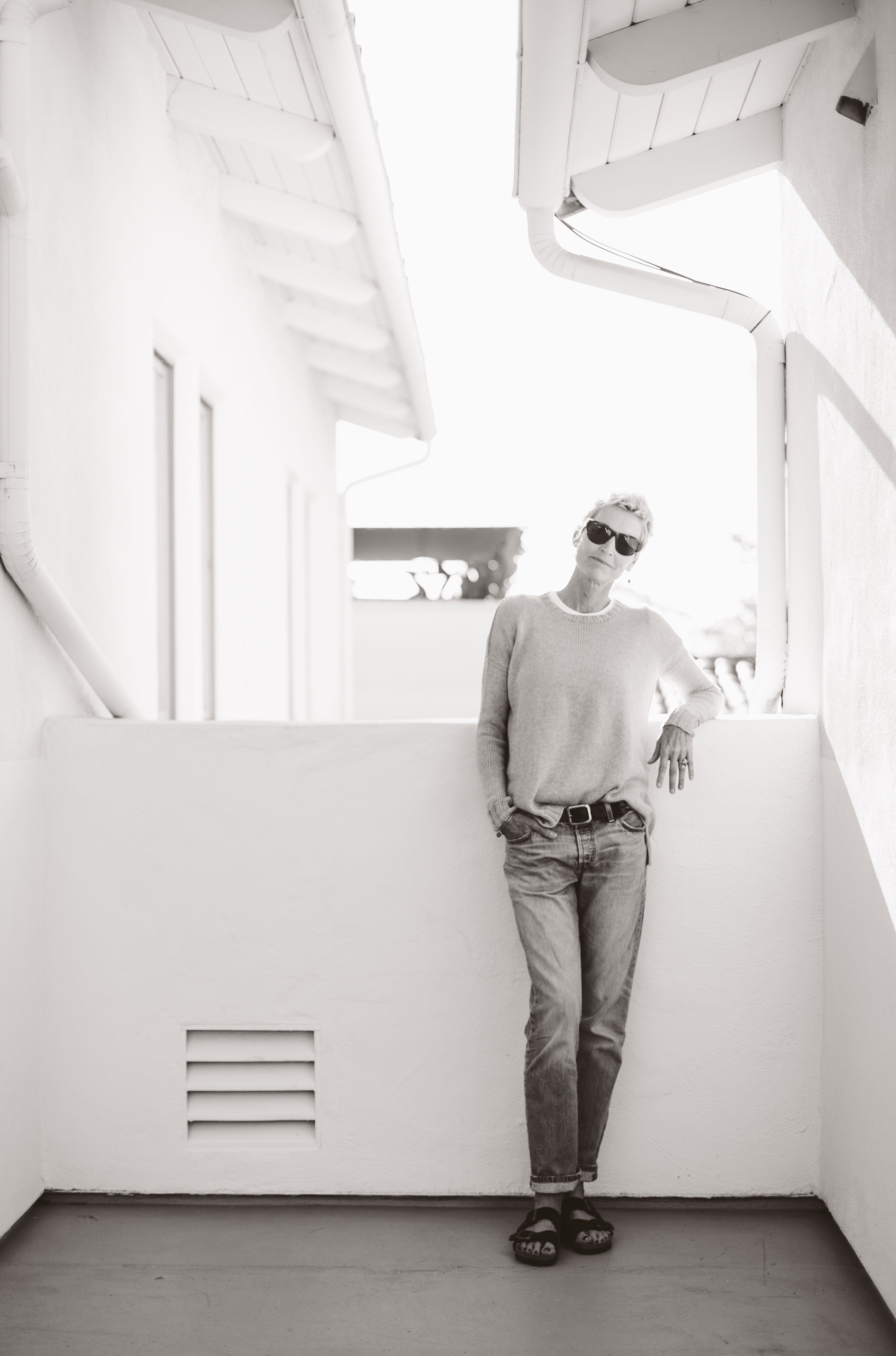 Who inspires you most in your life?
KM: I am inspired everyday by artists/creators and friends who are taking risks, manifesting their visions and living their dreams…being fearless.
What's currently on your wish list for your closet, beauty routine, home, or lifestyle?
KM: I am not wishing for any "thing". At this point in my life it's about being grateful for all that I have. And cultivating awareness so that I can witness life's magic.
Tell us about your greatest accomplishments so far…
KM: I have two: Raising two kind, loving, thoughtful, creative and independent children. Then, using my creative gift to manifest a meaningful and joyful life and having the courage to overcome the challenges that are presented along the way.
Name one thing on your bucket list?
KM: My intention for the future is to spend time in South America working with a community of hand-knitters with the intention of producing and marketing my designs to a larger audience.
Photography by Arna Bee.