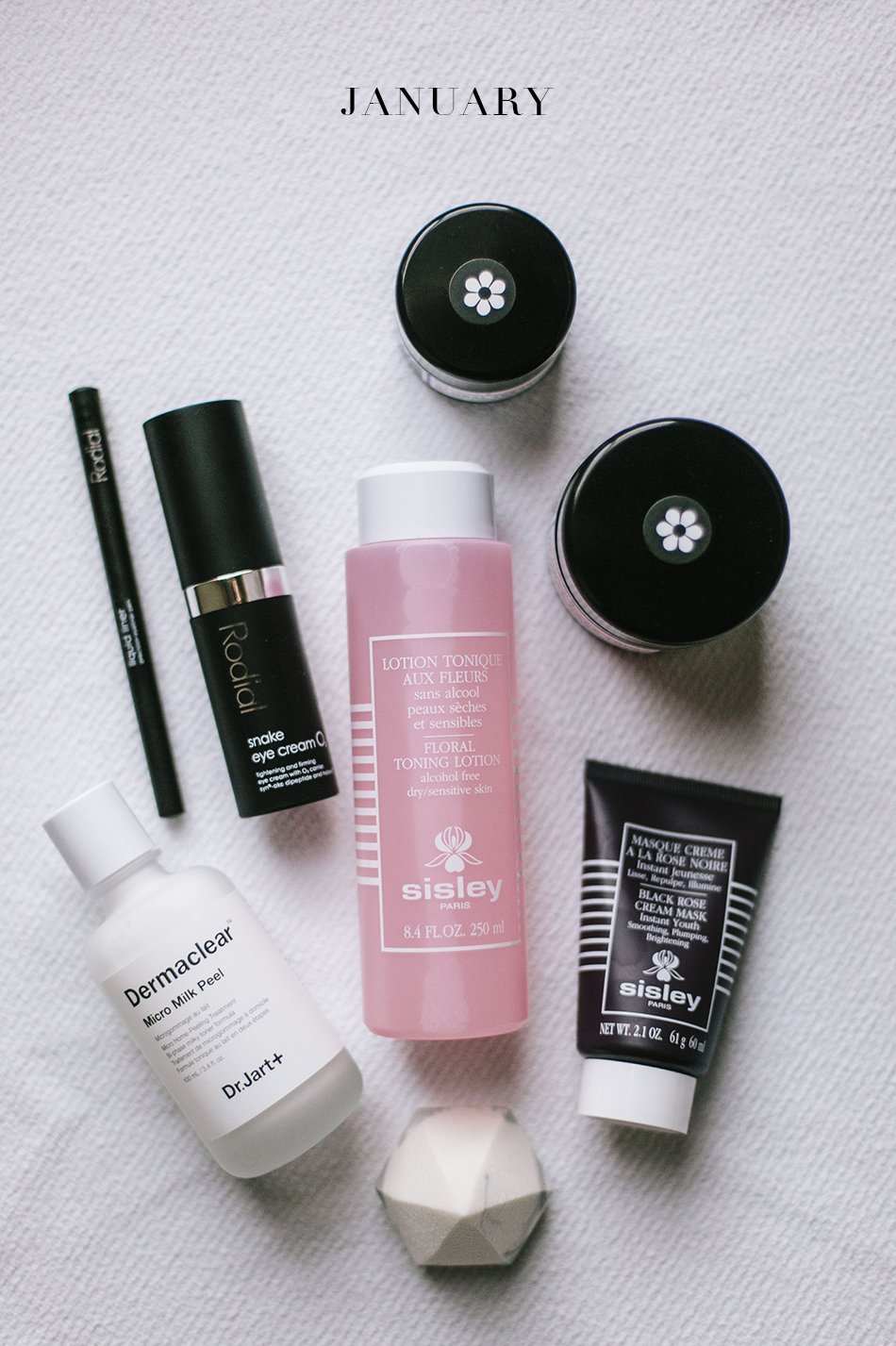 This month has been all about battling that dry winter skin in my world. I go through this every year like clockwork but I'm happy to say I've picked up some tricks and tips that really do work. The first thing I do when I wake up with that tight feeling is pull out the humidifier. It's an instant fix. The next must is drinking loads of water while limiting sugar and caffeine. I make sure to exfoliate daily, moisturize heavily at night and use a moisturizing mask once or twice a week. Aside from that, here are some of my latest favorites.
Clockwise from top left:
Rodial Snake Eye Cream O2 + Smokey Eye Pen: This eye creme is the best. It's soaks in right away and isn't too heavy. Rodial also makes my favorite eye liner. It glides on and smudges easily for a smokey look. I've been relying on that with a touch of concealer and powder each day.
Lina Hanson Global Face Trio + Global Treasures: A new organic skincare line that I can't get enough of. These two products have multiple functions, saving room on your bathroom counter. The Global Face Trio doubles as a cleanser and an exfoliator or leave it on for 15 minutes and it detoxifies like a mask. The lemongrass ingredient soothe and smells a-mazing. I've been using the Global Treasures every night as an extra boost in hydration. I've even use it as a touch of dewy-ness on top of my makeup. Best of all, I know these products are 100% safe.
Sisley Floral Toning Lotion: The worst offender when it comes to dry skin is makeup residue. I've been double washing at times and using this toning lotion to make sure my face is squeaky clean before exfoliating and moisturizing every night. This amazing product also calms the skin.
Sisley Black Rose Cream Mask: As I mentioned above doing a mask once a week is important to maintaining that hydrated glow. This one has been a recent favorite that my mom actually turned me on to. When you're skin is feeling dull and looking tired, this cream mask will bring back that youthful glow.
Dermaclear Mirco Milk Peel: They used this on the models last winter at New York Fashion Week, so you know it's good. The exfoliating treatment contains mild acids so it will instantly brighten, smooth and shrink your pores. It's also paraben, sulfate and phthalates free, major bonus.
Photography by Arna Bee