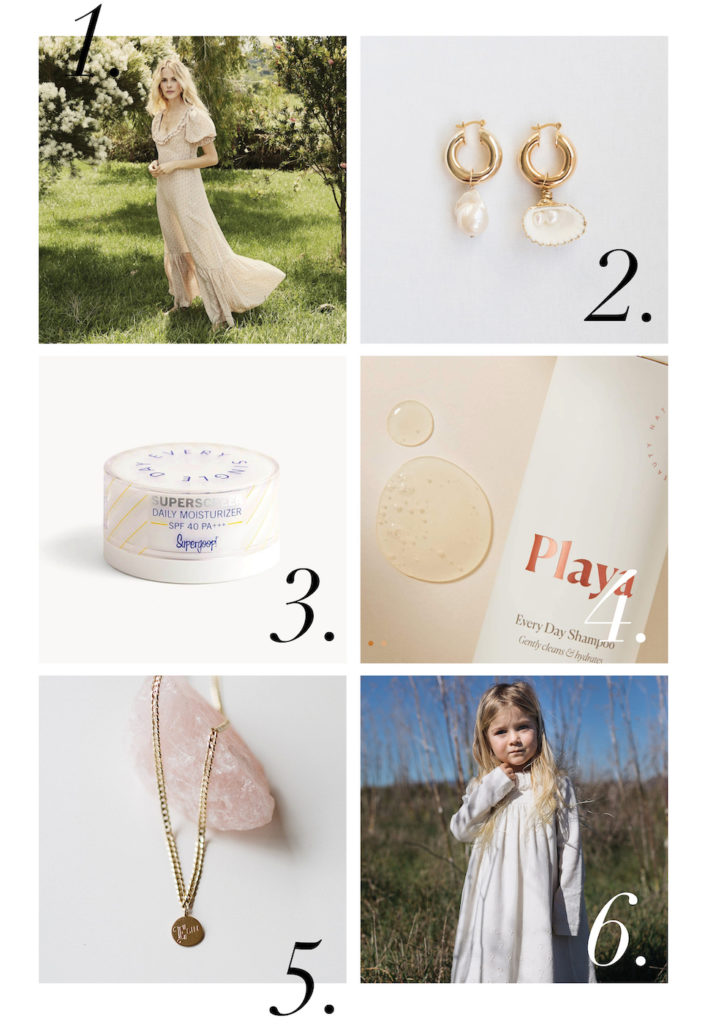 I hate to brag, but it was actually warm in Santa Barbara today and dare I say I'm ready for Spring? I guess it's that time of year now when all the pretty Spring collections start popping up and it's all we want to wear. This pretty Dôen dress arrived on my doorstep today and I'm itching to slip it on!
On that note, I discovered this jewelry line that I'm completely obsessed with. It has a cool, beachy vibe to it with gold accents mixed with fresh water pearls, shells, shark tooth and beads. It's pretty much what I'd envision any effortlessly cool beach girl wearing.
I've been slathering on this new Supergoop Superscreen Daily Moisturizer as my last step of my skin routine in the mornings. I have fairly sensitive skin and haven't had any problems since I started using it. 
I've been really into changing up my hair routine lately. Did you guys see my post this week about getting my haircut? I was on the fence about cutting it short again or letting it grow out—aiming for beachy mermaid hair for summer. But to be honest, I didn't make up my mind yet and chickened out with a trim. However I did order some new hair products to try more air drying looks. Playa shampoo and conditioner are among my new arsenal of hair goodies. It's a clean line that I've tried before and loved so I wanted to revisit the line. Are you guys loving any hair products for air drying lately? Please spill!
Here are some I've been wanting to try…

Mark your calendars, set an alarm… tell your sweetheart… on Monday I'm sharing my favorite jewelry brands that I wear on a daily basis and sharing a special Valentine's Day discount with all of you! Pretty cool right? Check back here first thing Monday (1/28) morning! 
Bonpoint puts on a runway show twice a year and it's just about the sweetest thing you could imagine. Mini models on the runway, cute faces getting dolled up backstage and those perfect French dresses. I soak up inspiration for styling Elin's wardrobe and we share some of our favorites on the blog earlier this week. So sweet!
HERE'S TO A SUNNY WEEKEND!