Productivity is something I've always struggled to find a perfect recipe for. And to be totally honest I have trouble focusing and staying at the top of my creative game on a consistent basis. I'm someone that sits down at my computer and gets paralyzed by a jam-packed inbox and a to-do list that needs tackling. It takes certain routines and structure to feel my way through the "off" days. My work environment is a big factor.
Since having Elin—which totally changes the game in so many ways—I've gone through a few different phases of trying to find my rhythm.
When she was tiny and new, it was pretty easy since all she did was eat and sleep. During the day I'd work while she slept or hung out with one of her grandmas and pull a few extra hours after putting her to bed. But the older she got the harder it was for me to work from home—I'd hear her cry or she'd spot me walking to the bathroom and it was all over.
Over the years I've tried a handful of working environments from renting my own office to being part of a shared working space with other creative professionals but as soon as Elin was in school everything got easier. I found it more cost affective, comfortable and convenient to have a home office and when we moved into our new house, we had the perfect room to turn into a light filled office. It was slightly removed from the rest of the house and feels like a little tree house, especially on rainy days. It's become my favorite place I've ever worked.
With all that said, working from home comes with plenty of distractions and can be an epic fail if you don't create some structure and routine.
So here's what I have found that keeps me on track when working from home. Also, I'm a work in progress when it comes to the topic of being efficient and productive so I'd love any of your golden rules or tips that you have.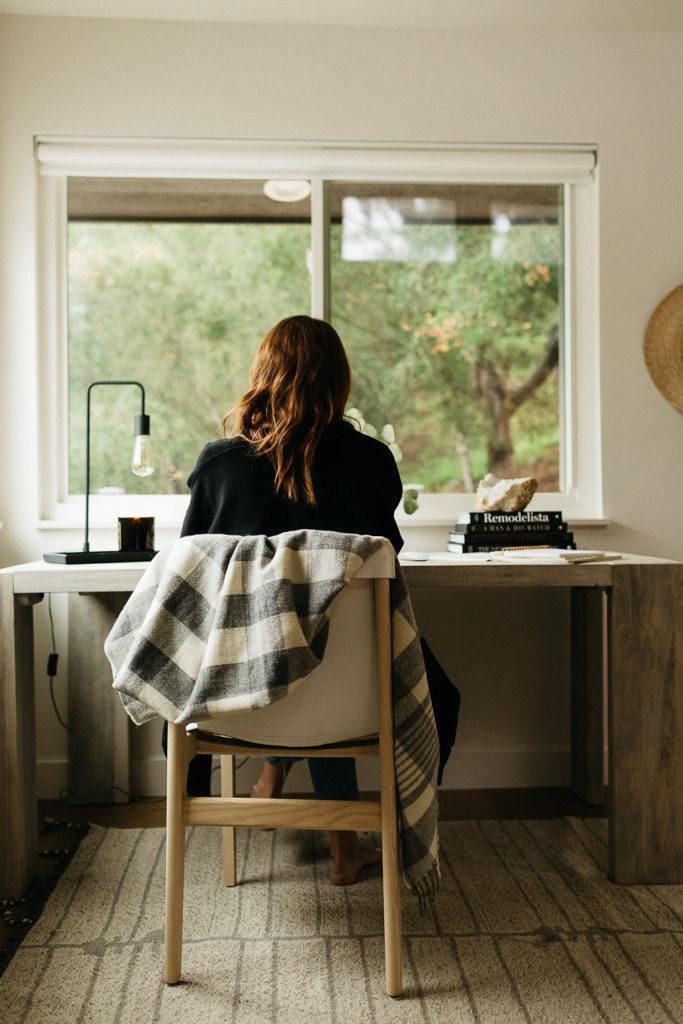 1. Organize your space 
The trouble with working from home is you can't leave your mess behind, you're in it! Keeping your house in an organized state is one of the biggest lessons I learned. I used to joke with a friend who also worked at home that the temptation to organize your sock drawer over answering emails is a real thing, ha. I'm so much more focused in our new home and I think it's because we're 10x more organized here than we were in our previous spot. There's more space, which is nice but we also took the time while renovating and moving in to consider drawer and closet organizers, which set us up for success to keep our house tidy.
2. Set a schedule
It's easy to get loosey goosey with work hours when you're your own boss and working from home. I'm 100% guilty of this and try to rein myself in with set work hours. I may not have an office full of co-workers but I hold myself accountable to be working by 9 am every morning. 
3. Get Dressed 
There are the occasional days that I'm forced to take a call, edit content or answer emails before I've gotten "ready" for the day. Which also can snowball into being in my pajamas well past 10 am, ok if I'm being honest 11 am. I feel sloppy when that happens and overall tired. It's amazing how just feeling good can shift your mentality. 
4. Clear Your Mind
I guess this one goes for anyone who struggles with productivity or even anxiety… figure out what you need to clear your mind every morning before sitting down at a desk. For me I have to have a big breakfast, I'm trying out a 10 minute meditation before the day starts, journaling and on drizzly gray mornings I love taking a bath. When the weather warms up I really want to try grabbing a friend for a 30 min walk. This also applies to a midday break that we all need or maybe a few mini ones. Do what you need to let off some steam, get the blood rushing and stay alert. Lunch dates are my favorite.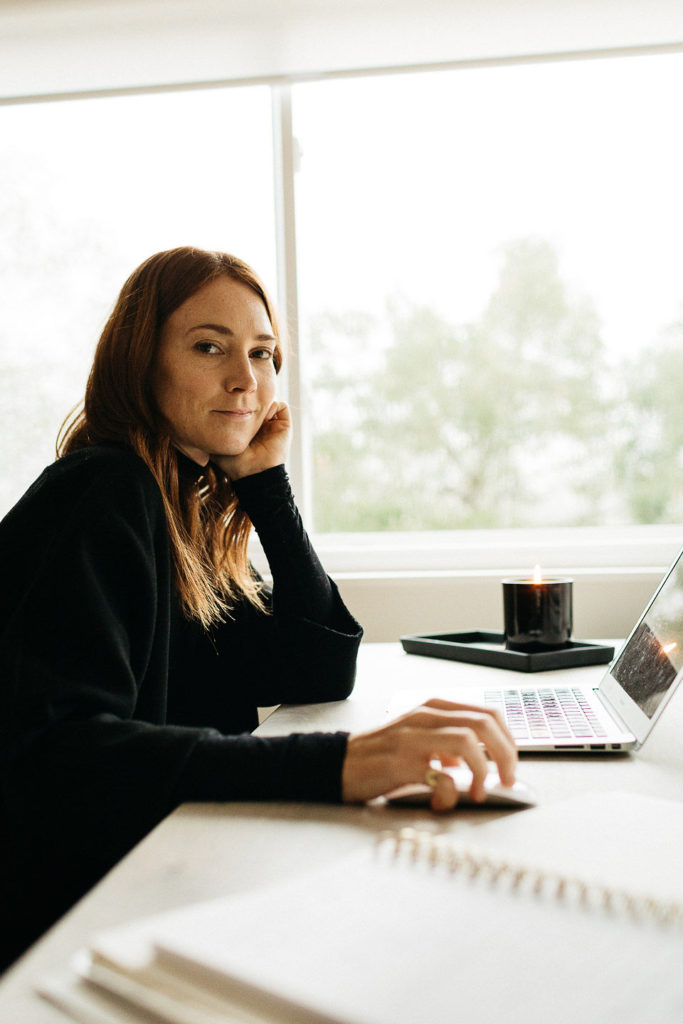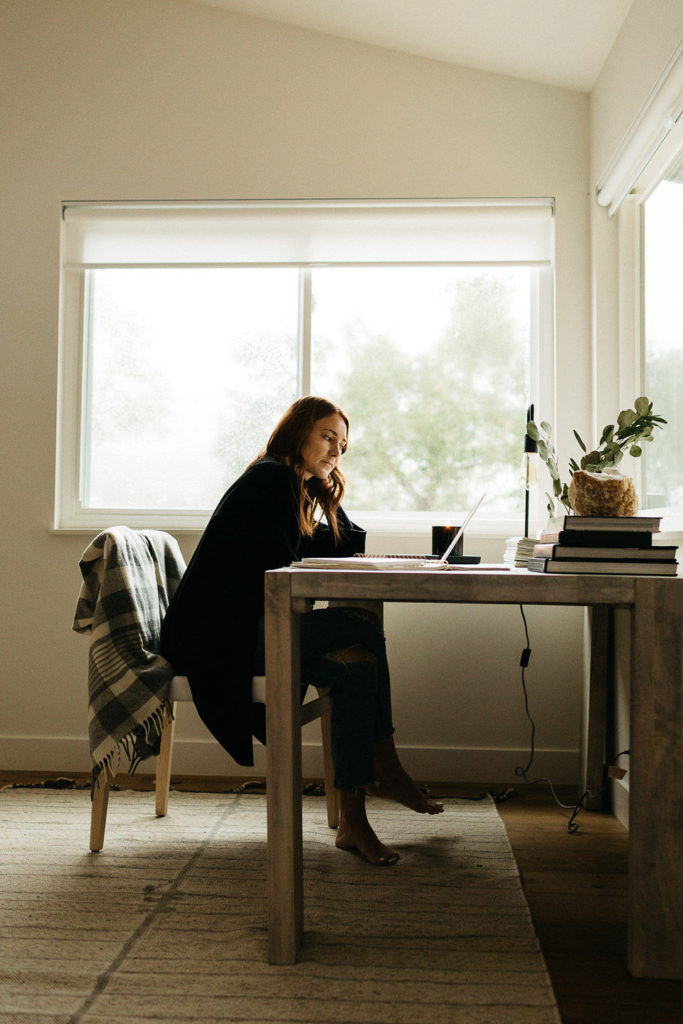 5. Put Your Phone (and social media) away. 
Even if social media is your work, yours truly included, this is still a good tip. Do you really need your phone in reaching distance to you, all the time? If you're not expecting an important call or posting, scheduling, using an important app, give it a rest. It's my biggest distraction when I'm trying to write, focus and get through a to-do list. Sometimes I'll put it in another room (if someone calls, it comes through on my computer) or turn it off for a short period of time. I can't even tell you how much time I've wasted getting sucked into instagram and I know I'm not alone.