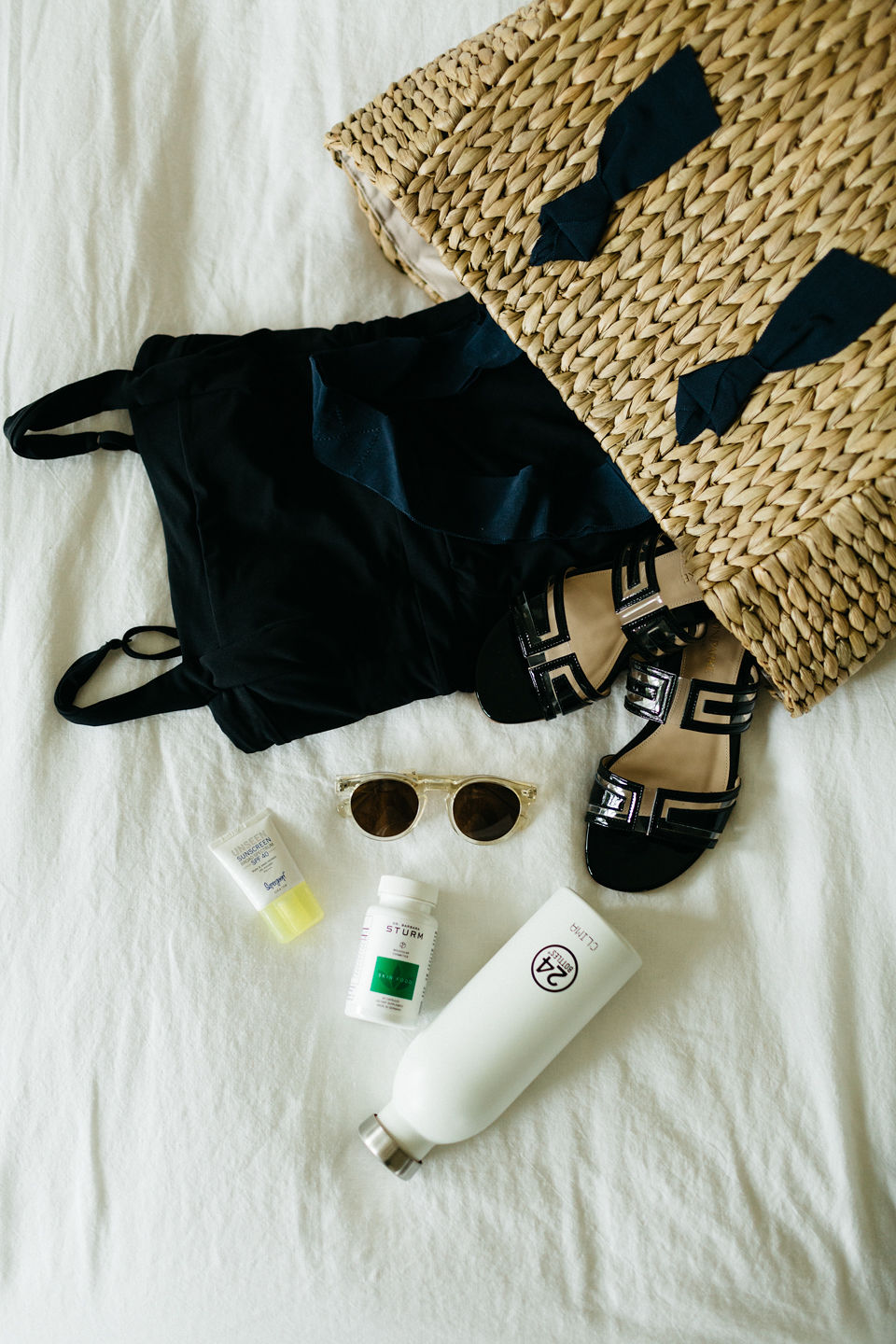 I spent a good chunk of last week plotting out our Summer travel calendar and I'm antsy to get the vacation show on the road. We're not going on Jay-Z's yacht or anything but we are heading to some of my favorite spots where the sun shines, a bathing suit is required and agendas are tossed out the window.
Here's the thing though. I notoriously forget something important every time whilst packing, toothpaste and a phone charger are my most popular fails. So my first order of business when packing for a trip is to make a quick list, keeping in mind what we'll be doing and what I want to wear (and not miss, ha). Next, I pack at least 24 hours ahead of time. I hate that feeling of running late, especially if you're catching a flight and it's happened to me way too many times before. Packing the day before you leave also leaves less room for forgetfulness, which yours truly has done a time or two. 
Neiman Marcus made it really easy on us and curated a collection called the Art of Travel, that touches on all the essentials from beauty and gadgets to clothing and accessories. Which made making my packing list a whole lot easier and I discovered a few new favorites while browsing the collection. So what are the things I would never, ever want to leave behind? Aside from the obvious stuff, knock on wood I've never left behind my deodorant, here are the first 7 things I'll be double and triple checking that I have in tow for our travels.
1. Tote Bag
This is a hard one to forget, but at times I've decided to bring a backpack for traveling and then missed having a tote back during the vacation. So now I always opt for a tote bag that works for both traveling and walking 15 steps to a lounge chair on the beach. I love this Pamela Munson tote because it's giant, has solid lining inside but feels like a beachy accessory. 
2. Hydrating Beauty Favorites
My skin weighs on the dry side so when I travel I make sure to bring super-hydrating products and even supplements to help with that vacation glow from the inside. And because I like bringing so many lotions and potions, getting that travel size is key when it comes to packing light. 
3. Versatile Slides
Since we're traveling to sunny destinations this summer, versatile slides are a must. If I can get away with packing only 3 pairs of shoes—heels, sneakers and slides—I will. And the slides are what I end up wearing the most. The right pair can take you to a nice dinner, around the pool during the day or exploring in town.  
4. White Basics 
Nothing says "Summer Vacation" like some timeless white staples. It's a no brainer that classic white pieces, especially worn together, will take you just about anywhere on vacation. And bonus it enhances your tan! I have a few oversized white button downs that I depend on (even when I'm not on vacation) and that conveniently double as a great swim cover-up. 
5. Sun Protection 
Nothing ruins a vacation like a bad sunburn or a headache from dehydration. Be armed and prepared so you don't miss out on the fun! Things to consider: a good hat, water bottle (especially if you're flying), CBD Peppermint oil in case you do get a headache and plenty of sunscreen—I'm a big Supergoop fan and picked up this Live Bright travel kit, which has all my favorite products in mini size. I also never leave home without their SPF 45 mineral powder brush that makes it really easy to touch up throughout the day, which is especially great for traveling.
6. Sunglasses 
An obvious one not to leave behind (or forget in the airplane bathroom) but I always make sure to bring a pair I can trust that's comfortable. You know how some can pinch behind your ears and give you a headache, don't bring those! I also love a polarized lens and anything from Illesteva, one of my favorite brands. 
7. Signature Scent 
It might be a frivolous thing to bring compared to all the other "essentials" but I love having a travel size of my favorite scent. To me it's the cherry on top of an outfit and is handy to freshen up with if you're traveling half way across the world. This Byredo scent reminds me of Summer and comes in a perfect travel size roller. 
What's the first thing you guys
put on your travel list? 
Thank you to Neiman Marcus for Supporting this post, all opinions are my own // photography by Sara Prince.