I caught a cold this week and was reminded of the little tricks and things we can all do to avoid the plagues that seem to circulate during Fall and Winter. If you have kids, then you really know what I'm talking about—how many times do we have to say it "wash your hands!" But in all honesty, getting sick this week felt like a good reminder of all the things we can do to avoid getting sick but also immune boosting remedies that can stop a cold in its tracks. 
Since so many of you responded back with your tips this week on Instagram, and I learned a few new ones, I wanted to share them all here so we can all stay healthier this season! If I missed any, or you have a favorite you swear by, leave a comment below pretty please! 
How To Avoid Getting Sick
1.
The most obvious and effective way to avoid getting sick is wash your hands obsessively. Carry hand sanitizer and be conscious of when you're touching your face or eating with your hands etc. We use the EO Lavender Hand Soap at home, especially for Elin after a romp at school or a playground. A little mom tip that we can all use is count to 10 while you're washing your hands.
2.
Drinking plenty of water. Another obvious one but also just as easy to forget about keeping up. I love this book I got recently that's all about adding different things to your water to help heal/support different health concerns (even libido ladies!) but it's also super inspiring to make drinking water more fun. My other tip, investing in a good (large) water bottle. The bigger the better, so if you're out and about all day you have no excuses. The 32 oz Hydro Flask is my favorite.
3.
Every time I seem to get sick it's after a streak of eating sugar. Maybe it's just me but it's pretty obvious that when I overdue it with sugar my immune system is compromised. So if everyone around you is sneezing, remind yourself before diving into that piece of cake. If you need that something sweet opt for a date or two or even a recipe from Sweet Laurel Bakery that uses natural sugars versus refined.
4.
Boost your immune system with a few of these once or twice a week: a hot cup of bone broth, hot water with a squeeze of lemon and a splash of apple cider vinegar, sprinkle Baobab Fruit Powder on your oatmeal, popcorn, soups, etc. It's rich in antioxidants and strengthens your gut and immune system.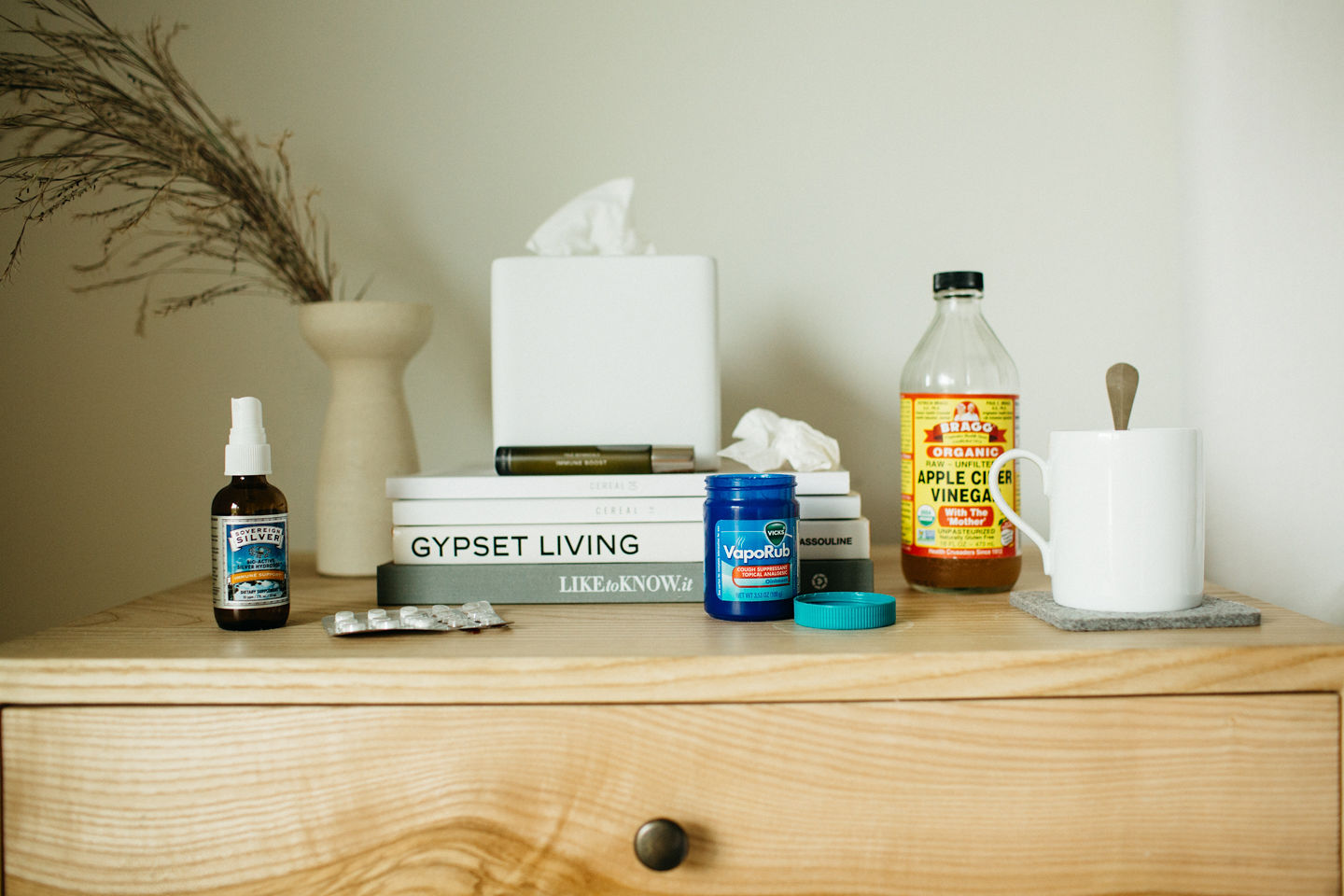 Natural Cold Remedies
That dreaded sore throat or feeling of being extra tired is a good time to try everything in the book to kick the onset of a cold. And if it comes anyway, rest up and try these natural remedies.
1.
Apple Cider Vinegar is amazing stuff. It will strengthen your immune system but it also kills any bacteria that might be in your throat (causing that sore throat). My favorite concoction is hot water with lemon, a tablespoon of apple cider vinegar, fresh ginger and a teaspoon of honey (which will sooth your throat). The ginger will clear up your sinuses if you're dealing with congestion.
2.
Sleep is everything if you're sick. So whatever you have to do to get some good sleep is key. I don't do well with any kind of medications and prefer a more natural approach. I always have Eucalyptus oil and peppermint oil (or Vicks Vapor Rub) on hand. Both help with clearing sinuses, stress and headaches. At night I rub some on the bottoms of my feet (a tip from my acupuncturist), on my chest and a little under my nose if I'm really congested. Put a couple drops in a diffuser and let it run all day/night where you're laid out. This always works like a charm when Elin is sick. True Botanicals makes an amazing essential oil roller that I will wear (sometimes as a personal scent) that boosts your immune system. Todd and I are also big fans of Goop Knock Me Out chews before bed. They work wonders, whether you're sick or not. 
3.
My mom's number one cold remedy, especially when you feel like you're coming down with something is Colloidal Silver Spray under your tongue and at the back of your throat. She will literally do it for me if I say I'm getting a cold! But it's actually pretty amazing. You can also use it as preventative. Needless to say my mom makes sure we are stocked with this stuff at all times. I personally don't love the taste of it but I use it when I'm desperate.
4.
If things get really bad… hit your local juice spot for a ginger or immunity shot. They're terribly harsh going down but every time I take one I end up shortening my cold. The one I like from Juice Ranch here in Santa Barbara has Oregano oil in it (which was another recent tip from a reader) that does wonders.
5.
Make yourself a drink. I've always believed in a little liquor to help chase away some germs, and my grandmother swore by it. Some people say a shot of tequila, some say scotch but my favorite is a Hot Toddy, especially when the weather gets cold. It's cured me a handful of times.