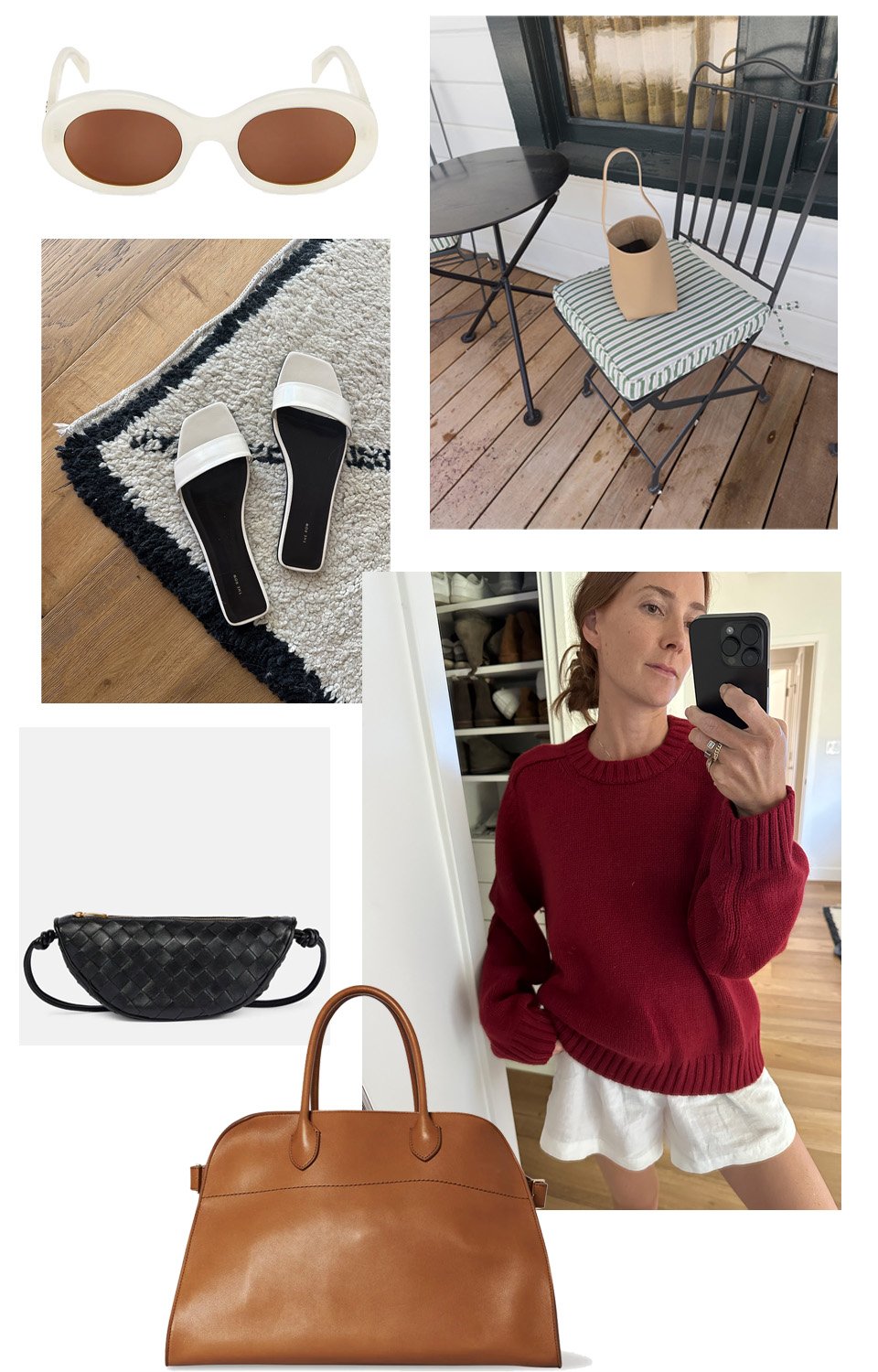 One of my absolute favorite partnerships I've had this year so far as been with Mytheresa, an online retailer that carries some of the best brands like The Row, Khaite, Acne Studios, Toteme, Cecilie Bahnsen, Sir, Staud and more. I pop on weekly and check out the new arrivals and feel like it's kept me on my toes as far as the "it" designer pieces floating around and made me fine tune which brands fit my lifestyle and aesthetic the most. Since the Spring I've added some really beautiful pieces to my wardrobe (some gifted and some not) and I thought I would share a little edit of what I've found to be the most loved/worn and a few things on my wish list at the moment. 
For years I didn't invest in any luxury handbags. Partly the pandemic and partly because we poured everything into our home when we first moved in. This category has been the most fun for me lately and sparked the most joy. And moving into the Fall, it's a perfect time to update what might be in your closet. Here are my favorites I've been carrying. I can't recommend The Row Park Tote (it comes in three sizes) more because it truly is the perfect amount of slouch, structure and simplicity that will take your wardrobe far. The way that it hangs on your hand or shoulder is just perfection, so so chic. I would expect more colors and availability in the coming weeks, they go fast though! I've also discovered how much I love a mini bag—so easy to throw in larger bags and pull out for dinner etc. I've been loving this half moon Bottega Veneta bag (holds my phone, credit card/ID and a few beauty essentials) that is perfect for dinner dates. I also love the shape as it fits perfectly under my arm. Another smaller bag favorite, the Loewe Flamenco clutch which comes in SO many fun colors it's almost hard to choose. I went with the prettiest buttery muted yellow shade that has become the perfect neutral. I was surprised how well this color went with almost everything in my wardrobe. 
Hopping to a few wardrobe favorites… this summer I've been living in two Eres suits (more on those here) but I love the selection that Mytheresa always has from this brand along with a few other swim brands. I have also found these linen shorts to be a summertime favorite and I know I'll probably lounge in them year-round and finally invested in my first Khaite knit—currently part of the Mytheresa summer sale.
Lastly The Row leather sandals I picked up in May have been my absolute favorites this summer. Currently contemplating the black for Fall because they've been such a favorite. 
All my favorites here plus a few other things on my wishlist…