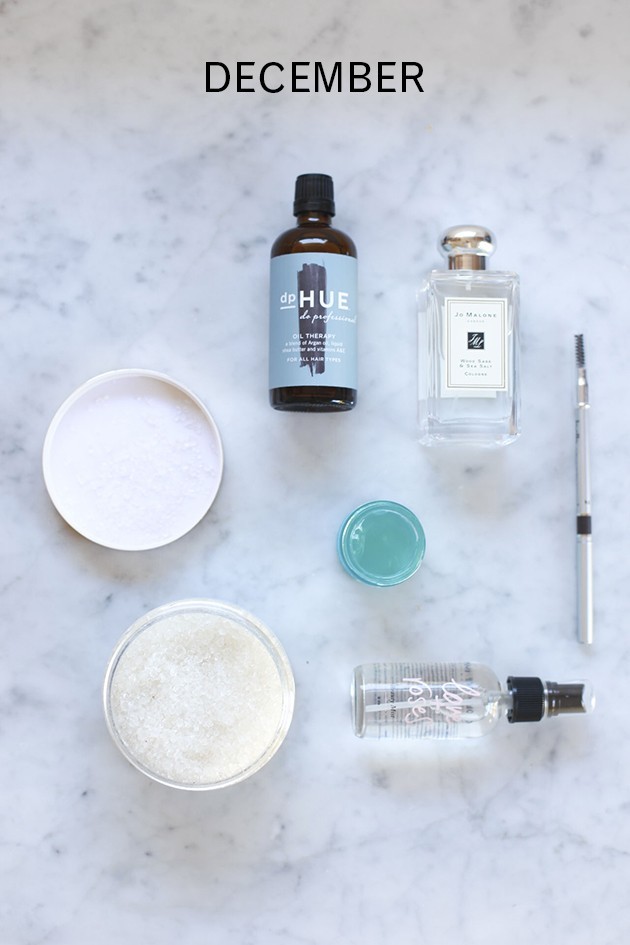 My beauty routine this past month revolved around two things: keeping it simple and staying hydrated. Last week we packed up the car for a mini getaway to Santa Ynez to celebrate Christmas with family. While a majority of my packing went to making sure Elin had everything she needed, I carelessly threw my things into a bag knowing that I wouldn't need much. Among my usual beauty favorites (seen here and here) I threw in some recent finds that I've been all about lately.
Clockwise from top right: Jo Malone Wood Sage & Sea Salt Cologne, Billion Dollar Brows pencil, Ole Henriksen eye gel, Olivine Love + Roses beauty mist, Goldi bath crystals, dp Hue oil therapy.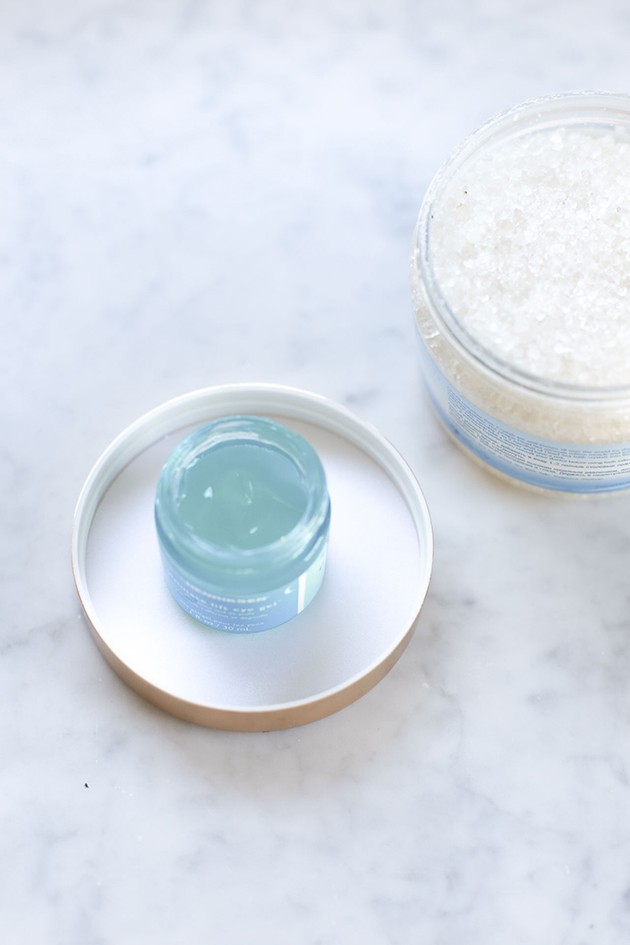 Sometimes a long, hot bath is just what the doctor ordered. Lately I've been filling the tub with oils and these bath crystals by Goldi, putting on a mask and zoning out for a little while. It's been the perfect "me" time while Elin takes a snooze. Afterwards I pile on Ole Henriksen eye gel that I keep cool in the fridge. Its also the cherry on top for feeling refreshed.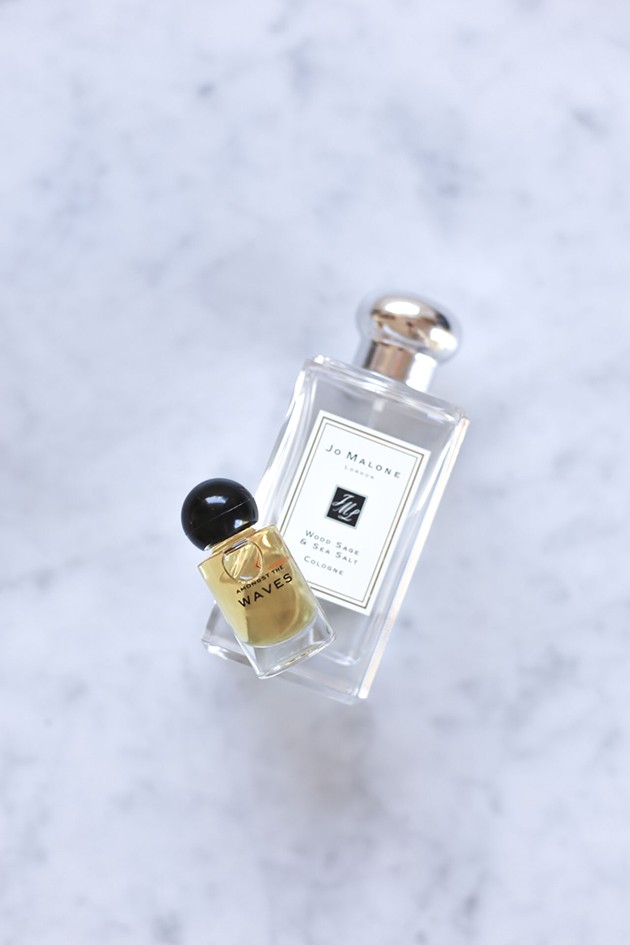 New scents currently making me crave warmer weather—Amongst the Waves by Olivine, that really does smell like the beach, and Wood Sage & Sea Salt by Jo Malone. They're both the perfect slice of sunshine on a dreary winter day.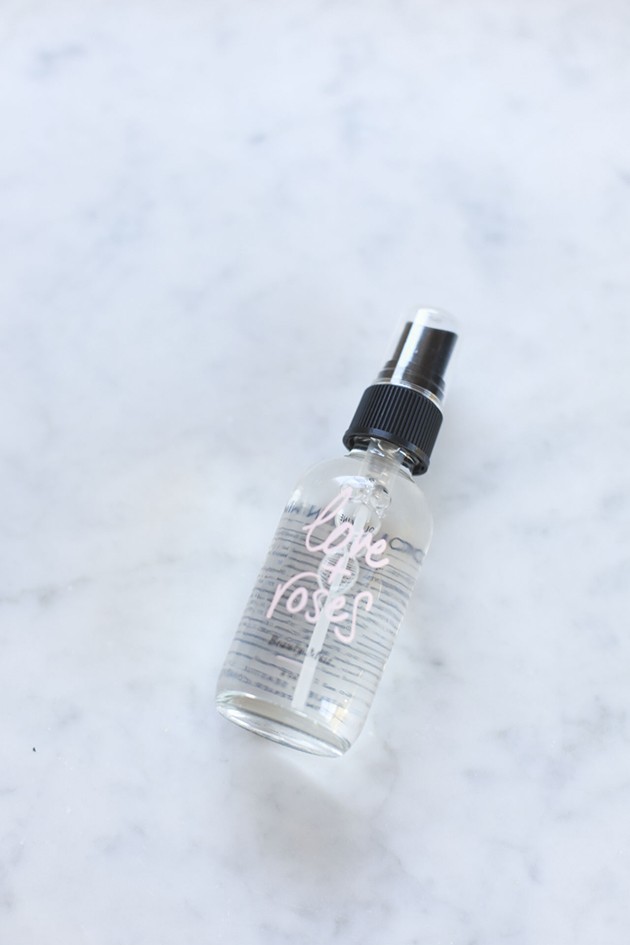 I've been tossing Olivine's Love + Roses beauty mist in my bag everyday to spritz all over my face and body when my skin needs that extra dose. Plus it smells amazing!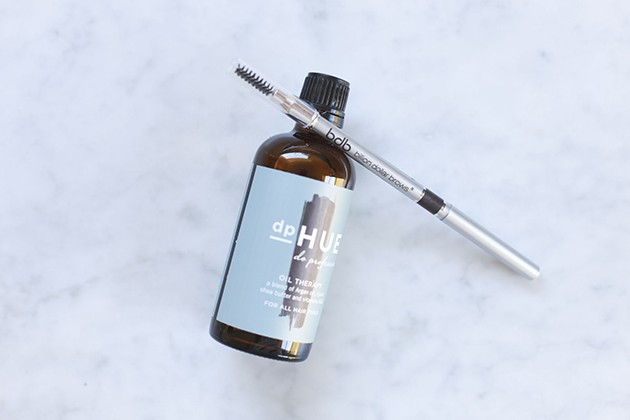 When I mentioned keeping my routine simple, these two products have been huge helpers. Instead of blow drying my hair I've been coating it with this oil therapy and letting it air dry. It leaves my mane feeling extra silky and takes away that bit of frizz. And since my make up I've kept pretty minimal as well, just a layer of liquid foundation (I love this one) and defined eye brows have been my norm. I love this universal brow pencil for the color, consistency and brush on the other end.