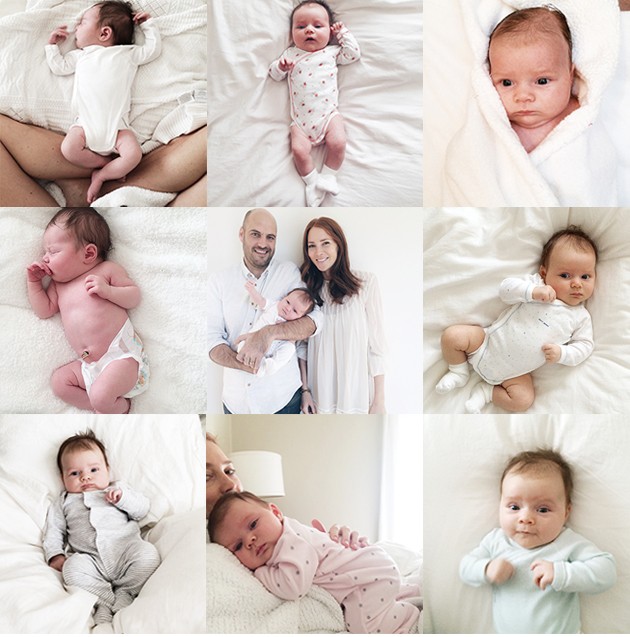 Our baby girl Elin is two months old today! I'm happy to say that life has never held so much meaning and I'm loving every minute of being this little one's mama. It's the most amazing adventure I've been on yet. I'll be the first to admit that there are hard moments but the good days massively outweigh them. While this is not (and will not) become a mommy blog, I did want to start a monthly series, Tiny Talk, where i'll be sharing some of the things that are helping my days as a mama ten times sweeter. So for all you mamas, doting aunties, grandmas, mom-to-bes and baby-fever struck girls here are the things that I've come to rely on these past two months… 
One of the first hurdles of being a new mom is getting breast feeding down. I was lucky enough to have a friend in the biz (Milk n' Cookies) who stuck by me and answered all my questions pre and post baby. Even my random questions she'd answer via text right away which was incredibly comforting. Other nursing favorites: this bra by Cake and the most stylish nursing cover by Modern Wrap.
When we first brought Elin home I didn't know what to dress her in. Almost everything I had was too big (she was swimming in 0-3!) or too hard to put on. These Petite Bateau Kimono onesies became my favorites. They're the cutest and you don't have to fuss with getting something over their head. It's the first thing I plan on giving my friends who are expecting. See some of the colors and patterns we love in the above pictures—this duo was the latest pack I picked up.
Pretty much anything from the Honest Company I've come to love and depend on. Especially the diapers, rash cream and the stain remover, which by the way takes any stain out when you spritz a little on and leave it in the sun for 10 min. Even old stains!
People love to ask: are you getting any sleep? Just recently I started responding with, yes! Elin just started sleeping 12 hours at night thanks to the help of our friend Tiffany of Eat Play Sleep. Aside from helping us get Elin on a regular schedule she's been an all around help when it comes to random questions about being a first time mom. Some other sleep essentials we rely on on: the Miracle Blanket and this sound machine.
Gear. There's so much out there but here is what we have, love and I highly recommend… Stokke bouncer for when I need to cook, jump in the shower or just let her hang… Nuna travel crib for when we visit the grandparents… the Ergo baby carrier for beach walks and trips to the grocery store… the Nuna Pipa car seat… the Hayes glider from Serena & Lily… and this baby monitor that you can look at on your phone as well.
And since I've become obsessed with baby clothes for Elin here are some favorites I've come across…