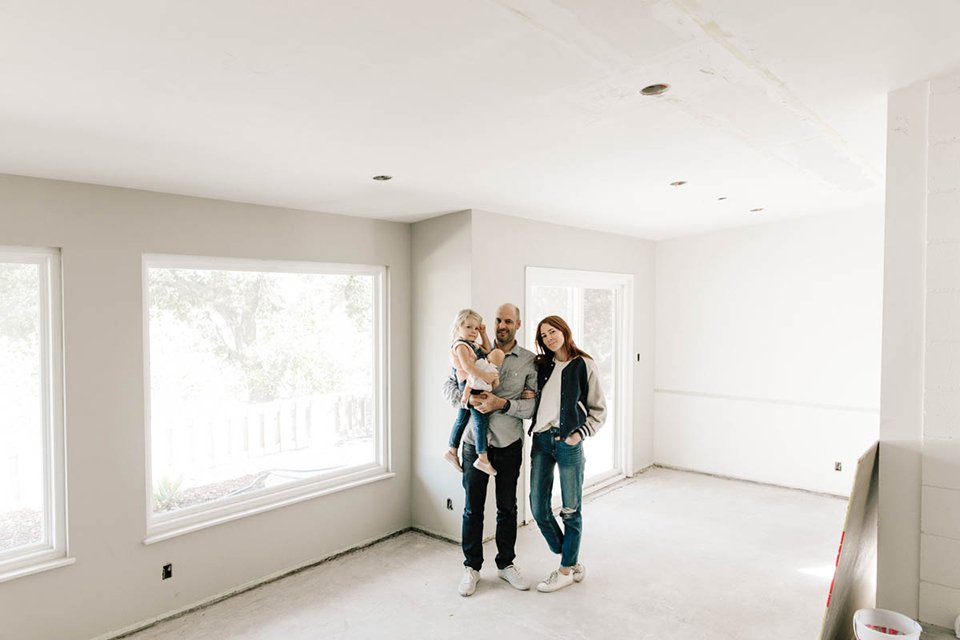 After years of dreaming and months of house hunting I'm giddy to say that we bought a new home! Our lives have clearly been outgrowing our sweet (tiny) cottage and the writing has been on the wall that it's time to get something bigger. I'm not going to lie, I get a little emotional when I think about all the memories and milestones that happened under that roof—getting engaged, planning our wedding, getting married and bringing home Elin. But when we officially got the keys and opened the door for the first time, it already felt like an exciting new chapter that I couldn't wait to see unfold. 
Here's the best part, it's a total flipper so we've completely gutted the entire house—a blank slate!—and made a few changes to the layout. We'll have some pretty fun before and after shots from this baby! Lucky for me Todd's in the real estate biz and knows a thing or two when it comes to the unglamorous side of a project—construction woes, timelines, plumbing… And we enlisted the help of our friend (and blogger!) Caitlin Flemming who's been helping us make design decisions along the way. As much as I know what I like, Caitlin has an incredibly eye for piecing it all together in a cohesive way. You may catch some updates from our project over on her blog as well, Sacramento Street. 
So what's this new house like? We're still in Santa Barbara but in a much quieter part of town than where we are now. We have much more land,  views of the mountains and are walking distance to a great park. It was originally built in the 50's so given it's bones we've decided to go with a contemporary look with clean lines and natural wood elements. I can't wait to share all the inspiration and progress with you guys!
This Sunday at 9 am PST I'll be giving a tour of the house on Instagram Live  so grab a cup of jo and tune in! @couldihavethat