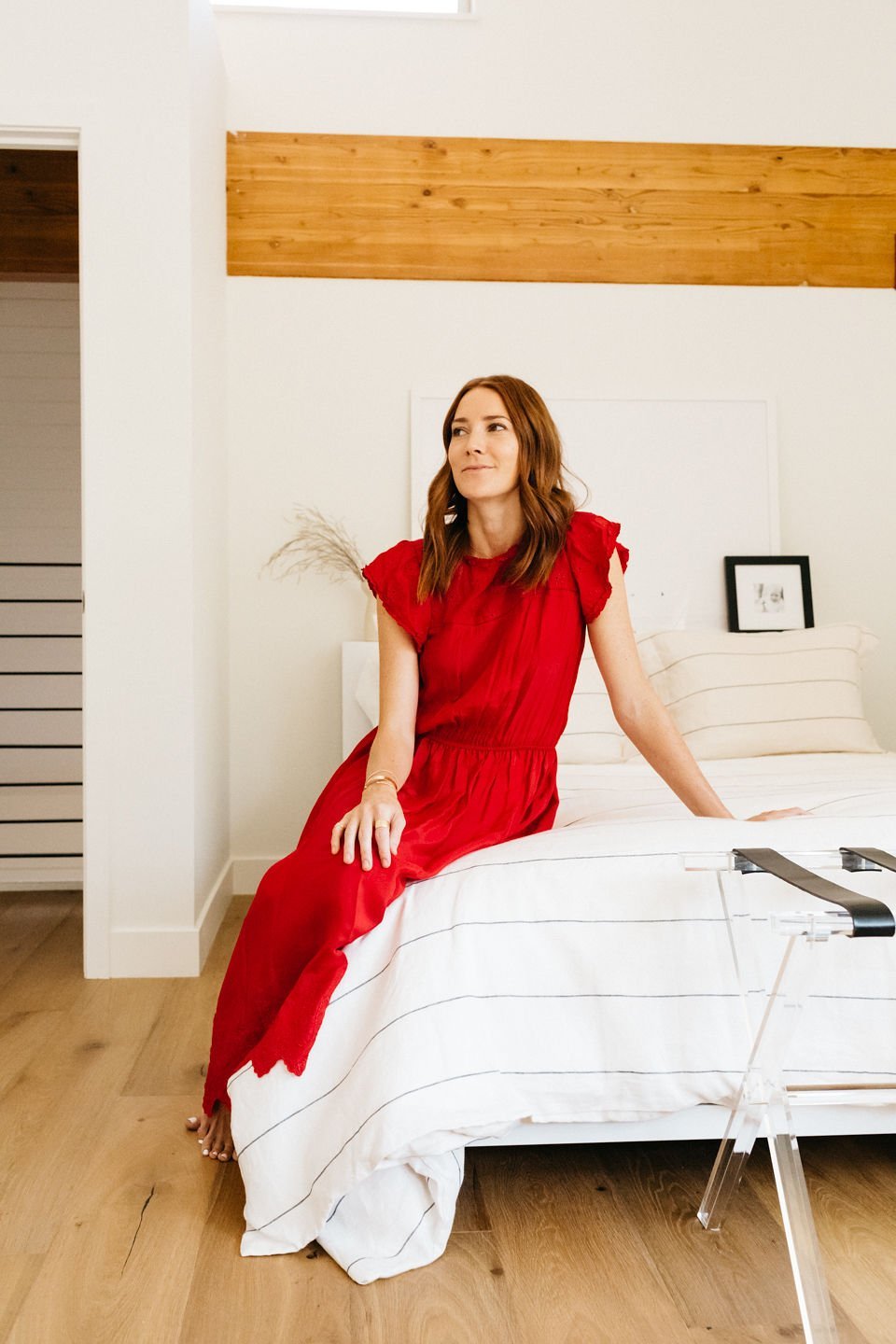 One of the biggest thrills for us when we purchased our new home was having a guest room for friends and family to stay in—something we lacked in our previous quaint cottage—and beyond that more space to host and entertain with. Since this is our first holiday season in our newly renovated home, naturally we're giddy about having houseguests so I partnered with CB2 and interior designer Caitlin Flemming to bring our guest suite to life. My favorite part? Pulling together accessories and details to make this space like a true hotel experience for visitors.
This room is one of my favorites in the house. The previous owner did an add-on above the garage so it feels a bit like a tree-house getting tons of light and has windows that look out to the surrounding oak trees. It doubles as an office for me as well, so we wanted to make sure the room felt inviting while being functional as well. In keeping with our modern approach to the entire house, CB2 had so many pieces that I loved it was so hard to choose but Caitlin helped us narrow down our vision and what we came up with was a neutral, serene vibe with clean lines and hits of black.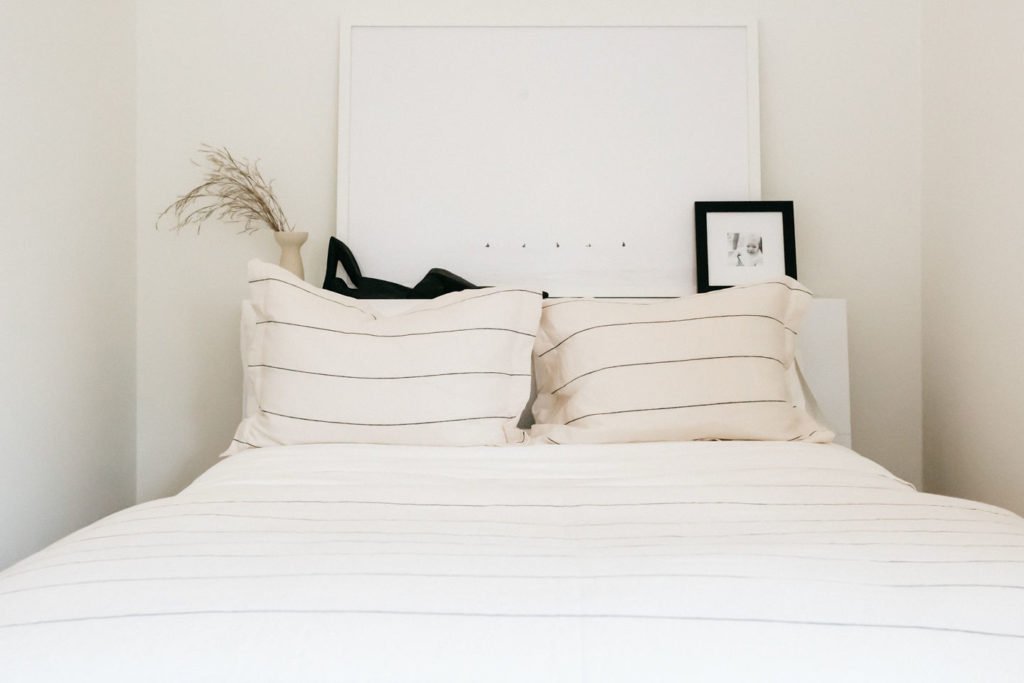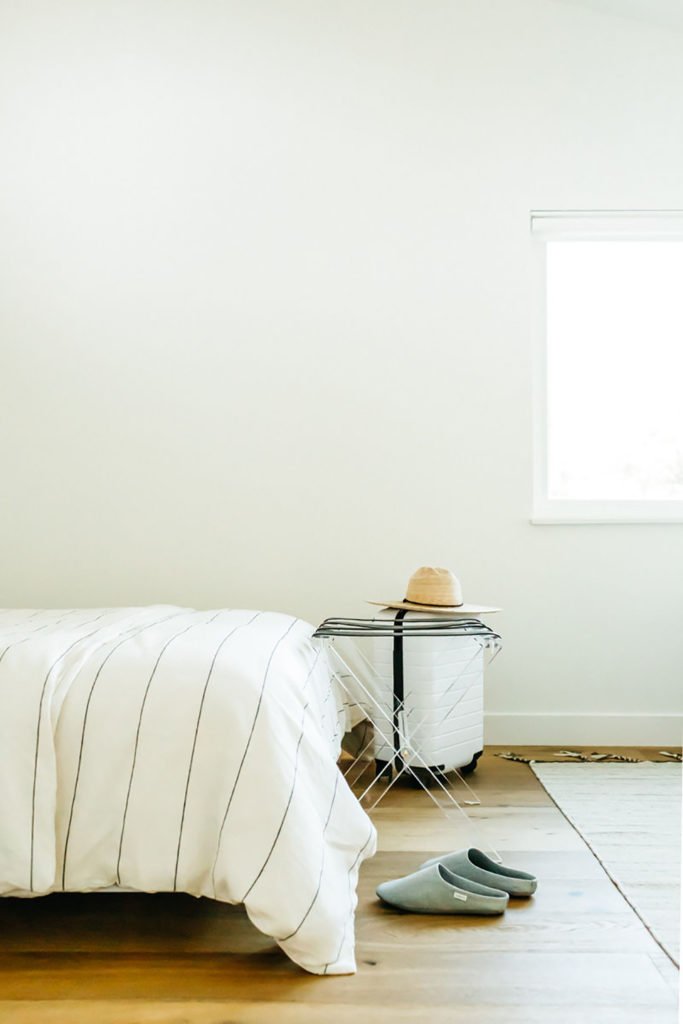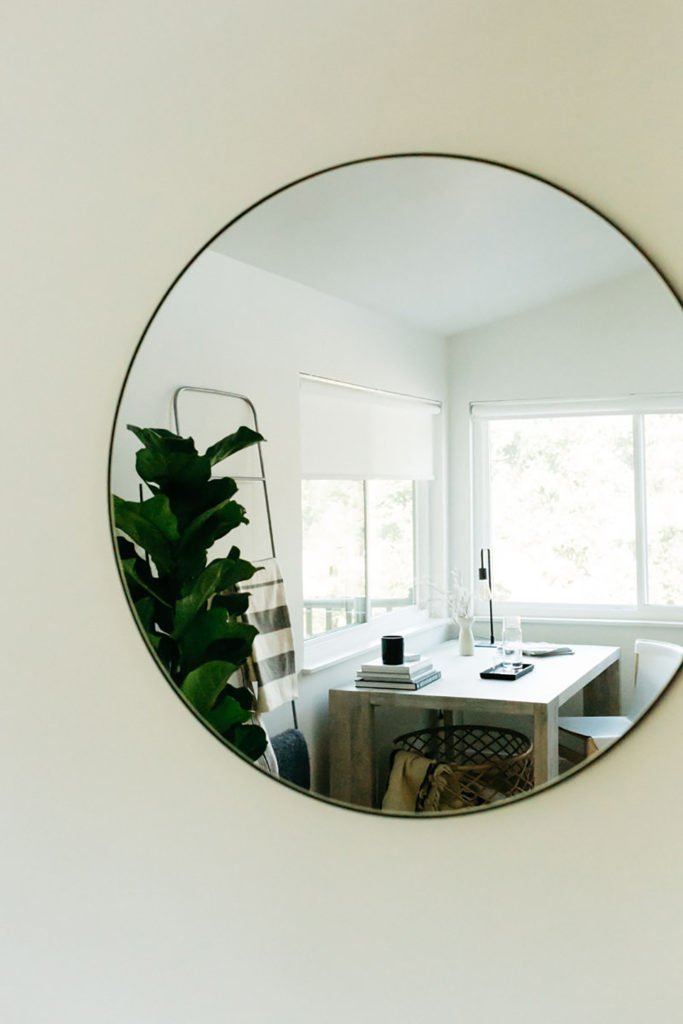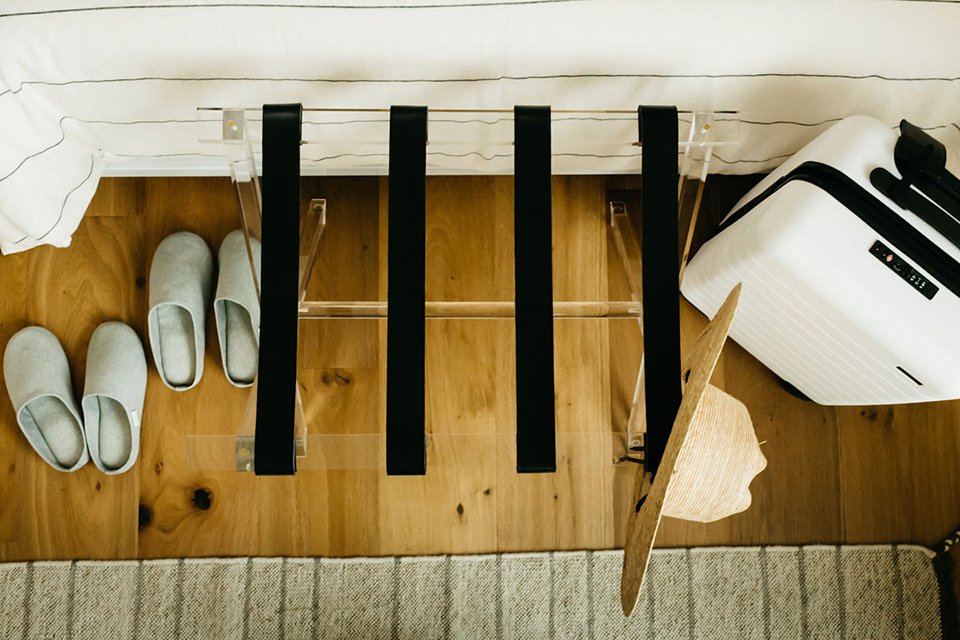 Once all the furniture was in place I got down to the details of making our guest suite just like a luxury hotel experience. 
My favorite find was this acrylic and leather luggage rack that looks sleek and modern in the room while being totally functional. Beside it I put two slippers so our guests could literally put their things down and get comfortable. I cleared off my office desk and set out books, magazines, a water carafe and a bowl of almonds on a black tray that added a cohesive design touch to the room. I tried to think of little things like a sun hat (the sun is always shining in Santa Barbara), extra towels, a cozy bathrobe and stylish toiletries, just like you'd find in a hotel. 
We used the ladder grey magazine rack to display a few cozy throws for our guests to grab whenever, wherever they might want to snuggle up. 
Pictured above: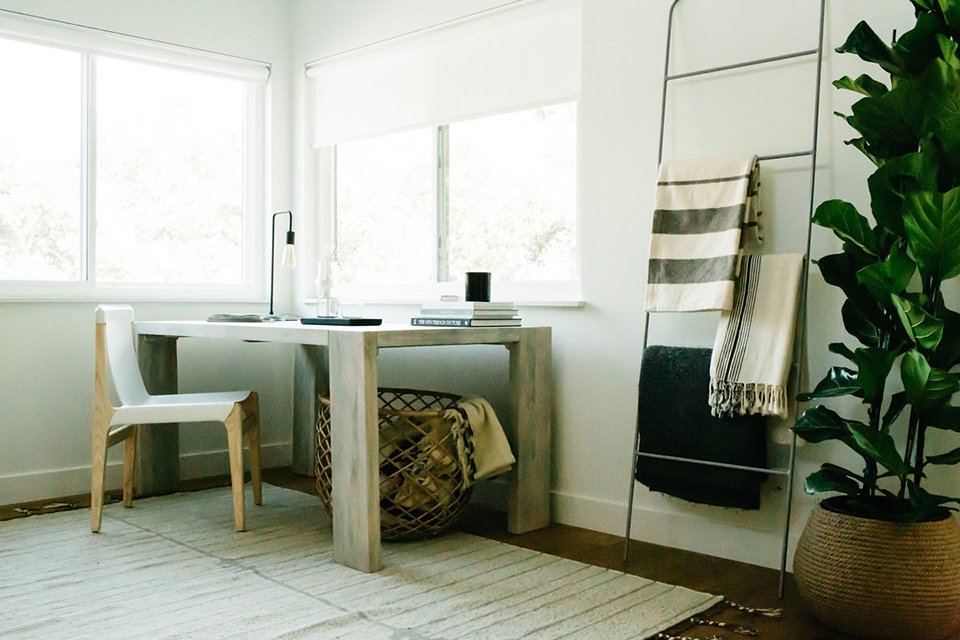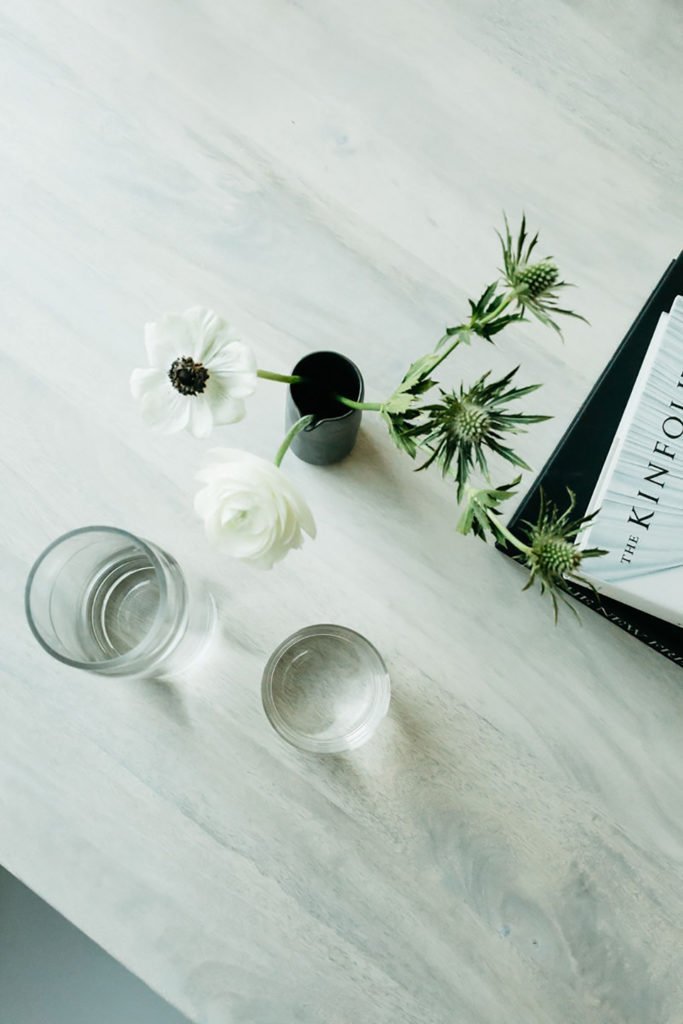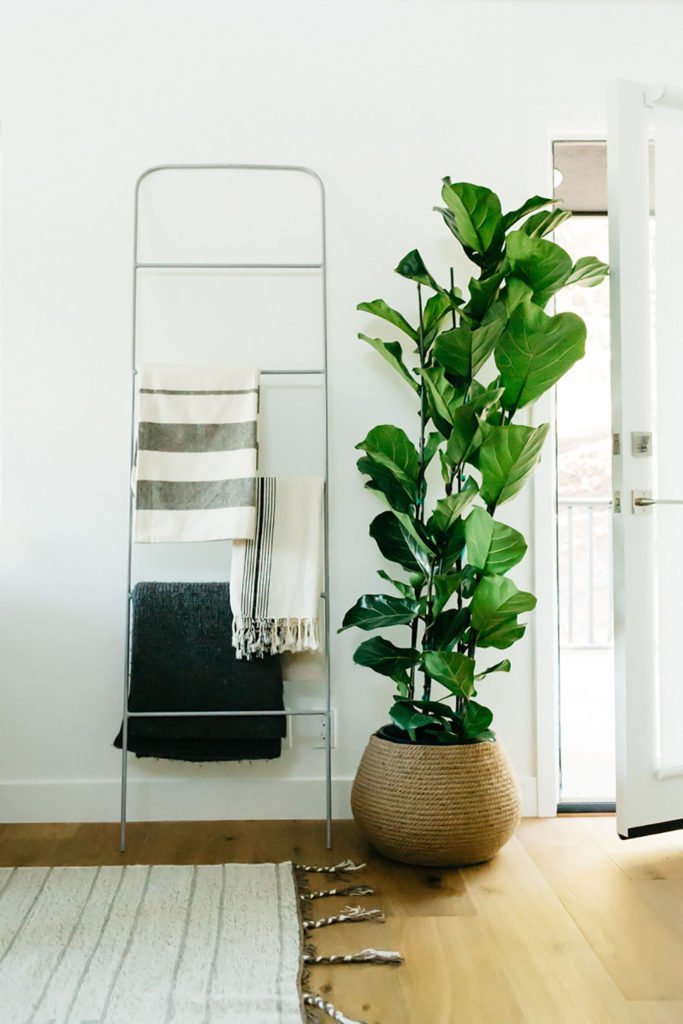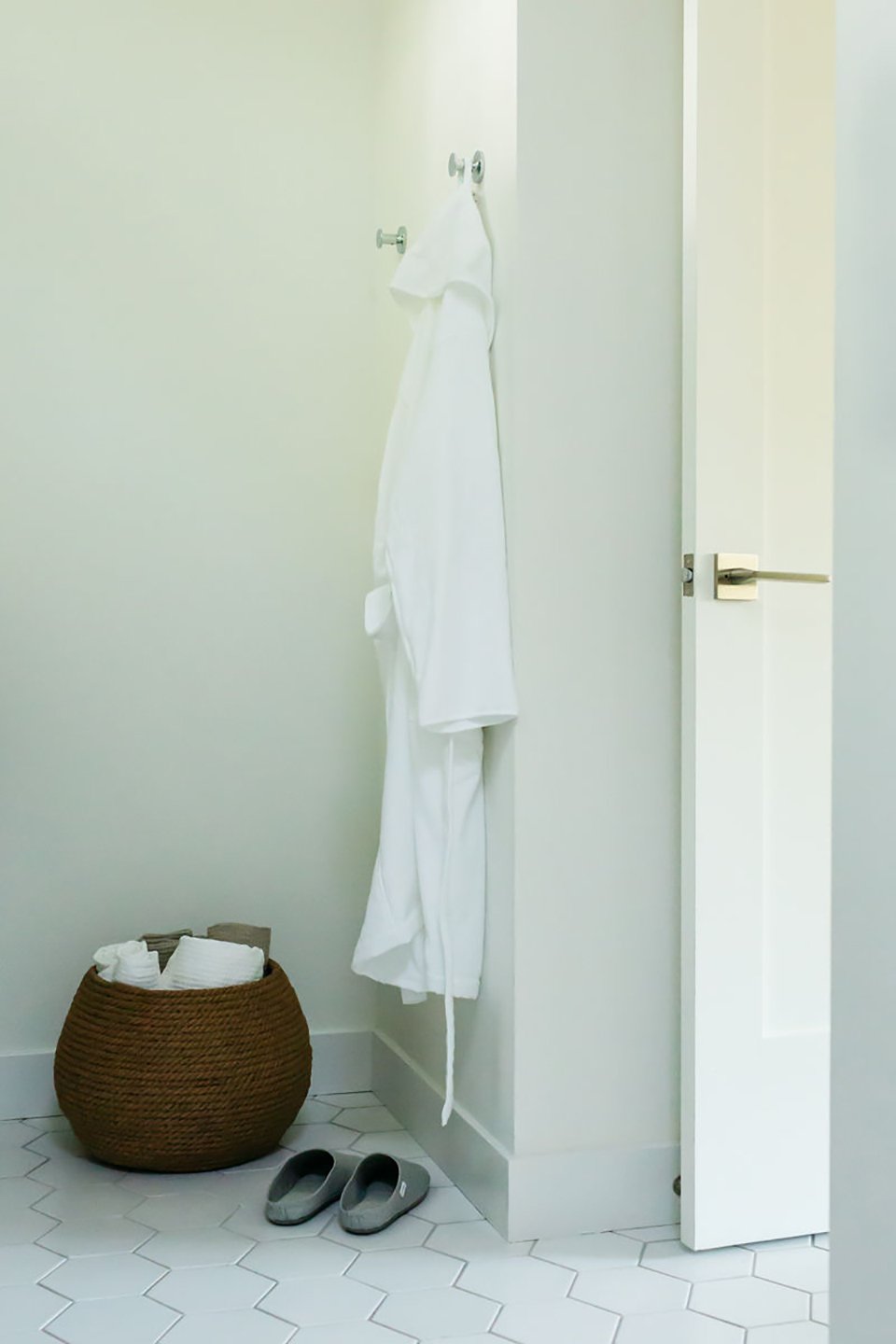 The Marley jute baskets came in handy for so many different purposes. We used one as a plant holder and another to store rolled up towels in the bathroom. The jute adds a natural touch to the vibe of the room and bathroom.  
I loved making the bathroom guest-ready with all the essentials one might need. 
I wanted our guests to feel completely at home and have everything they might need or get at a luxury hotel. A healthy snack and a water carafe are essential along with plenty of towels and luxe toiletries. I put some extra thought into displaying all these items so that guests knew that they were for them and we're easy to find. I love the CB2 Rubber Coated Tank Trays for presenting toiletries, a water cafe or a candle. 
Tip:
Find a subtle scent/product line that your guests can take home with them and always be reminded of their amazing stay! How many times have you smuggled home the toiletries form a hotel when they're SO good. It makes such a difference. 
Photography by Sara Prince.