With the holidays in full swing, making healthy food choices notoriously becomes more difficult—especially if you looove anything in the dessert category as much as I do. And don't get me wrong, I'm definitely going to partake in the holiday sugar train, but I'm going to try my best to keep it in moderation with a few healthy tricks up my sleeve. Eating sugar on an empty stomach, getting too hungry and eating the wrong things in front of me happens too predictably and will no doubt leave me with a migraine. So here are the ways I keep myself from falling down that slippery slope. 
PLAN AND PREP 
I'll be honest, I'm terrible at this. But it's truly the secret to staying on top of your healthy choices throughout the day. If you know it's going to be a busy day—maybe a holiday party with questionable food options at the end of it—make sure to make and prep food that you can take with you or eat before heading into a sugar trap. That way you don't rip through the cheese and bread board or polish off a brownie before a healthy meal. 
STOCK YOUR SNACKS
I get famished often thanks to my fast metabolism. When my blood sugar gets low I immediately start craving sugar and will reach for anything and everything. The best thing I've done for myself is have healthy snacks on hand all the time. I keep almonds, cashews or nut butters in my purse, on my kitchen counter in bowls (these small nesting bowls are my favorite) and in my car. It's amazing how much that alone can help. My favorite pick-me-up at the moment has been a jar of pecan butter I get from our local farmer's market. I spread it on bananas, crackers or just by the spoon. It's so good and could almost replace dessert because it has a sweetness to it.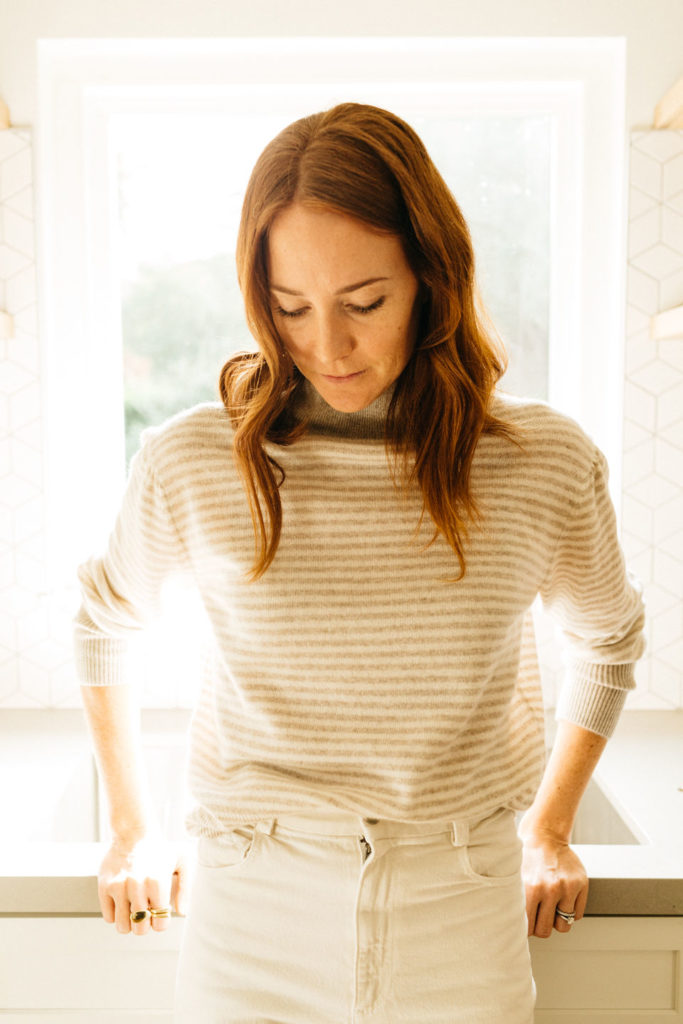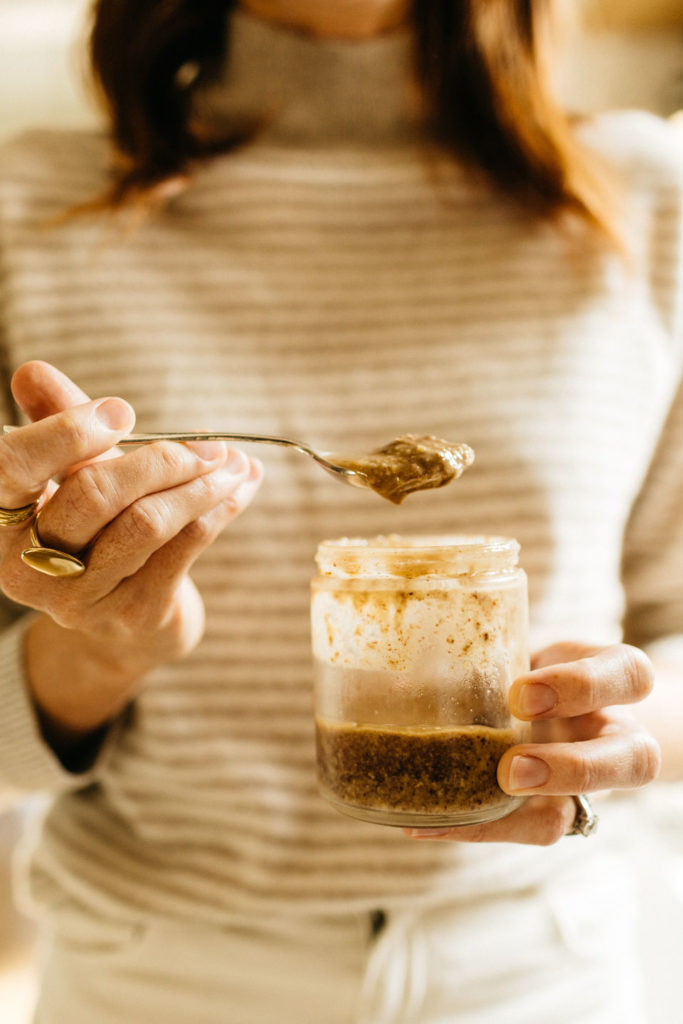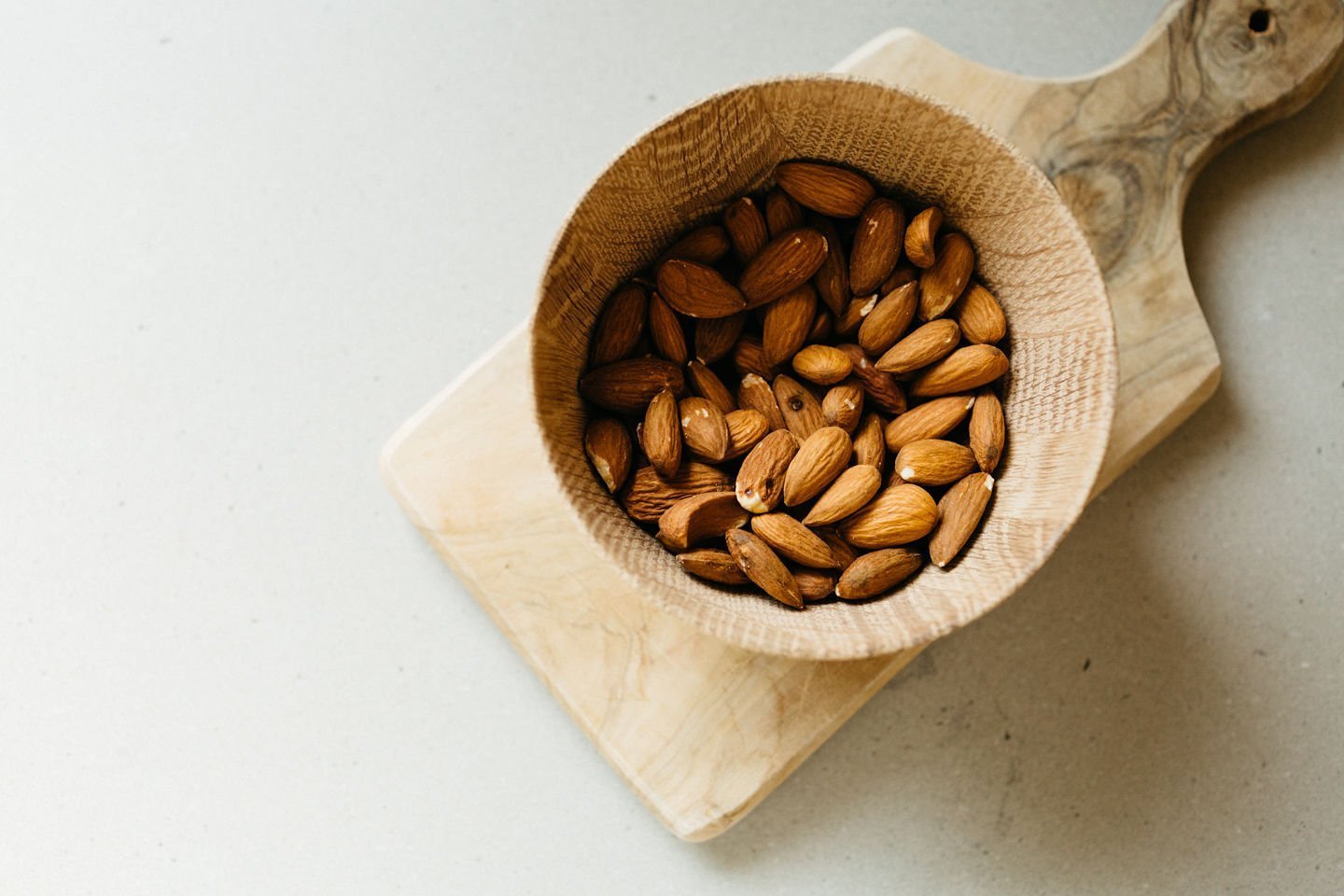 Hydrate!
I find it harder to hydrate in the winter because I'm always cold and you can't exactly chug hot drinks. But keeping yourself sufficiently hydrated will not only help with your mood but help stabilize your blood sugar with a splash of apple cider vinegar. If I'm super cold and trying to get warm I'll even add it to a cup of hot water and throw in some lemon. Bonus, it's good for your digestion too! 
Get Your Protein
Everyone is different but I have found that making sure I get plenty of protein everyday keeps my blood sugar from getting low and reaching for sugar. The easiest trick in the book is to keep a boiled egg with you if you're energy starts to waiver. If you're not a fan of eggs try the Primal Kitchen protein bars that Kelly Leveque recommends. 
Find Inspiration
I get bored easily when it comes to healthy eating. So one way I like to stay on track is keeping it interesting in the kitchen by finding new recipes. Right now I'm devouring A Kitchen In France by Mimi Thorisson.